The Water Wheel and the Demon
---
If you are heading to the John Lennon Wall then you'll likely come across a little bridge with a railing and its here that you'll find the Water Wheel. If you look carefully you'll find a character sitting on the far corner that Czechs call a "Vodník" and he's what we call a water demon. Let me tell you about both.
---
The Prague Water Wheel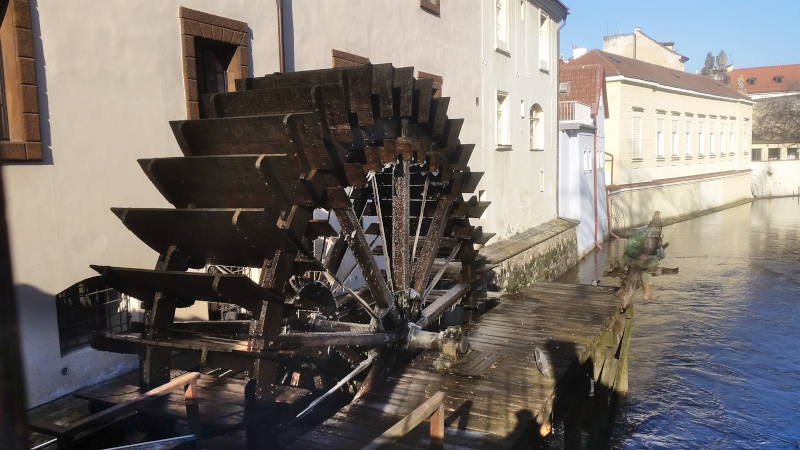 The water wheel is not located by the riverside. Instead you need to go to the other side of Kampa Island and follow the little inlet called Certovka (the Devil's Inlet) until it begins to open out into the area locally known as Little Venice. With the ability to divert fast-flowing water from the river Vltava into the relatively narrow channel it made a great place for mills. There are still two water wheels in this narrow channel but this post is about the more popular one that, despite having had several names related to former owners, is often referred to from it's time as the Grand Priory Mill.
There's been a water wheel in this location since the late 13th Century although it has been repaired and replaced many times. The dimensions have historically remained the same so this is the largest mill in Europe coming in at 8 metres in diameter and weighing 5 tons.
---
The Water Demon
Sat on the floor level of the water wheel is the little green man. If you see him and have a laugh at his goggly eyes and curly pipe then watch out for he is known as a "Vodník" (pronounced like "vod-neek") and is to be respected.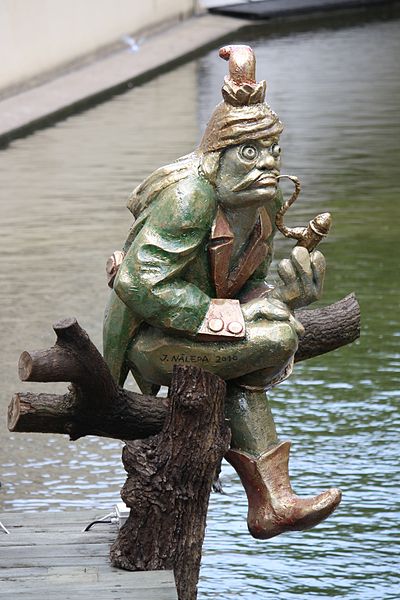 "Vodník" literally means "water man" and you'll find versions of him from Germany to the Balkans. A Vodník can be a benevolent force who may tempt fish into your net and keep your boat away from a sand bank. Or he can be a malevolent force who tears your fishing net or drowns you. The Grand Priory water demon is called Vodník Kabourek and is considered to be benevolent. The reason he is associated with the water wheel is because water demons live in the mill hence the millers are more exposed to Vodník's will. Superstitious river workers will blame all kinds of woes on this pagan creature and it's not that long ago that sacrifices were being made to stay on a Vodník's benevolent side. There are supposed to be 40 water demons on the river Vltava, nine of them are in the Certovka Inlet (because of all the mills that used to be here).
---
Something Related or a Few Minutes Away
Activities – Little Venice River Cruise
Museums – Kampa Modern Art Museum
Museums – Karel Zeman Museum (Film Special Effects)
Films and Videos – Prague and Mission Impossible
Films and Videos – Prague and INXS
---
Some Random Things to Do and See in Prague