Top Attraction – Saint Nicholas Church, Lesser Town
---
The Saint Nicholas church is the most famous Baroque church in Prague. Twelve houses, including the important Rotunda of St Wenceslas, an old school and two adjacent cemeteries were closed and demolished to make space for the building. Construction began when the Jesuits chose the initial plans by Giovanni Domenico Orsi in 1673 and lasted approximately one hundred years. There are different elements to the church including it's art, architecture, musical venue and site of a Czech security observation point.
---
After work begins on the Saint Nicholas church, the Chapel of St Barbara was built first so that mass could be celebrated and this space was part of the original plan. From 1702 the design gets altered and it becomes a much more intricate geometrical system of interconnected cylinders with a central dome above the transept. The chancel and its characteristic copper Cupola were built in 1737-1752 and the dome still remains the third biggest in Europe and although the Saint Nicholas church was then consecrated, work on ornamentation continued for another twenty years. The Belfry has it's own little stories. At 79m tall it remains one of the tallest structures in the city and actually belongs to the city. During construction there had been arguments about whether the tower should indeed have a bell or whether it should be used as a watchtower for spotting fires. The watchtower won.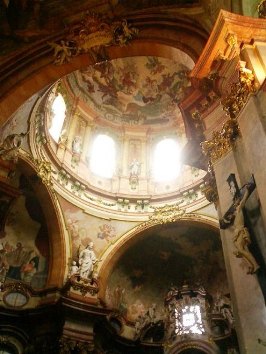 If you like marble sculptures and frescoes etc then Saint Nicholas church is the place for you as there is an abundant choice of works from master artists and craftsmen from all over Europe. The fresco on the Cupola took a year on it's own.
The Jesuit Thomas Schwarz built the small and main organs as well as many others in Bohemia. Built in 1745-47, the main organ has over 4,000 pipes up to six metres in length. W. A. Mozart played this organ during his stay in Prague. The Saint Nicholas church is also a Chamber music venue.
Note: not historic but there's an open exhibition in one of the towers that was used by the Czech STB for spying on movements in the diplomatic quarter of the city including American, British and German embassies. There's a separate entry charge but you get to see the conditions that the STB guys would have worked in. The Belfry Tower is included in the Prague Visitor Pass.
To get here you can walk from the Malostranska metro station to the church in about 7 minutes or there's a tram stop on the main square.
---
Something Related or a Few Minutes Away
Church of Our Lady Victorious (Infant Jesus of Prague)
Church of ST Nicholas Old Town
---
My Own Guided Tours – Cheaper Than You Think!