Bobs BBQ Shooters Island
---
During the summer months April to October, Shooters Island on the river running through Prague becomes alive as a live music venue, cafe and restaurant. This is a quick review of the Bobs BBQ restaurant.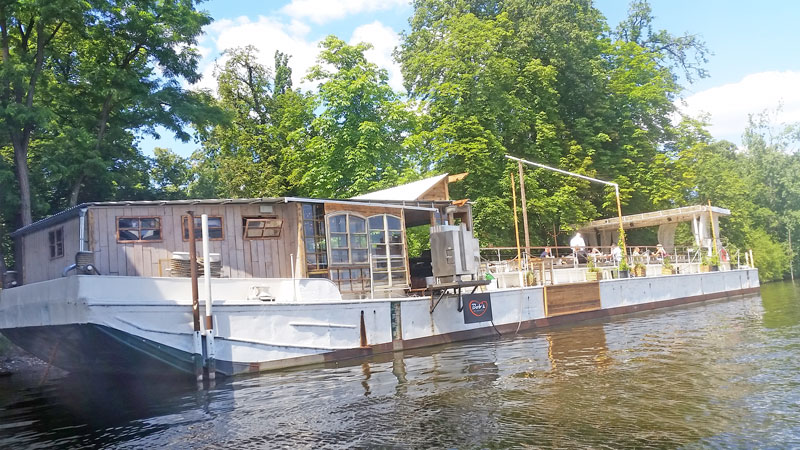 ---
Background
So the plan was to have some fun on the river with the family, get a bite to eat and head home. Bobs BBQ is a floating restaurant barge moored against Shooters Island in the middle of the river opposite the National Theatre so we had rowed around it a couple of times and the BBQ smells were enticing. The menu was a mix of English and Czech but it wasn't immediately apparent what the food was i.e. what's the difference between a pulled pork sandwich and a sloppy joe sandwich? So we walked on board.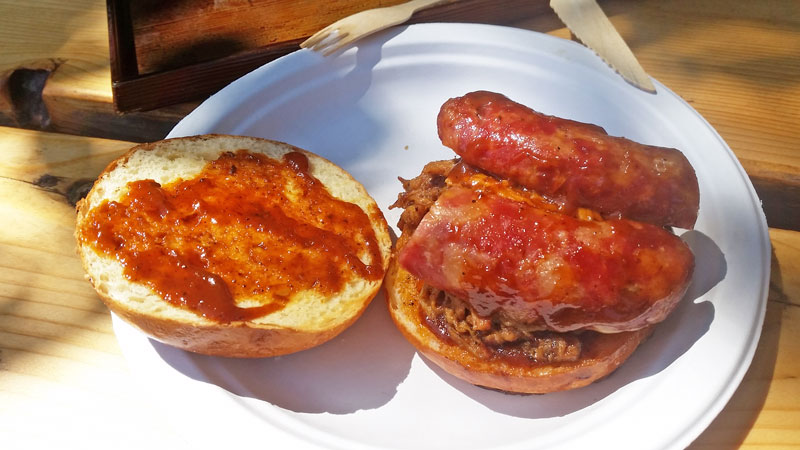 A quick explanation of the menu was given and it turned out that the difference was a homemade sausage and so we ordered. Between us we ordered two "sloppy joes", one with a side order of potatoes (sour-cream and chives added), a meat loaf sandwich (with coleslaw) and a portion of Nachos with cheese and bbq sauce. We had non-alcoholic drinks. Remember that we were here for lunch. In the evening they introduce music and dancing.
---
What I Liked About Bobs BBQ
1) Great to eat on the riverside with views to the National Theatre and Charles Bridge.
2) Very nice food, obviously home prepared. If I went back then I'd skip the Sloppy Joe and have a regular pulled pork sandwich because I didn't think the sausage added anything.
3) Friendly and quick service – they give you a pager which bleeps when the food is ready.
4) Good Value – our meal for 4 came to @CZK700.
5) They accept card payment.
6) Didn't experience it this time but would return for the drinking/dancing.
7) It follows the normal Czech bar rules for sharing tables i.e. ask if it's ok before you sit down.
---
What I Would be Concerned About At Bobs BBQ
1) They split food and drink i.e. you have to order and pay for food, then order and pay for drinks. Fine when it's not busy but a real pain if it is busy.
2) At the time of writing you pay a CZK50 deposit on glasses and cups i.e. for each cup or glass. This seems to be to allow you to take drinks from the barge onto the Island when the Stage Bar is closed. So if you want your deposit back you have to get in the drinks queue.
3) The food is not described very well, no problem if you speak Czech but the average person would not know what "Sekana" is (meatloaf). As I said above, we had to ask about the menu. Again off-putting if there's a queue.
4) No on-board toilet facilities. I guess this is why Bobs BBQ closes at 10pm because that's when the public WC under the bridge closes (CZK15 charge). Again no problem if it's not busy but beware if there is a band playing because that will increase the use of the WC (sorry for the queue ladies!).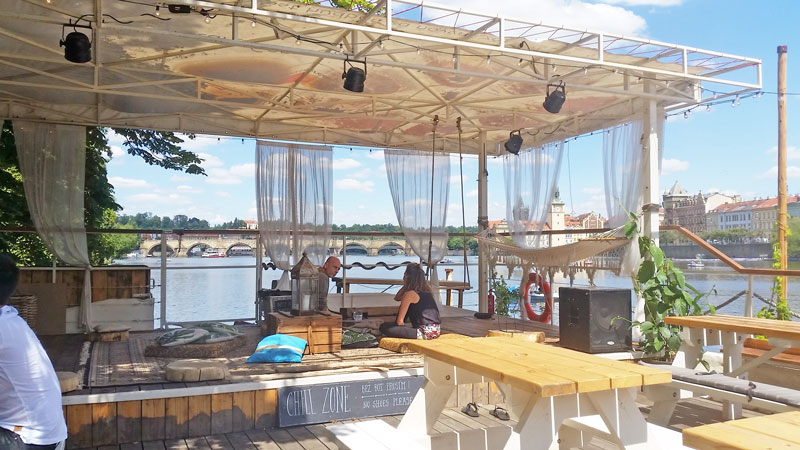 ---
Something Related or a Few Minutes Away
https:/www.facebook.com/bobsbarbque
Attraction – Slavonic Island and Sophies Palace
Art and Culture – Kampa Modern Art Museum
Art and Culture – Manes Exhibition Hall
Activities – Hiring Row Boats and Pedalos
Memorials – Victims of Communism
---