Prague Toilets, Tips and Etiquette
---
It's all well and good talking about the fantastic places and all the history of Prague but often there are some basic matters to attend like what to expect from a Prague Toilets experience or a visit to a "Toalety" as the Czechs call it. Frighteningly it's not that long ago since Number 1 and Number 2 had different prices and if you needed a "cabin" then you had to get a key and a toilet roll from the attendant but, things have improved. The practical "how to" and "where to" of using Prague toilets needs to be explained in order of my personal preferences. My advice is always to carry 3x CZK10 coins with you.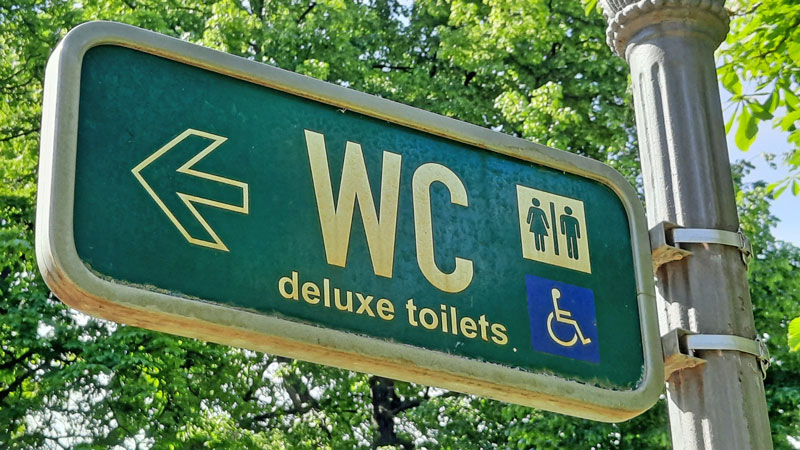 ---
Prague Toilets at Public Transport Metro Stations
In Prague this is my first preference. These are generally the cheapest options at CZK10 at the time of writing. They are "attended" most of the time i.e. a lady in a booth will be looking after both male and female WCs so they are clean and secure. So on entry you will pay her or there may be a fully automated entry gate where you put your CZK10. If you've not got change then try and carry a CZK100 note as many metro station toilets have a change machine but be aware that not all metro stations have a WC. In the centre of town I use Mustek in the New Town (attended/automated), Staromestska in the Old Town (attended/automated) and Malostranska in the Lesser Town (attended).
---
Prague Toilets at Shopping Centres
Depending on my route and the time of day it's often more convenient to stop in a shopping centre. Some still have free WC services but others are moving over to the automated version so expect to pay CZK20 at places like Kotva, Myslbek, Quadrio and Flora but at the time of writing the Palladium shopping centre at Republic Square was still free.
---
Old Town Hall WC
The Old Town Hall basement WC was free at the time of writing but I only use it for a wizz because the cabin door locks are often broken. Go in the main "Tourist Information" entry. Walk to the back and turn right. Men's are down the steps and Ladies is the other side of the lift.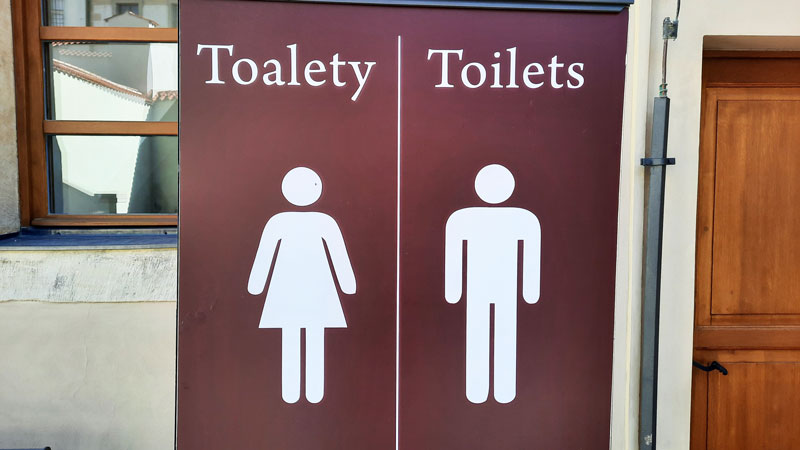 ---
Prague Castle Toilets
Of course if you are using restaurant facilities at the Prague Castle that's no problem. There are basically two public options at the castle and the first (and worst) is the prefabricated WC next to ST Vitus Cathedral. Second (my choice) is at the back of the castle behind the toy museum in the courtyard next to the Cafe IPPA.
---
Prague Toilets Private Enterprises
These are places which exist as a Prague toilets business. Behind the Old Town Hall is a restaurant called Kotleta and there are big WC signs on that side of the Old Town Square that point you in that direction. You'll see a lady by the machine who 1) gives you change if you need it and 2) makes sure you pay. It goes to show how much money can be made in pay toilets as the restaurant closed but they kept the WC open.
There is one at Templova 3 in the Old Town and another at Malostranske Namesti 22 in the Lesser Town. All will either be CZK20 or CZK30 and they have limited opening times i.e. latest might be 8-30pm.
---
---
City Library
I use the cafe/restaurant called Quido at the City Library on Marianske Namesti quite a lot and if you keep your receipt then the WC in the attended basement WC is free otherwise you pay CZK10. You are likely to be here if you are searching for the Book Tunnel.
---
Can I stop in a Cafe/Pub/Restaurant/Hotel?
My American walking tour clients frequently tell me of their troubles with asking to use a WC in a place where they are not guests etc. There is an unwritten rule here in that if you just turn up to a place and ask to use the WC they are likely to say no. But, if you turn up to the same place, offer a CZK20 coin and ask to use the WC they'll probably just show you in and not even take the money. It's easier to use a cafe or pub WC on the fly but try not to have a backpack or jacket and you'll look more like a customer.
---
Automated WC
These are the Prague toilets on the street where you put a coin in and a sliding door opens. You get in, do your business and get out. That's if the door opened in the first place. It will probably just keep the money and stay closed. So very simple, don't use them.
---
Can I use Euros for Prague Toilets?
If there is an attended toilet as described above then definitely yes in which case it's usually 1 Euro. Some machines will accept Euro coins in which case they will say which coins i.e. it may say 70 Cents and will accept small coins but more likely is that it will accept 1 Euro coins but state "no change". In the case of the "Kotleta" on the Old Town Square the lady will accept 1 Euro coins and give you a CZK20 coin so the exchange rate is not great.
---
Special Mentions
One of the oldest working public Prague toilets is under the bandstand on Slavonic Island (attended). The National Theatre has an attended toilet accessible from the main road down the steps between the new building and the old building. Shooters Island has an attended toilet under the arches but only during the summer and it opens only if the island is being used for concerts or barge restaurants like Bob's BBQ. There's an attended WC at Wallenstein Garden at the far end next to the Loggia which is open as long as the garden is open. Every day except Saturday the WC at the Jewish Ceremonial Hall is open during Jewish Museum hours and at the time of writing they charged CZK15 or Euro 50 cents.
---