Prague Pedalos
---
From April to October you can expect to see pedalos on the river so if you are inclined to have a bit of river fun then here's what to expect and a few tips.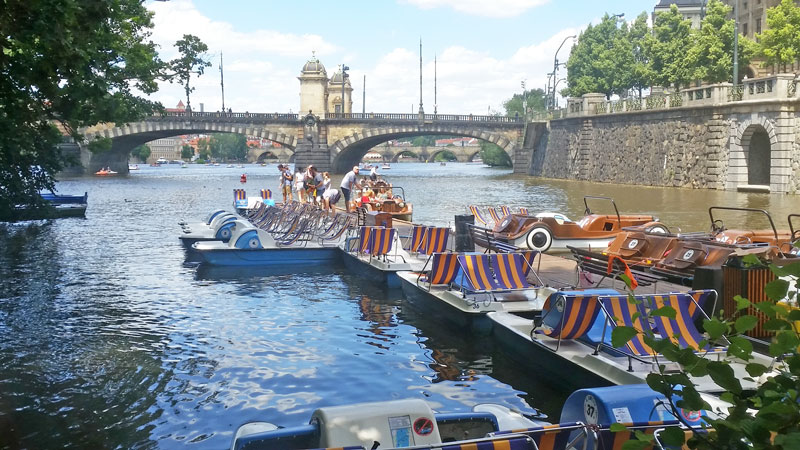 Where can I rent Prague Pedalos?
There are numerous places along the riverside (Old Town side). On a map of Prague they are concentrated between the Charles Bridge and the Jiraskuv Bridge (Dancing House) but really you have to ask yourself a question and it's Do I want to be able to go under Charles Bridge? If the answer is yes then you head to Novotneho Lavka, go through the Lavka restaurant into the garden and hire there. Actually I do not recommend that because in the season it gets very hectic with lots of boats turning under the bridge so you actually spend most of the time dodging boats rather than enjoying the trip. If you're not bothered about the Charles Bridge then head for Slavonic Island one bridge upstream. The reason for the difference is that there is a weir across this part of the river.
---
What's to See?
If you rent from Slavonic Island then I describe that process below. You have an area of water to explore which will give you views up to Petrin Park, Sophies Palace, the Dancing House, Shooters Island, Kampa modern art museum, the canal locks (only see, you can't go in) and of course views to the Charles Bridge and Prague Castle. For an hour rental on a warm day I think it's a great way to pass the time.
---
Prague Pedalos from Slavonic Island
By far the most popular place to hire is Slavonic Island right next to the National Theatre. Generally when you see cars they come from here. Hiring from here also means that you can sail around Shooters Island. Just pay attention to the rules below.
THERE ARE TWO VERY IMPORTANT RULES on this stretch of river:
1) You MUST give way to the large tour boats.
2) You MUST NOT go past the yellow oil drums.
The yellow oil drums mark the last safe water before the weirs either side of the island. If you go past them a little speedboat will roar over to you and you'll learn bad Czech words.
---
How Much and What Do I Need?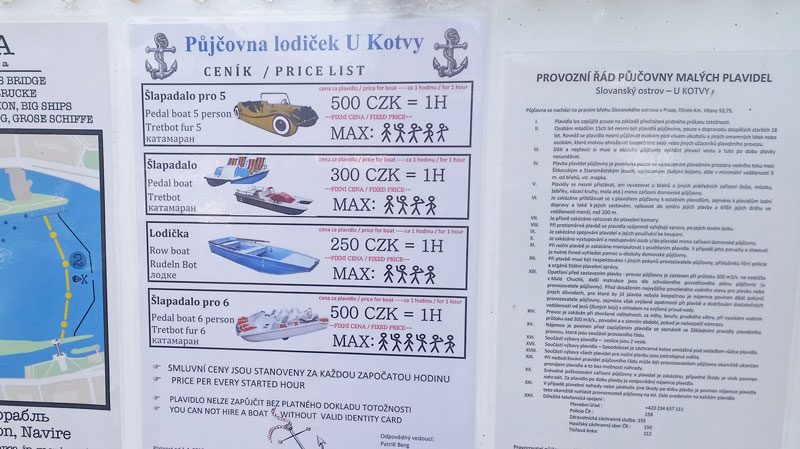 There are three companies on Slavonic Island that hire a variety of Prague pedalos, rowing boats and small motorboats. In this case I'm going to describe what you get at "U Kotvy" on Slavonic Island (the one you see as you look down from the road) but it's roughly the same for all providers. This is a cash business so get an idea of the prices check the picture above. Basically you pay per hour and prices start at CZK300 for basic 4-person Prague pedalos. If you want more seats or a swan/car then it's more expensive. They sell refreshments. Actually U Kotvy has a sign that says they will not rent to a drunk group and then they go ahead and sell bottles of beer which you can take out on the water but you are not allowed to drink. For a budget allow CZK50 per drink plus the cost of the boat. The oldest person in the group has to be at least 15 and life-jackets are provided on request.
VERY IMPORTANT: When hiring Prague pedalos, one person on the boat has to show an item of ID which can only be a passport, national ID card or driving licence. They don't keep it, they just note the detail.
The closest WC is under the bandstand next to the Restaurant Žofin (big yellow building). CZK20 charge.
---
Something Related or a Few Minutes Away
Attraction – Slavonic Island and Sophies Palace
Art and Culture – National Theatre
Art and Culture – Manes Exhibition Hall
Activities – Paddleboarding on the River
---
Some Random Things to Do and See in Prague