Boat Hotel Matylda and Klotylda
---
I think that I can just remember when Matylda was the only part but they expanded by adding the Klotylda so now the Klotylda is primarily for accommodation with a total of 18 rooms. Matylda hosts the other 6 rooms plus it has the breakfast room which is later used as a public restaurant. So even though it's two boats the whole place is just called Boat Hotel Matylda.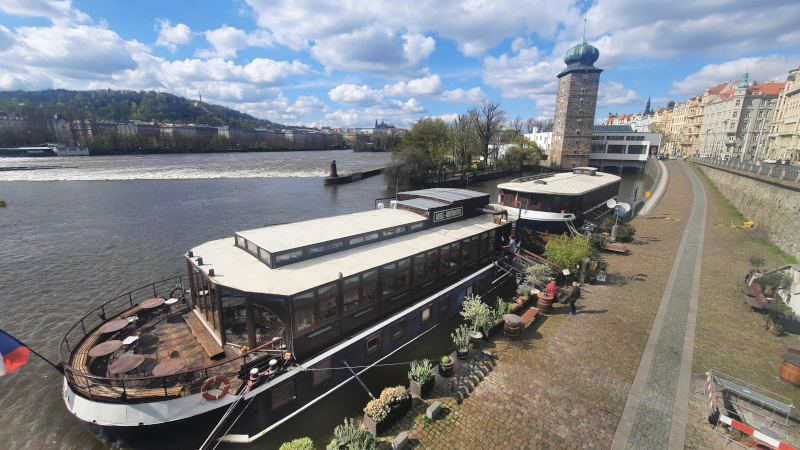 ---
What to Expect
Boat Hotel Matylda and Klotylda basically have 4 different room specs which are Standard, Superior, Executive and Suite/Apartment. They have two additional designators and they are "view to town" and "view to river". Let's look at the doubles first. When I say double it means that they have installed a marriage-bed which is the same as king-size but with separate mattrasses and covers. You have to be aware that the floor area of a Standard double is only 11 square metres and the Superior double is only 13 so you are not coming here for the space. The Executive double is 20 square metres which is about the size of a regular hotel room and the suite/apartments are 30 square metres. Now be aware that one side of the boat faces a quayside so that's the "view to town" and the other is "view to river". The room you book will be very clear on which side of the boat you are on except for the suite/apartments which are located bow and stern so you automatically have some kind of view of the river.
---
Why Stay at Boat Hotel Matylda?
Well when was the last time you slept on a boat? It's very much one of those things that you look back on years from now and think about how much fun it was whilst you conveniently forget that the room was very small. The big draw here is the fact that it's different and it's actually in a really convenient area.
---
Location
Boat Hotel Matylda and Klotylda are moored between the Manes Exhibition Hall and the Dancing House. It's less than a minute to walk to the bars and restaurants on the quayside and the Saturday market called Naplavka. It's a pleasant 20 minute riverside walk to the Charles Bridge but if you think that's too much walking then there's a tram stop 60 seconds from the hotel.
---
My Thoughts
Like I said, something different. You are paying for a view so if you are not bothered about looking at a quayside and you are just using the boat to sleep then you'll have more options here. Don't expect a lot of space and in the doubles there is not free access to both sides of the bed in most rooms so you'll be climbing over your partner. All in all I think it's a memorable place to stay that you'll have fun telling your friends about for years.
Check the Prices and Availability at Boat Hotel Matylda
---
Something Related or a Few Minutes Away
Art and Culture – Manes Exhibition Hall
Art and Culture – National Theatre
History/WW2 – Operation Anthropoid
Parks and Gardens – Charles Square
Parks and Gardens – Shooters Island
Food and Drink – Bistro Strecha
Food and Drink – Art Restaurant Manes
---
Some Random Things to See and Do in Prague