Bistro Strecha, good food and a great cause
---
Strecha means "roof" and the first thing you'll notice here is that it's on the ground floor so if the name doesn't relate to it's location then maybe it's to remind people that they are aiming high or that they have a safe place over their heads. That's not so far from the truth as you'll find out. I could have put this post in the Food and Drink category or the Inspirational category but instead I thought it sat nicely in the Community category.
---
Bistro Strecha – Social Enterprise
From the outside it looks like a pub and from the inside it looks like a pub just with the addition of a cake cabinet. So of the hundreds of pubs in the city why should I single out this place? Well, it's the backstory. Although this place is by no means the first to do this, it is the one most convenient for me to visit. I'll write about others over the next year.
Strecha opened in 2017 as a social enterprise i.e. it's a co-operative where everybody employed by the business has a say in the running of the business and a share of any profits. It aims to provide decent wages and work opportunities for staff who are in transition from being homeless or from the prison system.
---
Food and Drink
Let's start by saying that Bistro Strecha is also a Vegan restaurant but don't let that put you off. I've regularly eaten here over the years and I can put my hand up to not realising it was Vegan even after finishing my first lunch here. When you see ribs, burgers, goulash and filled peppers on the menu they'll be using soya meat. Just take my word for it, it tastes great. Lunchtime they do a Czech Lunch Menu from Monday to Friday so if you sit down and on the table there's a sheet of white paper with loads of Czech on it, turn it over and English is on the other side. It has enough tables so that you won't need a lunch reservation but after 7pm when it goes more from bistro towards being a pub then you'll need to reserve a table. Last food order is 10pm.
---
The Pending Lunch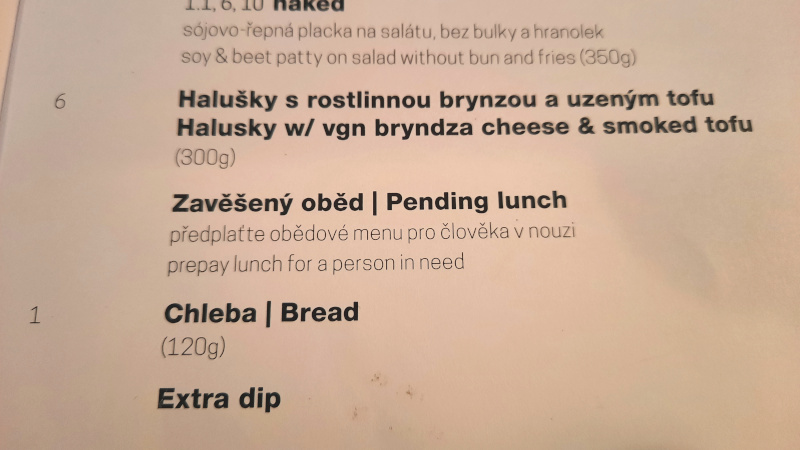 I first stumbled across "pay it forward" in Prague when I wrote about the Lokal restaurants and their "lunch for the next". Here they have a similar option called "Pending Lunch" where you can add a virtual meal to your bill which will be translated into a real meal for a needy person in the city. At the time of writing you could pre-pay either CZK80 or CZK160 (two meals).
---
Location and TIP
Bistro Strecha is located at Kremencova 7 in the New Town (along from the U Fleku Beerhall) and their website is https://www.restauracestrecha.cz/en/. Just a note about the toilets in that they don't have text and they don't have the regular man/woman icons. Instead it's either just a picture of sit-down toilet or a sit-down toilet PLUS a pisoar. To avoid confusion guys, you're on the left.
---
Something Related or a Few Minutes Away
Food and Drink – Czech Lunch Menu
Art and Culture – Manes Exhibition Hall
Art and Culture – National Theatre
Attraction – Slavonic Island and Sophies Palace
Restaurant – Lemon Leaf (Thai)
---
Some Random Things to See and Do in Prague