Prague Vegetarian Restaurants and Vegan Restaurants
---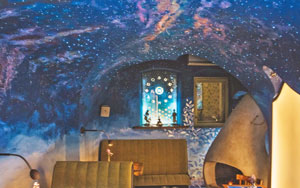 Lehka Hlava (Vegetarian)
Some Prague vegetarian restaurants overuse the word "oasis" but this is the only place where it fits. You enter via a little courtyard which has been reconstructed since it was completely wrecked in the last floods. Entering the restaurant you'll see that there are only two rooms and a lounge nestled between strictly earth colours and natural pieces of art. It's almost a living gallery. The Lehka Hlava restaurant literally translated is "clear head" and serenity is their aim.
Read more and/or make a reservation at Lehka Hlava.
---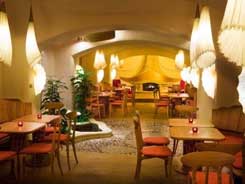 Maitrea (Vegetarian)
The restaurant is named after Maitreya, a bodhisattva who in the Buddhist tradition is to appear on Earth to achieve complete enlightenment. Mix in two floors with Feng Shui elements like water fountains and lack of corners and you'll immediately feel this a chance to try great food and enjoy a holistic experience at the same time.
Read more and/or make a reservation at Maitrea.
---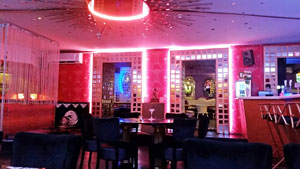 Radost (Vegetarian)
Where to start. They split their daily main menu into 14 different delicious sections so there's a lot of choice including the largest collection of vegetarian burgers in Prague. I could make my favourites section a lot bigger just by including a few specialities from the daily Mexican Selection or the extensive choice of brunches. And to top that lot off you've got a choice of terrific homemade desserts.
Read more and/or make a reservation at Radost.
---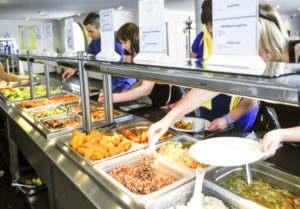 Loving Hut (Bila Labut – Vegan)
Unlike Lehka Hlava and Maitrea which lean towards Mediterranean, Loving Hut leans heavily towards Asian. Lots of noodle-based meals, fried and steamed vegetables, soy steaks, Thai curry and vegan balls on the menu. Basically, imagine that you have walked into an Asian fusion fast food restaurant except there's no pork, chicken or beef. This is substituted with vegan specialities.
Read more and/or make a reservation at Loving Hut.
---
Back to All Restaurant Categories
---