Restaurants – Dhaba Beas
---
Yes, that is the correct spelling. Welcome to a healthy kind of fast food Indian-style. I've frequented several of Dhaba Beas branches in Prague (at the time of writing they had 19 locations) and they've gone from relatively obscure locations to become a mainstay of shopping centre food floors. It's a Vegetarian which has Vegan options. Let me tell you how it works, where and why I use Dhaba Beas.
If you know your geography then the name gives away the main style of food. Dhaba – meaning a kind of non-stop Indian roadside food shack and Beas – a 470km long river in the north of India. So even if the website mentions Thai, Vietnamese and Czech food the style and influence is northern Indian. I'm not Vegetarian but I use these places a lot for a quick, light and healthy lunch option for when I only have 30 minutes available.
---
The Pay by Weight System
Dhaba Beas operates a self-service pay-by-weight system i.e. when selecting your food you are either putting it on a stainless-steel tray or in a plastic takeaway box. At the cashier you put the container on scales and this weight is subtracted so that you only pay for the weight of the food. At the time of writing that is CZK29 per 100g so you are looking at @CZK150-180 for a light lunch.
---
The Pay by Unit System
Whereas the bulk of the available food is pay by weight, Dhaba Beas has vastly increased the offer of single price items like spring rolls, samosas and bhajis to mention a few. If you select any of these single unit items then they will not be included on the scales i.e. you pay separately.
---
The Order of Things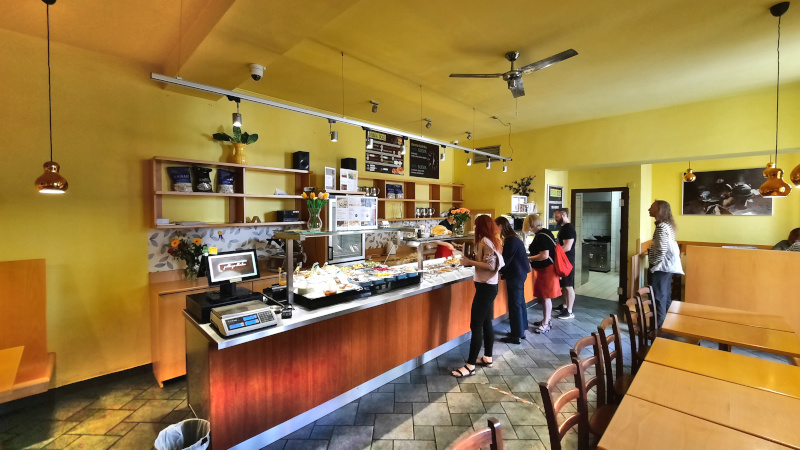 In general when you arrive and you plan to eat-in then your first task is to take a tray, cutlery and cup (pre-pandemic you had free pitchers of water at each table but post-pandemic the water is now in the self-service area). Then you have a selection of your main-meal options (there will also be things on the top shelf that don't require heating). As you work your way along you'll come to a salad area followed by cakes and sauces (where you can spice up the meal). Finally you reach the cashier and scales where the food is divided for payment. You then find a seat and you can ask to share a table and when you have finished you return your tray/cup to the stand. If it's a takeaway your disposable box is sealed when it's given back to you.
---
Where I Eat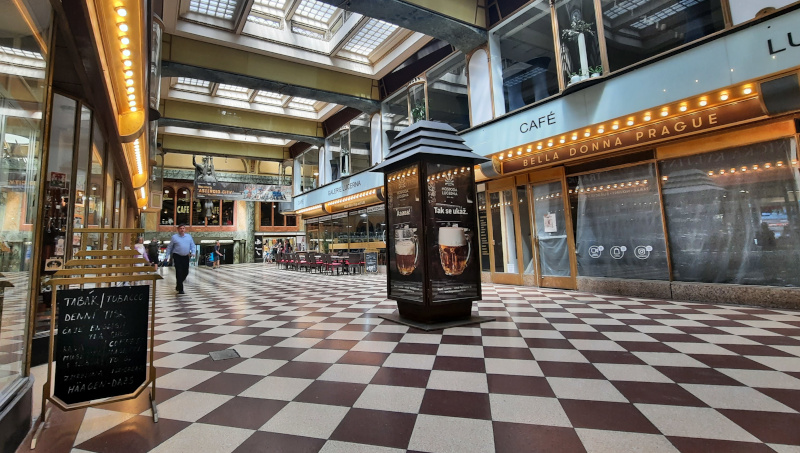 I love hot soups and heavy Czech food in the winter but during the summer months I tend to use one of Dhaba Beas original smaller locations in Týnská in the Old Town just 90 seconds walk from the Old Town Square. My next two favoured locations are the Lucerna Passage and Belehradska (close to the IP Pavlova metro) which are both in the New Town. There are others but I mainly use places that have cool passageways or external courtyards.
---
In Summary
Dhaba Beas has a good choice of high quality food. You choose how much or how little you want. You can use it only as a salad bar if you prefer. The food is consistent throughout the chain and the locations are widespread and easy to find. BONUS: In the last hour of trading the price of the food drops by 40% so the period 7pm-8pm is known as the happy hour when it's first-come-first-served and when it's gone…..it's gone.
---
Something Related or a Few Minutes Away
Food and Drink – Pay by Weight
---
Interested in Food? Here are some food tour companies with good reputations