Lehka Hlava
---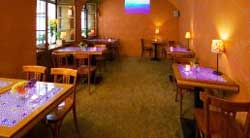 Some Prague vegetarian restaurants overuse the word "oasis" but Lehka Hlava is the only place where it fits. I guarantee that you are very unlikely to just wander past this place. You enter via a little courtyard which has been reconstructed since it was completely wrecked in the last floods. Entering the restaurant you'll see that there are only two rooms and a lounge nestled between strictly earth colours and natural pieces of art. It's almost a living gallery. The Lehka Hlava restaurant literally translated is "clear head" and serenity is their aim.
---
Lehka Hlava – The Food
Lehka Hlava serves both Vegetarian and Vegan. For a quick lunch they do a set menu of a soup and a main course which changes daily but is served until finished so expect it to be gone by 2pm. For those who don't want to eat so fast there's a real Mediterranean feel. Baked vegetables, grilled goats cheese, red lentil soup and probiotic salads are all freshly prepared. Mix and match a couple of starters or a main course and a salad etc. Numerous tasty combinations are available and the service is pretty quick so if you feel like you can take a bit more then don't hesitate to ask.
My Favourite: The "small clear head" taster plate and the simple green salad with honey-lemon dressing.
---
Location
Boršov 280/2
Prague 1, Old Town
www.lehkahlava.cz
---
Back to Vegetarian/Vegan Restaurants
Back to All Restaurant Categories
---