Maitrea
---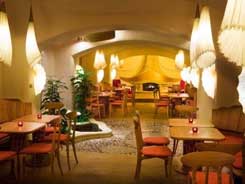 Restaurant Maitrea is named after Maitreya, a bodhisattva who in the Buddhist tradition is to appear on Earth to achieve complete enlightenment. Mix in two floors with Feng Shui elements like water fountains and lack of corners and you'll immediately feel this a chance to try great vegetarian food and enjoy a holistic experience at the same time. More stylish than Lehka Hlava but a little less fun. You'll need a reservation at peak times i.e. lunch or after 7pm.
---
Maitrea – The Food
Some Prague vegetarian restaurants use the buffet "pay the weight" system but Maitrea has a set menu and it's really good. A large selection of cold and warm starters followed by extensive main course options but you'll find everything is light and tasty. They even play with the traditional Czech "meat-heavy" meals like goulash and Beef Sirloin but they do it in their own meat-free style. Or else you can make a great meal just using the starters and side dishes.
My Favourite: The Maitrea "starter for two" and for the main course, the Quesadilla with goat cheese, baked pepper served with cranberries, lettuce and toasted Foccacia with herb butter.
---
Location
Týnská ulicka 6
Prague 1, Old Town
www.maitrea.cz
---
Back to Vegetarian/Vegan Restaurants
Back to All Restaurant Categories
---