Radost
---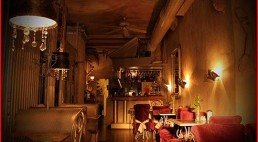 Radost is a vegetarian restaurant with heaps of style and character but it also has a more modern area next to the bar. One of the original vegetarian venues it's unique and I know people who have come here, eaten and left only to find out later that it was a vegetarian restaurant. Comfortable, elegant chairs in an eclectic mix of textures and colours. In my opinion it's just a great place to come for either lunch or dinner and have fun eating especially if you like Mexican food. Reservation is an absolute must.
---
Radost – The Food
Where to start. Whereas 90% of the Vegetarian restaurants in Prague lean either towards Indian or Asian styles, Radost splits their daily main menu into 14 different delicious worldwide sections so there's a lot of choice including the largest collection of vegetarian burgers in Prague. I could make my favourites section a lot bigger just by including a few specialities from the daily Mexican Selection or the extensive choice of brunches. And to top that lot off you've got a choice of terrific homemade desserts. If you like the look of the nachos then my advice is to take the regular portion as it's generous.
My Favourites: Nachos, The Brunch menu (all of it).
---
Location
Belehradská 234/120
Prague 2, Vinohrady
https://radostfx.cz/en/restaurant/
---
Back to Vegetarian Restaurants
Back to All Restaurant Categories
---