Prague Airport Hotels – Four to Choose From
---
There are times when you need to stay close to the airport i.e. short layover, early flight, business meeting etc. Here you'll find the 4 Prague Airport Hotels within a short walk or shuttle from the terminals. Note that the next central hotels are in the Dejvice area which is a 15-20 minute taxi ride and include the Diplomat, DAP and Denisa.
---
Prague Airport Hotels – Aero Rooms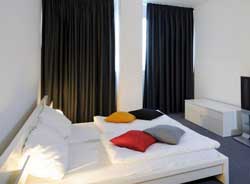 Some guides still call this the old name i.e. Rest and Fun. Of all the Prague Airport hotels this one's a bit special because you are actually inside Terminal 1 so you'll need a valid boarding pass. Not just for an overnight stay, it also has a relaxing lounge and office facilities if you need them. But if you are staying over it offers well equipped en-suite rooms with comfortable beds, desk and flat screen TV. There are regular rooms designed for 2 adults or bigger rooms designed for a family of four.
Find Prices and Availability for the Aero Rooms at Prague Airport
---
Courtyard by Marriott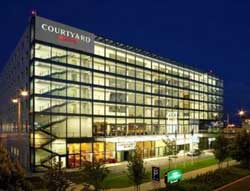 Of the 4 Prague Airport hotels that are within the airport area the Marriott is the easiest to get to as it's only a two minute walk from either of the Terminals. Quite simply the best option for a stay over if you need to be close to the airport. It's a Marriott after all so expect top level service, restaurants and accommodation. The rooms are aimed at business travellers so expect comfort alongside a working space and FAST internet. This place is designed so that you do not have to go outside.
Find Prices and Availability for the Prague Airport Courtyard by Marriott
---
Holiday Inn Prague Airport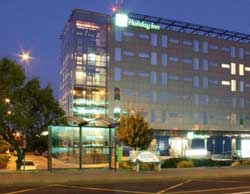 Formerly known as the Tranzit. It's less than 400 metres from the airport but it's not suitable to walk so you use the shuttle bus which goes around the hotels and terminals. It also connects with the 119 Bus Service. Comfortable soundproofed rooms, office facilities, nice restaurant and 24 hour lobby bar. Very popular with business travellers mainly looking for a smart, functional room. Maybe somebody who wants a quick trip into the city but appreciates the extra time in bed.
Find Prices and Availability for the Prague Airport Holiday Inn
---
Prague Airport Ramada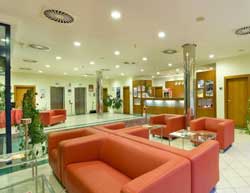 Ramada is the only one of the Prague Airport Hotels located at the South Terminal. That makes it the furthest away so again you access it by using the regular airport shuttle. It's the most expensive of the Prague Airport Hotels options but again it aims at business travellers. It does have probably the best restaurant and conference facilities.
Find Prices and Availability for the Prague Airport Ramada Hotel
---