Prague Airport Terminal 1
---
This page is for people arriving at Prague airport having travelled FROM a country that is NOT a Schengen Treaty member i.e. your country does NOT appear in the list below so, check it now. NOTE that UK and USA arrives at this terminal so you are on the right page. If the country that you are travelling from DOES appear in the list then you want the Prague Airport Terminal 2 page.
List of Schengen countries:
Austria, Belgium, Denmark, Estonia, Finland, France, Germany, Greece, Netherlands (Holland), Hungary, Iceland, Italy, Latvia, Lithuania, Luxembourg, Malta, Norway, Poland, Portugal, Slovakia, Slovenia, Spain, Sweden, Czech Republic
---
Prague Airport Transfer to the Centre
I have a Recommended Prague Airport Transfer Service from a local company that's been around for 20 years. Totally professional service and a long list of testimonials from some really famous people or if you want information about different airport transfer options then go to the Prague Airport transfers page.
---
Prague Airport Guide – Fast Facts
Bus transport connections: Public bus services linking Prague airport with metro stations on the green and yellow lines and a private bus service linking to the red line at the main train station.
Average taxi price from Prague airport to the centre of town: 700Kc plus or minus 50Kc.
Average private transport price to the centre of town: 620Kc
Largest Prague Airport carrier: Czech Airlines (CSA).
Terminal 1 Gates A and B – To/From Non-Schengen countries
Terminal 2 Gates C and D – To/From Schengen countries
Prague Airport distance from city centre: 20km, transfer time @25 minutes
---
Arriving at Prague Airport Terminal 1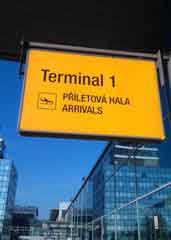 You will have left a country that is not a Schengen Treaty member and your plane will have landed at a Prague airport gate marked "A" or "B" or a bus has transferred you to the terminal. You enter the terminal main area (with all the shops etc). If you are in transit then flights to non-Schengen destinations leave from this terminal (the main transit ticket desk is in area "B"). Transit to Schengen countries requires you to use the transit entry into the Gate "C" area. People coming to Prague will follow the signs for baggage reclaim and pass through the main passport control in area "B". At passport control you will see different signs; 1) All passports, 2) EU only, 3) EU/crew/diplomatic, 4) EU Chip (automatic gates). Generally the smallest queues are on these last gates (on the right). You are entitled to pass through crew/diplomatic gates but, you have to give way to diplomatic staff and flight crew. This is not a problem as they pass through very quickly. Don't be put off by the "visa states only" sign either as all gates will accept all people. In the luggage area the trolleys are free and plenty of them. The Prague airport Terminal 1 excess/oversize baggage area is on the right. If you checked a pram/push chair and did not receive it when you left the plane, it will be delivered to the oversize area.
---
The Arrivals Hall and Transfer Options at Prague Airport Terminal 1
The customs area leads to the exits right and left but, you end up on the same concourse. You emerge opposite Gate E (there is also an exit at the far end opposite Gate F but, it is not currently used). The bus/coach transport and accommodation desks are to the right. If you are using public transport, it's worth going to the information desk to get info on bus timetables and other useful info (Mon-Sun 0700 to 2200). You can also buy the transport tickets at this desk. If there is a long queue, look behind the stairs and you'll see the "Cedok" desk, this also sells transport tickets. On your far right is the entry to the new Terminal 2 (there's a sushi restaurant, a McDonalds and a Post Office in the passage). The main Prague airport Terminal 1 restaurant, bar and departure area is to your left.
If you are a smoker then the main coffee bar in the area between Arrivals and Departures is the Pilsner Bar called "Meeting Point" where you can smoke inside the bar. If this is full then back along in the arrivals area is the "Bar in the Sky" where again you can smoke inside. Immediately outside the terminal is the pick-up point for CEDAZ transfer vans and AAA Public Taxis.
NOTE 1: From Prague airport, if using AAA taxi or CEDAZ you do not have to book in advance. You are also told the cost of the transfer BEFORE you take the trip.
NOTE 2: Other options like private pickups are in the are in front of the short stay car park and bus options are in the second lane BEFORE the short stay car park.
The Prague Airport taxi services accept credit cards but, should you wish to change money, change as little as possible as the Travelex airport rate is quite low. The Prague airport changing offices are supported by the Czech Bank called CSOB. Remember that 2000Kc and 1000Kc notes are difficult for most people to change. Accept only 500Kc notes or less. There are ATM's (cashpoints) next to the arrivals information desk. They accept Visa, Mastercard, Cirrus and EC. See my Czech ATM guide. These machines regularly give only 2000Kc and 1000Kc notes and there is no bank at Prague airport.
---
Departing from Prague Airport Terminal 1 and Parking options
Note: if you are taking the 119 Bus from Veleslavin then it stops at Terminal 3 first (charters and government flights), then Terminal 1 and finally Terminal 2.
Unauthorised cars are no longer allowed to park directly on the Prague airport concourse unless you have a special access card. If you are dropping off then Prague airport Terminal 1 has a "short stay" car park to the right of the "overpass ramp" which is free for 15 minutes. Over this and it's 100Kc per hour. If you are staying at Prague airport longer or you intend leaving your car for a few days then parking area "C" is where you should aim for (stay in the left lane – Parking "C" is the first Multi-Storey on the left) and expect to pay about 2000Kc for 7 days. Alternatively, go to the parking "D" area which is a 10 minute walk or one bus stop back to the terminal. Parking here will be about 1000Kc for 7 days. The speed limit close to the Prague airport is 40km. A recent option has appeared in the form of Go Parking (www.goparking.cz) which is located about 3km from the airport and runs a "shuttle by request" service (you ring them and they come for you). Prices are approximately half of the airport "C" car park. Parking options at the airport and tariffs can be found at the www.csl.cz website which also has a "parking fee calculator". Note cars using LPG must park on the roof.
As you enter the departure hall, the departure boards clearly show the flight numbers and check-in desk information. Luggage size and weight must comply with the airline requirements and your ticket allowance. Passengers with oversize or specialist luggage (like surfboards etc) are directed to a special area of Prague airport after checking in. Security restrictions are still in place regarding liquids i.e. you cannot take anything in your hand luggage greater than 100ml and anything like perfume, makeup, gel etc must be put in a sealed bag of not more than 1L volume. No sharp or dangerous items can be carried on board (listed at check-in).
The ticket offices are on the far side on the left and right of passport control. Czech Airlines usually operates a common check-in policy on desks 141 to 148 where a single queue is diverted to the next free desk. Business check-ins are usually on 141-143 and you can go there if they are empty. Easyjet flights check in on desks 111 to 118. Air France check-in desks are 171 to 177. Flights to the United States are at 181 to 189 which is over by the window on the right as you enter the Terminal North 1 departure area. As security is still quite tight for the US flights, my advice is to get here early or expect to queue.
If you arrive at Prague airport Terminal 1 with only hand luggage you can check in at desk 110 or 130 or else use a business class check-in. Lufthansa and CSA e-ticket holders with hand luggage only can use the fast check-in machines (you need the booking code and the credit card used to make the booking).
---
Departing Prague Airport Terminal 1 – Passport Control
From 2016 everybody has to scan a boarding pass before entering the control area. For EU passport holders, the quickest way through here is on the far right. Look at the digital display above the cubicles and if it says "EU" then EU citizens can use this gate. Dont worry about the "diplomatic/disabled and flight crew" messages, this only means you have to give way to them. For all you others not EU, I'm afraid that you cannot use these gates. If there happens to be a longer queue at the "EU Only" then EU citizens can always use the "All passports" section.
---
LIQUIDS – Difference between Prague airport terminals
1) Prague Airport Terminal 1 – You can bring liquids like water/juice etc as far as the departure gate but, not into the waiting area for the flight. All liquids not in correct volume or sealed bag must be discarded before going through x-ray and into the gate waiting area. Vending machines are used inside the waiting area.
2) Prague Airport Terminal 2 (Schengen) – ALL liquids over 100ml and not in a security-sealed bag (i.e. from the duty-free shop) must be discarded BEFORE going through passport control. Any drink purchased after the x-ray check can be taken on board the plane.
---
Prague Airport Terminal 1 – Internet and Wifi
Prague airport offers two WIFI options. The SSID of the free service is prg.aero-free and you can expect 512Kbps. The paid service works on a tariff basis. You connect to the SSID prg.aero-hotspot, choose the time/tariff, set up a user account and enter credit/debit details online. If all is ok you get a password. You must login to the paid system within 30 minutes otherwise the transaction is cancelled and your money is repaid to the card. The paid service runs at approx 10Mbps. Another option although not absolutely free but, the Mattoni Bar (on the left by the window after you go through passport control) has four terminals which you can use for free after you have ordered a drink.
---
Prague Airport Terminal 1 – food and drink
All restaurants adhere to a sign system "$" where $ means low cost (normally takeaway), $$ is medium (cafes) and $$$ is most expensive (sit down restaurant).
---
Prague Airport Terminal 1 – Duty Free
True duty free from Prague airport is only for non-EU nationals and these offers are marked in the shops. There's a reasonable selection of alcohol/tobacco, clothes and perfume shops selling at less than you would pay in the UK. There are a couple of "local craft" shops selling puppets and dolls etc. The main duty free alcohol sales places are pretty well stocked but, if you are looking to buy alcohol it's worth noting that the sizes of the bottles are generally small (20-50ml) or big (1L). The 75ml bottle is generally not stocked so buy this size in town. For more info on allowances see my Duty Free page.
---
Prague Airport Terminal 1 – VIP and Business users
All available options are listed at the Prague airport www.prg.aero VIP Services page. These include regular lounge use, business meetings and equipment, renting parking places outside the terminals and the possibility of short term renting of "rest rooms" in the Prague airport Terminal South (now known as Terminal 3) building.
---
Prague Airport Terminal 1 – Car Park "C"
Whether you stay for 3 hours or 3 days etc you can use the same Prague airport car park C. The fee is calculated at the time of payment. As a rule we've found that 7 days parking equates to about 2500Kc. You must pay for your ticket before you return to your car and you have 20 minutes to exit. The parking payment machines are located at T1 gates C and F at arrivals and gate A at departures. In T2 they are at gate E. There is also a cash payment machine at the the pedestrian entry and close to the exit of the car parks. There are also "credit card" payment machines in the terminals and at the "C" pedestrian entry. There is a manual payment desk in the Prague airport Parking "C" car hire area (24 hours) if the machines are not working and/or you need a receipt (also a good place to break a large bank note). The Prague airport website at www.csl.cz has a parking fee calculator.
---
Prague Airport Terminal 1 – Kids play area
Kids play area. Between Gates B and C there is a childrens play area (climbing frame and ball pit etc).
---
Prague Airport Terminal 1 – Other Stuff
Do not put loose change, keys, glasses, mobile phones etc into the plastic trays at the x-ray machine as you may forget them. Instead, put them into your carry-on bag as you will not forget that.
Tax Free reclaim (not for EU) – next to the Excess Baggage office in the far left hand corner of the departure area opposite desk 111. There are also smaller offices in the "flight side" terminals.
Luggage storage – (60Kc per piece per calendar day i.e. if you leave a case at 5pm Monday then your 60Kc will be good until 5pm Tuesday) is located in the arrival hall opposite gate E. If you want other city options check the Prague Bag Storage post.
Lost and Found office – next to the luggage storage area.
Wheelchairs – If you need a wheelchair then ask for it at check-in. You'll be escorted all the way to the plane or if you want, you can park yourself in one of the bars and a member of the staff will meet you there before the flight is called.
Power – On the Prague airport flight side i.e. on the other side of passport control, 220V sockets are located in most of the vertical columns which divide the glass of the departure gates. On the check-in side there are not many options but the seating area to the left of the departure hall has both mains and USB charging points.
Toilets – Located at the far end of the departure hall (on your right as you walk in). Also located at the far end of the arrivals hall (downstairs and upstairs) and between the souvenir shop and restaurant between the two halls.
Post Box – For posting those final postcards, you'll find the post box next to the paper shop (on the check-in side) and you will want to use the right hand of the two options where it says "mezinarodni zasilky" which means international post. There is a post office in the passageway between Prague airport Terminal 1 and Terminal 2.
For travellers leaving Prague Airport on a Monday morning, the larger of the two newspaper shops (next to Victoria's Secret) will still be selling Sunday newspapers.
---
Prague Airport Guide – Seasonal Note
From November to March, Prague Airport has many days where snowfall causes one or more runways to be closed and flights delayed. From the UK it's worth NOT being booked on the first flights of the day i.e. 0800-1000 as these are guaranteed to be cancelled whilst Prague sorts itself out from overnight snowfall and in peak periods you will not get on another flight.
---