Prague Airport Schengen Terminal 2
---
This page is for people arriving at Prague airport having travelled FROM a country that is a Schengen Treaty member i.e. from the list below so check it now. To make it faster if you are travelling from outside continental Europe, USA or from the UK then you need to look at the Prague Airport Terminal 1 page.
You have travelled FROM one of the following countries:
Austria, Belgium, Denmark, Estonia, Finland, France, Germany, Greece, Netherlands (Holland),
Hungary, Iceland, Italy, Latvia, Lithuania, Luxembourg, Malta, Norway, Poland, Portugal, Slovakia, Slovenia, Spain, Sweden, Czech Republic
---
Airport Transfer to the City Centre
I have a Recommended Prague Airport Transfer Service from a local company that's been around for 20 years. Totally professional service and a long list of testimonials from some really famous people or if you want information about different airport transfer options then go to the Prague Airport transfers page.
---
Terminal 2 Fast Facts
Bus transport connections: Public bus service linking Prague airport with metro stations on green line (Nadrazi Veleslavin) and yellow line (Zlicin and Nove Butovice). The Airport Express private bus service connects to red line at the Main Train Station.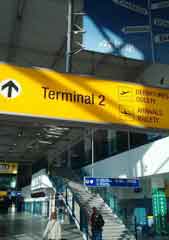 Average taxi price from Terminal 2 to the centre of town: 700Kc plus or minus 50Kc.
Average private transport price to the centre of town: 620Kc
Largest Prague Airport carrier: Czech Airlines (CSA).
Number of Prague airport Terminals: 3
Terminal distance from city centre: 20km
Prague airport website at www.csl.cz has a parking fee calculator.
---
Arrival at Prague Airport Schengen Terminal 2
You have now arrived at Prague Airport's newest terminal. Arrival is pretty straight forward. Your plane will land and connect direct onto a gate marked "C" or "D" or you will transfer to a bus which takes you to the terminal. As this is the Schengen arrivals terminal there is not normally anybody at passport control. Proceed and turn to the right following the "Baggage Reclaim" signs for Gates "C" and "D".
NOTE: If you are in transit then follow signs for your next flight gate i.e. another Schengen flight leaves from here. Non-Schengen flights mean you must follow the signs for Gates "A" and "B" via the Transit gate.
NOTE: If you are in transit and have a boarding card then you can buy goods in any of the shops and you can also book accommodation at the Aero Hotel (used to be called Rest and Fun).
---
Arrival Hall and transfer options at Prague Airport Schengen Terminal 2
Having collected your luggage you enter the arrival hall and you'll find the following:
On your left will be a Costa (coffee and snacks), Prague airport information booth, tourist public transport booth (big sign says "Metro-Tram-Bus and you can buy DPP tickets here). On the far left is the Billa supermarket, escalator up to more cafes and bars, the ATM's and the entry to Prague Airport Terminal 1.
On your right you will find:
Vodafone shop, AAA booth (public taxi car service), Travelex (foreign exchange), CEDAZ booth (Hotel transfer using vans) and at the far end of the concourse are the other bank ATM's (CSOB, Ceska Sporitelna, KB, UniCredit and ABN-AMRO).
NOTE: If using AAA taxi or CEDAZ you do not have to book in advance. You are also told the cost of the transfer BEFORE you take the trip.
NOTE: AAA and CEDAZ vehicles are located in the first lane outside the terminal. Other options like buses and private pickups are in the second lane.
The Prague Airport taxi services accept credit cards but, should you wish to change money, change as little as possible as the Travelex airport rate is quite low. The Prague airport changing offices are supported by the Czech Bank called CSOB. Remember that 2000Kc and 1000Kc notes are difficult for most people to change. Accept only 500Kc notes or less. The ATM's are at the end of the arrival hall on your far right. They all accept Visa, Mastercard, Cirrus and EC. Only the Komercni Bank (KB) ATM supports American Express . Check the How to Use a Czech ATM guide. These machines regularly give only 2000Kc and 1000Kc notes and there is no bank at Prague airport.
---
Departing/Check-in at Prague Airport Schengen Terminal 2
Cars can park right outside the departure area which is free for 15 minutes. Over this and it's 100Kc per hour. If you are staying at Prague airport longer or you intend leaving your car for a few days then parking area "C" is where you should aim for (stay in the left lane – Parking "C" is the first Multi-Storey on the left) and expect to pay about 2000Kc for 7 days. Alternatively, go to the parking "D" area which is a 10 minute walk or one bus stop back to the terminal. Parking here will be about 1000Kc for 7 days. The speed limit close to the Prague airport is 40km. Another option is Go Parking (www.goparking.cz) which is located about 3km from the airport and runs a "shuttle by request" service (you ring them and they come for you). Prices are approximately half of the airport "C" car park and 200Kc cheaper than the "D" carpark. Parking options at the airport and tariffs can be found at the www.csl.cz website which also has a "parking fee calculator". Note cars using LPG must park on the roof.
By definition you must be travelling to another country member of the Schengen treaty listed at the beginning of this page. If you are not travelling to one of these countries then view the departure hall information on the other airport page. Note: if you are taking the 119 Bus from Nadrazi Veleslavin then it stops at Terminal 3 first (charters and government flights), then Terminal 1 and finally Terminal 2 where you have to go UPSTAIRS to the hall. If you're still with me then as you enter the Terminal 2 hall you'll find the following:
On your left will be the Star Alliance ticket offices (Austrian and Lufthansa etc)
On your immediate right will be Relay newsagent and the Czech Airlines and common ticket sales offices for KLM/Alitalia and Air France. All other ticket offices and tour operator booths are on the far side of the check-in desks.
On the far right is the restaurant, shops and the escalator down to the Terminal North 1 passage. Shops in the upper floor include a Lekarna (dispensing chemist), two restaurant bars (Sweet Home has an outside viewing terrace), Bambule toy shop, a coffee/cake cafe and a newsagent.
NOTE: in the passageway between Terminal 1 and 2 there is also a sushi restaurant, McDonalds and a Post Office.
The departure boards clearly show the flight numbers and check-in desk information. Luggage size and weight must comply with the airline requirements and your ticket allowance. Lufthansa and CSA e-ticket holders with hand luggage only can use the fast check-in machines (you need the booking code and the credit card used to make the booking). Passengers with oversize or specialist luggage (like surfboards etc) are directed to a special area after checking in. Security restrictions are still in place regarding liquids i.e. you cannot take anything in your hand luggage greater than 100ml and anything like perfume, makeup, gel etc must be put in a sealed bag of not more than 1L volume (See the next section for terminal differences). The front desks (210, 220, 230, 240) if staffed, can check you in if you only have hand luggage but, more likely they will send you to a business check-in. Easyjet operates a policy whereby you can take whatever weight into your hand luggage depending on two things, 1) that your hand luggage fits "comfortably" into the regular size check frame and 2) that you can lift this bag into the overhead locker on your own. No sharp or dangerous items can be carried on board (listed at check-in).
---
Prague Airport Schengen Terminal 2 – Passport Control and Security
You will have to scan your boarding pass before entering the control area. There are currently 6 passport control desks. The one on the right is reserved for business, CD (diplomatic) and crew. The ones on the left are EU only and the ones in the middle are "all passports". Generally the EU queue is longer but it moves faster. When you get through passport control you join a single queue to the x-ray machines. Here the queue can break and it's up to you which x-ray machine you want to queue at. My advice is to put all coins/watches/bulky jewellery/keys/belt/mobiles etc into your carry-on luggage or expect a manual body search. Green light means you are squeaky clean. Red-light only means you are ok. Red light and the buzzer mean you will be searched.
NOTE: if you have a notebook PC it must be removed from the hand luggage and put through separately i.e. with your jacket. Local security instructions may be enforced i.e. sometimes you have to take off your shoes.
---
Departure Gates "D" – Prague Airport Schengen Terminal 2
You now enter the Gate "D" area (Gate "C" is detailed in the next section). On your left will be the following:
Blue (tourist souvenirs – very colourful), Relay newsagent and media, El Mundo restaurant/cafe, Sandwich shop (expensive), Sparkys toy shop, Travel Value shop (drink/perfume/cigarettes/clothes), Swarovski (Jewellery) and Erpet (Crystal/Glass).
---
Departure Gates "C" Prague Airport Schengen Terminal 2
As you go down the lift or escalator you'll see the entry for transit passengers coming over from Prague airport Terminal 1 on your right. As you enter the gate area you'll find the following. On the right is Sparkys toy shop followed a little later by the Relay newsagent and Botanicus (smelly soaps etc). On the left is the Glass shop.
NOTE: at Prague airport gates C12-C21 are not on the main concourse. In the "C" area 20 metres on the left there is an entry point that goes down to these gates.
Further up on the left is the Pilsner Restaurant followed by another branch of "Blue", Clare (shirts) and Sugarfree (womens underwear). On the other side is the "Coke Point" cafe. NOTE: Relay newsagent charges 55Kc for a bottle of Cappy fruit juice, the Sandwich shop in the main terminal and Coke Point charge 95Kc for the same bottle). Parents with kids can save a fair amount by buying drinks from Relay.
---
LIQUIDS – Difference between Terminals
1) Prague airport Terminal 1 – You can bring liquids like water/juice etc as far as the departure gate but, not into the waiting area for the flight. All liquids not in correct volume or security sealed bag must be discarded before going through x-ray and into the gate waiting area. Vending machines are used inside the waiting area.
2) Prague airport Schengen Terminal 2 – ALL liquids over 100ml and not in a security sealed bag must be discarded BEFORE going through passport control. Any drink purchased after the x-ray check can be taken on board the plane.
---
Prague Airport Terminal 2 – Food and Drink
All restaurants adhere to a sign system "$" where $ means low cost (normally takeaway), $$ is medium (cafes) and $$$ is most expensive (sit down restaurant).
---
Prague Airport WIFI Terminal 2 – Internet and Wifi
Prague airport offers two WIFI options. The SSID of the free service is prg.aero-free and you can expect 512Kbps. The paid service works on a tariff basis. You connect to the SSID prg.aero-hotspot, choose the time/tariff, set up a user account and enter credit/debit details online. If all is ok you get a password. You must login to the paid system within 30 minutes otherwise the transaction is cancelled and your money is repaid to the card. The paid service runs at approx 10Mbps.
---
Prague Airport Schengen Terminal 2 – Dutyfree
First check the Duty Free page for prices. Entering the Gates "D" area after x-ray on your immediate right will be the Czech Airlines shop (all the usual), Travel Value (only make-up and perfume), assorted clothes shops, Moser glassware, computer shop and the EU shop (duty free with 10% discount off second item).
On the far right begins the food area consisting of the Porto restaurant, Shortys English Pub, Celebrity Steakhouse, Bohemia Deli and the Black@White internet cafe. This is an expensive area to eat and drink. In general, prices for a 0.3L glass of beer start at 110Kc (Porto will give you 0.4L for same price). In this area you'll find stairs and lifts down to the "C" area.
---
Prague Airport Schengen Terminal 2 – VIP and Business lounges
All available options are listed at the Prague airport www.prg.aero VIP Services page. These include regular lounge use, business meetings and equipment, renting parking places outside the terminals and the possibility of short term renting of "rest rooms" in the Prague airport Terminal South (now called Terminal 3) building.
Opposite gate "D2" you'll find stairs and at the top are the business lounges. The Crystal Lounge on the left is for specified flight carriers (business and first). The Moravia Lounge (it's run by Menzies Aviation and is just called "Lounge" now) is on your right for specified carriers with the addition of paying customers i.e. you pay them 20 Euros per person for two hours (Diners Club cardholders enter for free) and it's a great place to stock up on in-flight goodies for people who are on flights where you have to pay separately for food and drink.
---
Prague Airport Guide – Seasonal Note
From November to March, Prague Airport has many days where snowfall causes one or more runways to be closed and flights delayed. From the UK it's worth NOT being booked on the first flights of the day i.e. 0800-1000 as these are guaranteed to be cancelled whilst Prague sorts itself out from overnight snowfall and in peak periods you will not get on another flight.
---