Driving in Prague and the Czech Republic
---
Having been driving in and out of Prague and the Czech Republic since 1996 I've amassed quite a lot of experience in handling driving conditions here. This is a comprehensive page about all aspects of driving and what to watch out for.
If you intend staying less than 60 days here you do not need any special driving licence but, over 60 days and you may need an International Driving Permit (IDP) available from most driving organisations (England – AA, RAC. United States, AAA) or in the English case you can also get it at the ferry ports on departure. Note that you must also carry your regular licence as well and commercial traffic requires the IDP at all times. If you are insured for driving in Europe then you should be OK here but, it maybe worth inquiring with your insurance company as some impose limitations for entering Czech, Slovakia, Poland and Hungary because of the perceived increase in risk of theft. Long term or permanent residents may have to surrender their driving licence for a Czech replacement. Obviously some people attach more worth to a British licence and it has been known for people to request a replacement for a lost British licence and then finding the original again, they were able to keep their new British licence and get the Czech replacement with the original "lost" licence.
---
Zero Tolerance for Drinking and Driving
The legal driving age in the Czech Republic is 18. You are required to have a zero blood alcohol level when driving. Remember this if you are driving in the early morning after a heavy previous night. Breath testing is now standard even in a random stop (in the old days the police would smell your breath and it would go one of two ways – 1) You pay a hefty fine i.e. 5000Kc and then they go or 2) it's off to the police station. Take my advice, pay the money, do not ask for a receipt, walk away from the car and find a hotel for the night.
---
Lights ON
Since July 2006 all vehicles are required to drive with lights on. This raised questions like "which lights?". For new cars this means driving lights. For older cars it is generally accepted that this means "dipped headlights" which also means that your rear lights will be on as well.
---
First Aid Kit, Hi-Viz and Warning Triangle
You must have an officially recognised first aid kit if driving here and this must not be out of date (there's an expiry date on the kit). They are available at any service station and cost about 300Kc. You must also have a warning triangle and the driver must have a Hi-Viz top accessible within the car. The police may ask to see either during a spot check.
---
General Rules
You must have fastened seat belt (front and back) and children up to twelve years of age may not travel in the front seat of vehicle (babies in a front facing baby seat are exempt if only the mother is in the car). Speed limit is 50 km/h (31 mph) in built-up areas and 130 km/h (75 mph) on highways. Drive carefully, there are no 4 way stop intersections as in the US. When turning at junctions be VERY CAREFUL, as you get a green light, the pedestrians will also get a green man. This often results in drivers "rear-ending". It is now Czech Law to give way to pedestrians crossing at a marked crossing place. This can be a problem as many crossings are old and in a poor state being hardly visible at times. In the winter time you must drive on winter tyres and maintain driving lights or dipped headlights at all times (failure to observe may invalidate insurance).
---
Driving through Austria
Many people will be driving from Vienna to get to the Czech Republic so this is a little section on what to expect there.
Speed limits
The Austrian police rigourously enforce their speed limits both in and outside of town. The highway top speed is 130km but if posted at 100km you can get away with 110. Most central roads have fixed or mobile speed cameras (when you see the "RADAR KONTROLLE" sign, take it seriously). When leaving Vienna to the north you are using the A23 which requires the Austrian motorway vignette. This is available for 14 days, two months or one year. You have two main routes into CZ. The first is to take directions for Brno which sends you to the border crossing at Mikulov (very scenic area). If you go past the Brno signs then you now take directions for Prague (Praha) i.e. keep going straight. Eventually you arrive at the Chvalovice border crossing (with all the duty-free shops and Vietnamese markets between the borders). Either way you would normally be looking at 3 hours drive.
Service stations
After leaving the A23 in the direction of Prague there are no big service stations as this is a provincial road. If stopping for food/drink/fuel/vignette etc you will find it more convenient to stop after the Austrian border but, before the Czech border. If travelling in the Brno direction then again you'll find the occasional fuel station but you wouldn't call most of these "services".
---
Driving through Germany
Many people will be driving through Germany to get to the Czech Republic so this is a little section on what to expect there.
Contrary to popular belief you cannot drive "as fast as you want" on all German motorways. In general, autobahns around Frankfurt/Cologne (Koln) and the A9 between Munich and Berlin have many fast stretches where 200km is not an uncommon speed. Be aware that cars will be approaching you much quicker than in the UK so bear this in mind when overtaking. The speed limit generally reduces to 120km when passing junctions. Off the autobahns you'll find many dual carriageways that appear fast but, the limit will be 100km and this will drop to 80km at junctions. Police in Germany favour the portable roadside camera normally hidden between bushes etc but they will give you an extra 10% i.e. on dual carriageways you can get away with 110km. The exception are posted 120km limits with the additional sign "Radar Kontrolle". By the time you've seen it it's too late and the only question is whether you get a fixed fine in the post or there's somebody up ahead going to flag you down and pay on the spot.
Service stations
Before each service station will be a distance marker to the next closest service stations either on your road or after a "autobahn kreuz" i.e. a junction of two motorways. Most modern stations have a regular cafe and a restaurant but generally, only the petrol station will be open 24hrs. Many service station toilets are operated by a company called Sanifair. To use these toilets you put a 50 euro-cent coin in the machine and take a ticket. The ticket can be redeemed against any purchase at the service station i.e. 50 cents off a coffee etc. Save the ticket and you can use it when you go back.
---
Entering the Czech Republic
The Czech Republic is now part of the EU and now has no official border checks but, the Police take the opportunity of the reduced speed limits to flag you down on the Czech side (especially if you don't have your headlights on). At any time your details may be taken at the discretion of the Police. If you are driving a hired car, you may be asked for your passport/ID, drivers licence and car rental agreement from both authorities.
Entry from Germany (not using motorways)
The fastest way is to enter the west of the Czech Republic at the Pomezi border crossing and then follow the R6/E48 road to Prague. This is a popular route for motor cruisers and caravans not wanting to pay for the motorway charge.
From Germany – Waidhaus to Rozvadov entry
No motorway sticker is required on the German side. If you are aiming to enter the Czech Republic from anywhere near Nurnberg then this will be your border crossing. Most people will be following the E50 (Euro route) and signs to Praha or Pilsen but, a new extension to the German A6 autobahn has opened just after Pfreimd so you just follow the signs. If you stayed on the E50 for another 2km you take the junction for Wernberg Koblitz you can stop at the last decent 24 hour service station before the border. Then come back to the A6 motorway. Note that this part of the A6 contains a rest stop but no other services. At the border generally only the middle crossing gate will be open.
From Germany direction Teplice
This is quite simply coming over the border on the E55 and dropping onto the Czech D8 motorway. Remember that D8 does not run all the way to Prague yet so expect a detour. Alternatively head towards Usti Nad Labem and take the river road down close to Terezin and rejoin D8 there.
From Austria – Drasenhofen to Mikulov
Since the A22 extension opened it's worth buying the day sticker for the Austrian side. Mainly takes traffic heading for Brno and it's slow getting out of Vienna but, it's also an option for traffic wanting to drive fast on the Czech side and take a chance that the D1 motorway is clear to Prague. On the new part of the A22 there are a few points where police will wait or else you'll see the "dustbin" (camera) parked by the side of the road next to a works exit. Austrian Police will also have a stop point as you come down the hill in Drasenhofen before the border. Be really careful at the Brno junction of D1 as it's an accident blackspot as you'll find out. As you join D1 there will be traffic exiting the motorway into your lane and then within 100 metres traffic will be joining into your lane (and you are not supposed to change lane either so take it easy).
From Austria – Jetzelsdorf to Hate
NOTE: you don't have to go through Jetzelsdorf anymore as there is a bypass but, you can turn right at the first roundabout and then left onto the old road which takes you up the hill and through the vineyards (bit more interesting if you have a few minutes to spare).
This is the route if you want duty free as the "no-mans land" between the border has several huge duty free and fashion warehouses including the giant Freeport. It also has a couple of reasonable restaurants including the one in the old airplane which is good for kids. Brothels immediately on the Czech side in Chvalovice and although it's a pleasant and scenic drive up to Jihlava it can be slow if you don't know the passing places and get caught behind trucks etc. I would expect to join D1 at junction 112 at about 2hrs 30 mins after leaving Vienna and from there it's an hour to central Prague.
For UK drivers beware as the motorway signs are in GREEN and the A-road signs are in BLUE i.e. this is the reverse of how we have it in the UK. The signs that say "Ostatni Tranzit" mean the ring road which passes from the west around to the south and east of Prague. The southern part of this road is also known as the "Jizni Spojka". There are large sections of road which have a motorway sign and underneath it another sign that says "Bez Poplatku" or something similar. This means you do not need a vignette for this part of the road. Further down the road however will be another sign but this time it will read "S Poplatkem" i.e. with vignette only and you'll have to get off at the next junction if you don't want to take the chance.
If you are coming from Germany it is still possible to reach Prague without using the motorways. Aim for the "Pomezi" Czech border crossing and take the signs for Karlovy Vary. After Karlovy Vary take the signs for Prague. Close to Prague you'll see signs for "Centrum" and "Ostatni Tranzit" and neither route requires the vignette. Personally I recommend buying the vignette so see the section below.
---
Czech Motorway payment
From January 2021 this will be a registration service that you do online i.e. no more sticker. I've written a step-by step guide to buying the electronic Czech Motorway Vignette.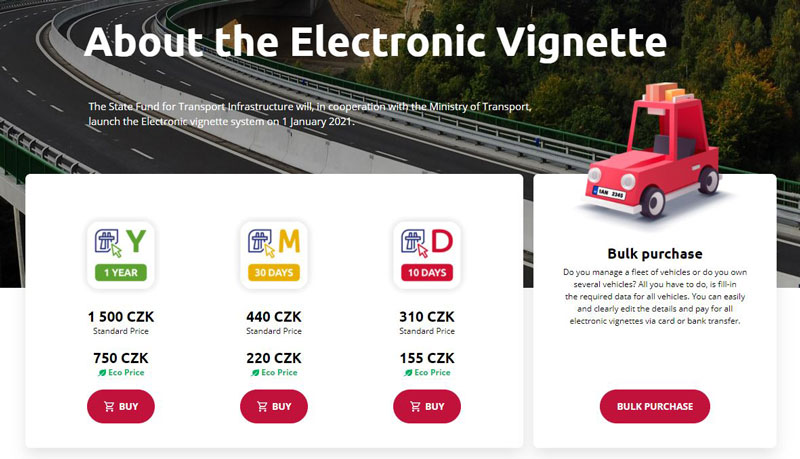 If you use any highway designated as D (Dalnice) i.e D1 runs between Prague and Brno, D5 runs Prague to the border at Rozvadov via Plzen, D8 runs from Prague towards Dresden, you have to buy the Motorway Vignette.
---
Czech Road Services
If you stop for fuel you'll want to know the following. Standard unleaded fuels are called Natural 91 and Natural 95. Increased performance unleaded is Natural 98. The old 4 star LEADED fuel is Special 91 often from the RED pump (depending on the company). Diesel is from the BLACK or BLUE pump and may also be known as NAFTA. All stations have pumps especially for trucks and identify these pumps with a separate location or with the letters TIR or Diesel MAX. Petrol in Czech is called Benzin (benzeeen). If you are using the toilets, you generally have free access but, sometimes where external toilets are in use you will need to ask for a key. It is always nice to offer some money i.e. 5Kc or buy something small. Take your own toilet paper and a door stop if you have one (the cabins are often not lockable). For eating and drinking, many stations offer only cold rolls etc with vending machine drinks although proper sit down areas are being built into new stations and renovations of older ones.
Credit cards (mastercard, visa, AMEX etc) are accepted at MOST stations but not all so, bear this in mind BEFORE you fill up.
If you want to stop late at night i.e. after 10pm then you'll find that many smaller stations will have the doors locked and the pumps off. You have to go over to the window and give the cashier the money first. Then go back and you will be allowed to put exactly that amount in the tank.
---
Breakdown Service
For a car emergency service call the automobile and motorcycle club 24 hours a day on the number 1230 (UAMK) or 1240 (ABA). Note that your insurance company may already have an agreement with one of these companies. In case of an accident the police should be contacted immediately there is an injury or if damage exceeds 50,000 Kc.
---
Approaching Prague from Plzen (D5)
This is the main west link into Prague. Close to Prague, you will pass Lodenice and then go uphill on a three lane stretch of road which is followed by a place called Rudna. In 4km you will have to take one of two options;
1) You stay on the D5 highway as far as it goes and continue taking signs for "Centrum". This option is good for people staying on the Mala Strana side of the river or Smichov/Andel or anywhere close to the castle.
2) You take sign for "Ostatni Tranzit" and exit the D5 motorway. You now stay on this road until again you go uphill and the next signs will be for places like "Brno" and "Barrandov". Follow these signs and after 3km you start to go down a steep hill with a tram line on your left. Stay on the left to go to Smichov/Andel/Ujezd/Mala Strana. Stay to the right for the south ring road (Jizni Spojka).
Here's where it gets a little complicated. Immediately after you join the ring road there will be an exit on your right for "Modrany". Get off here and take the sign towards Branik (to the right, this is the river road) if you want to go to the Old Town or New Town, Jewish quarter, Hilton etc or if you want hotels like Corinthia, Panorama, Holiday Inn Congress centre, St George, City Club, Green Garden, Wenceslas Square or anywhere in the "Krc/Pankrac" area then stay on the river road until it becomes cobblestoned (you'll take a sharp right outside the Intercontinental hotel) and then 1.5km further on, turn right before the tunnel. This leads you onto the highway that passes through the centre of town and then heads on towards Brno. If you want hotels in the Holesovice area then go through the tunnel and take the next right to join the highway in the opposite direction. On the ring road, things are pretty well signposted after this but the speed limit is 90km and sometimes signposted down to 80km. There are several service stations on both sides.
---
Driving in Prague City Centre
The biggest hazzard for you in Prague will be the buses and trams. You MUST give way to them at all times. Be aware that trams will be on your left and not easily seen. They may warn you of their presence by ringing a bell but, they do not have to do so. If you have to turn left, make sure you take a good look in the mirror and can clear BOTH sets of tracks. If a tram has stopped at a marked tram stop you must observe the road marking. There maybe an island on which passengers will alight before crossing your path on a marked crossing but, if there is no island there will certainly be a yellow grid. YOU MAY NOT ENTER THIS GRID WHILST THE TRAM IS STOPPED. At night at some crossroads, the traffic lights controlling the junctions turn to "flashing orange". This means that nobody has the right of way and traffic must sort it out for themselves. This can be hazzardous on the river roads where traffic on the main road will be going quite fast and may not slow down for the junction.
---
Prague Park and Ride (plus overnight parking) Options
There are several around the outskirts of Prague. I've now written a Park and Ride page which details how to use it.
---
Parking in Prague City Centre
The following is a guide to the parking areas. A guide about how to use the parking ticket machines can be found on the Guide to using automat ticket machines. Also check the How to use Mapy.cz to find car park availability.

Prague Reserved Parking
You may see many spaces but, be careful not to park your car in a Resident Area. There are a few things to look out for. The first is the sign pictured saying "RESERVE". The second is the marking is on the road itself where you will find a solid blue line. Lastly, you'll notice that all the cars will have a special parking permit. If you park in these areas the minimum you can expect is to be clamped and possibly towed away.
There are open air carparks (opposite State Opera), opposite the main railway station or in Narodni. The open air carpark at the main railway station always has spaces and is currently 35Kc per hour (I park here during the day but, I use the Paladium Shopping centre at night). Also, there are multi-storey/underground car parks at State Opera (accessed from the main road), Kotva Department Store (access from Revolucni), Rudolfinum (accessed by driving to the rear of the Rudolfinum) and the National Theatre (Narodni – accessed from the river road). All of these require you to take proof of arrival time in the form of a piece of paper or ticket and pay when you leave (Kotva and Rudolfinum require payment by automatic machine before you leave the garage). Most of the underground carparks operate automatic payment machines and also have an office. Sometimes the office is closed so make sure you have lots of change and/or low denomination notes.

Prague Two Hour Parking
Pay and Display areas are quite common but, make sure you know the restrictions. PO-PA means Monday to Friday i.e. weekend is free. PO-SO means Monday to Saturday i.e. only Sunday is free. It will also be restricted by time i.e on Wenceslas Square you must pay between 8am and 8pm. A signpost will indicate the maximum duration of stay i.e. pictured on the left is an example of the signs for 2 hours. There is a minimum charge. For green zones (2 hours) you must pay for at least 15 mins. In an orange zone (6 hours) then the minimum charge is for 30 mins. The ticket dispensing machine will also have the restrictions and fare as described in the How to Use a Prague Parking Meter.
In general you will only be towed away if you have parked in a dangerous manner i.e. blocking a tram line etc and if so, you will need to call 158 to find out where your car has been taken. More likely you will be clamped/booted and you will have to go to the nearest police station. They will tell you which place you can pick up your car from. You will be charged 700Kc for towing away and you will have to pay the fine in addition. If your car is clamped/booted it will cost you from 1000 to 1500Kc. There are no private clampers here. The people who put the boot on are Prague city police and are empowered to collect the fee.
---
Speed Traps
Police in CZ favour the use of a camera car with a stopping point further ahead. There are few fixed location cameras but, the southern ring road is seeing more speed cameras being installed in the 80km zones (these zones increase to 100km between 2300-0500).
The road from the central Prague to the airport is Evropska and at the high end you will pass a McDonalds. After this point it is a 70km limit so be careful if you are rushing for a flight etc. Approaching Prague Ruzyne airport the limit is 40km and I would be wondering if that car on the VIP off-slip has broken down. The other main careful area is on the river road at Podoli where either way you may be stopped. Centrum bound I stick to the limit after the tram tracks and I wonder why a car is sometimes parked on the grass outside the sport centre. Going away from the centrum I'll stick to the limit until the petrol station. In general keep to the speed limits along the river road.
From Brno driving into central Prague using D1
When you enter "Hlavni Mesto" i.e. the official city boundary, the speed limit drops to 100km and just after the Jizni Spojka Junction it drops again to 70km. From now on there are speed cameras and the speed limit drops again to 50km as you come through the built-up areas.
If you are travelling Prague-Vienna-Prague via Jihlava then after Jihlava do not go through any village faster than 60km per hour. In the villages of Rancirov, Cizov, Horky, Litohor, Vranovska Ves and Moravske Budejovice you are almost certain to find a trap. Horky and Moravske Budejovice are the number one hotspots on this route (they even park in gardens). Note that since the introduction of increased motorway tolls for industrial vehicles, the Znojmo-Jihlava route now has a lot more lorries travelling on it.
---
The Dreaded "MIMO"
Beware the dreaded MIMO. This is the Czech word that you will see inside a red circled sign and means there is a restriction on you entering this road and could be translated as "except". It may also be linked with "zasobovani" or "dopravni" or "MHD" all of which mean you can't go in. If there is a picture of a truck in a red circle, the restriction applies to them only. If the sign just has a red circle then, nobody can enter.
---
Driving outside central Prague
At roundabouts you will see cars indicating right but, not turning right. Be aware that most cars indicate because they are new to this type of control and they almost certainly will cut you up on the turn as they go round to the left.
On local roads, before each junction on the right will be a yellow diamond sign. A black line through it means you must give way. No black line and it's your right of way but, I would slow down anyway just in case. In more built up areas like between blocks of flats etc, there may be neither road markings nor road signs. In this case you must give way to traffic coming from roads on your right.
If driving in the countryside you will be driving through villages. As soon as you pass the village name (black letters on a white background), you have entered a 50km speed limit (or less if signposted). When you leave the village (same sign but, with a red diagonal line through it), the limit is now 90km (or posted limit).
On dual carriageways especially prevalent going north and south from Prague, you may see slow moving traffic in front of you veering to the right and using the "hard shoulder" as a temporary lane. Truck drivers will often be doing it if they can see a build up of traffic behind them as they are creating an overtaking lane. Think twice before overtaking a truck in this manner as the increasing number of "white crosses and candles" on the side of the road is testament to those who didn't make it.
---
Renting a Car
So long as you have a recognised driving licence and a credit card you can hire at any of the major hire companies. Avis, Budget and Alamo all have offices at the airport in the external long term parking area. They do not all have airport offices but, if you are considering renting a car for 2 or three days they are excellent value. Check my Hiring a Car in Prague post.
---
Driving Services in Prague
Imagine that I live outside of Prague and that I drive into town. Imagine that I would now like to have a drink but knowing that the Police will react badly if I'm stopped and breathalysed. There are a couple of companies that run a similar service for driving you home in YOUR car and you only pay one-way i.e. the return of the driver is already included in the price. There are different charges for picking up and per/km travelled. The main two are Blue Angel (http://www.modryandel.cz) and Drink SOS (http://www.drinksos.cz)
---
My Own Guided Tours – Cheaper Than You Think!