The Prague Eiffel Tower
---
The Prague Eiffel Tower or the Petrin Lookout Tower (in Czech it's called the Rozhledna) is a 63.5 metre high steel framework tower in Prague. It's often referred to as the "little Prague Eiffel Tower" even though the design and size is completely different (it looks similar until you notice it doesn't sit on four legs, instead the base melts into the building). Set in the grounds of the Petrin Park it looks great all year round but best in the spring and summer.
---
In 1889 members of The Club of Czech Tourists visited the world exposition in Paris and left with a crazy idea of doing something similar so they collected the necessary money, engaged engineers and the watch tower was built in 1891 just in time for the General Land Centennial Exhibition. It was used both as an observation tower and from 1953 to 1992 as a TV transmission tower. Today the Prague Eiffel tower and the surrounding parks are one of Prague's favourite tourist attractions.
---
Booking Tickets
Note that you will still have to exchange your voucher at the Petrin Watchtower ticket office but it does guarantee entry because you are booked on a specific day.
---
Most tourists will combine a trip here with a visit to the Strahov Monastery/library as you can walk between the two locations in about 20 minutes through the park. The two tower observation platforms are accessible via 299 steps in sections of 13 per stage running around the inside of the structuring but still open to the elements. The upper level is also served by a lift.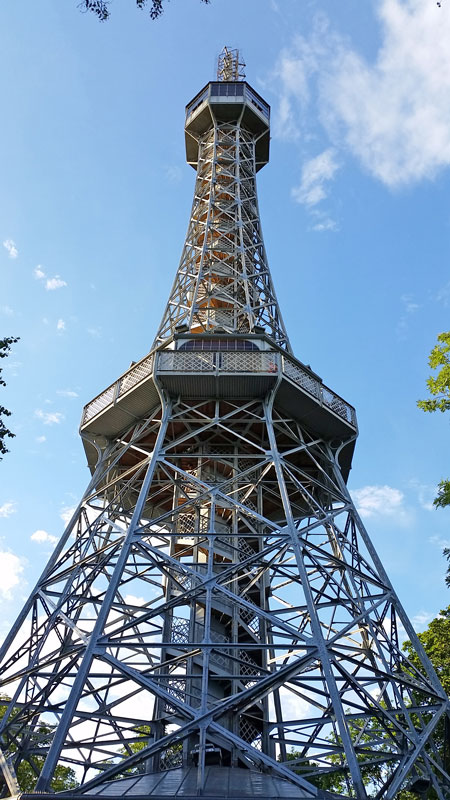 ---
Getting to the Prague Eiffel Tower
The easiest way to get to Petrin and the Prague Eiffel tower is via the Funicular that goes from the bottom of the hill close to the Ujezd tram stop. You'll need a 24 hour or 72 hour pass or you need to buy a ticket when you get there because regular adult single tickets don't work here. You'll have the option of going right to the top exiting close to the Stefanik Observatory or get off at Nebozizek and walk the last 100 metres along the tree-lined pathway. If you don't want to use the funicular then the entry to the Hunger Wall pathway is right next to it and is roughly a 30 minute walk up paths that get quite slippery in winter months.
A rougher climb can be made when entering the park via the street Vlasska (go past the American and German embassies) which requires greater use of steps but is a more direct route to the tower.
In 1999 the Petrin Prague Eiffel tower was completely renovated. There is a cafeteria in the tower and also one outside under the trees.
---
Something Related or a Few Minutes Away
Art/Culture – National Gallery
Prague Streets – New World Street
---
Some Random Things to See and Do in Prague