The Prague Bomber
---
Bombs going off in Prague would make headlines today but in 2003 a guy called Vladimír Štěpánek was in his own world of anger. It had taken 5 years, a lot of expertise and a brutal showdown to stop him.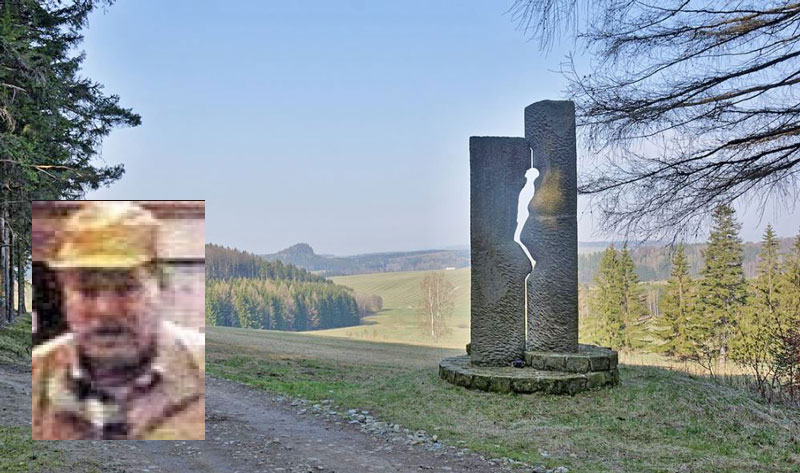 ---
Breaking Point
According to statements by his family, Štěpánek was a fairly normal guy. Raised in an orphanage in his early life he'd tried to escape from Czech to Austria in 1968 but failed. From 1969 he married, had two children and worked for CKD Praga, an engineering company that made trams, locomotives and motorbikes. He took his metal working skills and post-revolution 1989 aged 53 he tried his luck with his own locksmith business. The failure of this business seems to have been a tipping point.
---
Origins of a Prague Bomber
Here was a metalworker, somebody who welded security grating for neighbours and who changed locks when required. He used his ground floor balcony as a workshop so if there was the sound of metal being cut or strange chemical smells, then nobody took much notice. Some time around 1990 Vladimír Štěpánek turned his mind to explosives. He learned mostly by reading books (his left hand was badly burned in 1992, probably during a chemical mixing error). When he started his campaign his original letters to authorities had the name "Mrzák" which translates as "Cripple".
---
Mystery and Modus Operandi
Apart from the fact that most of the explosive devices he built were metal pipe bombs with embedded nuts and screws, the manner in which the bombs were to be detonated, how he placed the bombs, the targeted sites and interactions with authorities did not show a consistent MO from beginning to end.
The first bomb officially attributed to Vladimír Štěpánek was the March 10th 1999 bomb in a Prague 9 medical clinic which exploded and injured 3 people. Forensic evidence would later link him to the device. Over the next 18 months there would be two more incidents of explosives placed on railway lines. Then everything went quiet.
In fact for two years there were no incidents and then late in 2002 a period of 4 months starts where there are either explosives found by railway lines or there was a threat of a bomb (it was from letters that forensic evidence later proved a link to Štěpánek). Warnings were given, nothing exploded. Then in 2003 things changed.
---
2003
March, 2003 – explosion at the statue of Winston Churchill in Prague 3.
May, 2003 – explosives found on the Újezd ​​nad Lesy railway line.
May, 2003 – explosion at the Cross of Czech-German Reconciliation near Teplice nad Metují.
June, 2003 – explosives found on railway tracks near Pardubice.
July, 2003 – first explosion at the Hotel Duo in Prague 9, no injuries.
August, 2003 – second explosion at the Cross of Czech-German Reconciliation near Teplice nad Metují.
October, 2003 – explosion at the Monument to the Victims of Communism in Prague.
October, 2003 – explosives found on the Prague-Beroun railway line.
October, 2003 – second explosion at the Hotel Duo in Prague 9, no injuries.
November, 2003 – explosion at the memorial to the Victims of Communism near Teplice nad Metují.
---
The End
Returning to places where he'd already carried out attacks would finally lead to his downfall. A monument to Czech-German reconciliation in Teplice nad Metují (pictured at the top of this post) had already been his target on two earlier visits and the police had officers waiting. On December 29th 2003, Štěpánek aged 68 was on his way to the monument with an explosive device in his backpack when he was challenged at a distance by a Police detective. Štěpánek shouted "you'll never take me alive" and drew a knife. Before the officer could get there he had stabbed himself in the neck several times. The blood loss made him unconscious and induced a stroke. He died two weeks later without regaining consciousness and so without revealing any of his motives. He was never arrested or charged with any of the offences.
---
Not Quite the End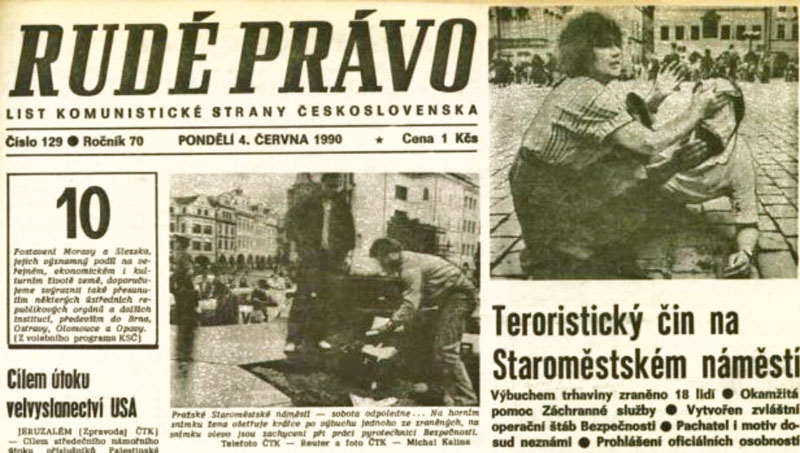 All they ever found out was that he made his own explosives, he preferred metal pipe-bombs, he hated Germans, he sometimes attacked the same place more than once, he attacked memorials and he often gave warnings of device locations. So Vladimír Štěpánek had died and at least 17 terror events were resolved. All were happy except for one thing. Nobody was ever arrested/convicted for:
June 2, 1990, Old Town Square pipe-bomb. Injured several including German tourists.
August 2, 1990, Prague 10 pipe-bomb in a recreational area, injured several people.
October 1995, an unknown home made explosive in a bottle exploded at the TJ Sokol complex in Mrázovka, injured one.
August 1996, an explosive exploded in a rubbish container in the lobby of a metro station on Charles Square. Warning given.
May 1997, a second explosion on the TJ Sokol complex in Mrázovka, injured one.
May 1997, in Střelničná Street in Ďáblice, fruit/veg market explosion.
December 1997, a bomb exploded at the house of the then Minister of Finance.
The March 1999 bombing was accepted to be the FIRST bombing by Vladimír Štěpánek (he made the bomb – linked by forensic evidence). This was an uncomfortable fact for the authorities because over the next 5 years of Štěpánek's campaign he did not target civilians and NOBODY was injured. What about if you considered that the March 1999 bomb was actually the LAST in a series of bombings going back to 1990?
It is clear that Vladimír Štěpánek made the March 1999 bomb but several witnesses said the man who placed the bomb in March 1999 was in his early 40s, Vladimír Štěpánek was 63 at that time. Was there a link to another more ruthless Prague Bomber active in the 1990s and if so, what happened to him?
---
Something Related or a Few Minutes Away
Memorials – Monument to the Victims of Communism
History and Politics – The Velvet Divorce (the splitting of Czechoslovakia)
---