Memorial to Eleven Ice Hockey Players
---
Surely one of the strangest memorials to the communist era is at Pšstrossova 24 in the New Town. It states that eleven ice hockey players were arrested in March 1950 and sent to prison. In fact several of these guys were either Olympic silver medallists in 1948 and/or ice hockey world champions in 1949. I found the story of why they were arrested and what ultimately happened to one of them to be a wake-up call for what can happen when a country loses it's democracy and the worth of people is reduced. On this post, as a representative of those eleven I shall look at what happened to the goal tender Bohumil Modrý whose likeness is captured in the memorial.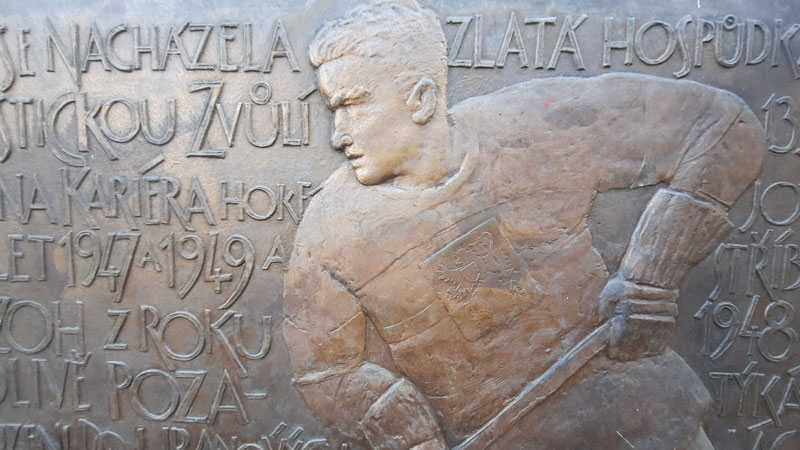 The 1948 Winter Olympics were held at ST Moritz in Switzerland between January 30th and February 8th so this was just a couple of weeks before the 1948 Communist Coup. It is a significant point for Bohumil Modrý that the opponents in the final of the ice hockey were the eventual winners, Canada.
The Canadian Ice Hockey Federation had been so impressed with Bohumil Modrý's performance that they had offered him a contract to play in the Canadian NHL but by now, Czechoslovakia was under communist control. The communists said that he could go BUT first he had to represent Czechoslovakia in the 1949 Ice Hockey World Championships. To cut a long story short he agreed and returned from those championships with a gold medal only to find that the communists had changed their minds about letting him go to Canada. So in protest he declined to be part of the 1950 team.
Now to understand what happened next you need to know about an event in 1949. In Czech sporting history you will find a man called Jaroslav Drobný who was famous in the country. As a dual sport phenomenon he would go on to win a Wimbledon Men's Tennis Singles title but he was also on the same 1948 ice hockey national team as Bohumil Modrý. On a tennis trip to Switzerland in July 1949 Jaroslav Drobný "emigrated" i.e. he chose not to return to communist controlled Czechoslovakia.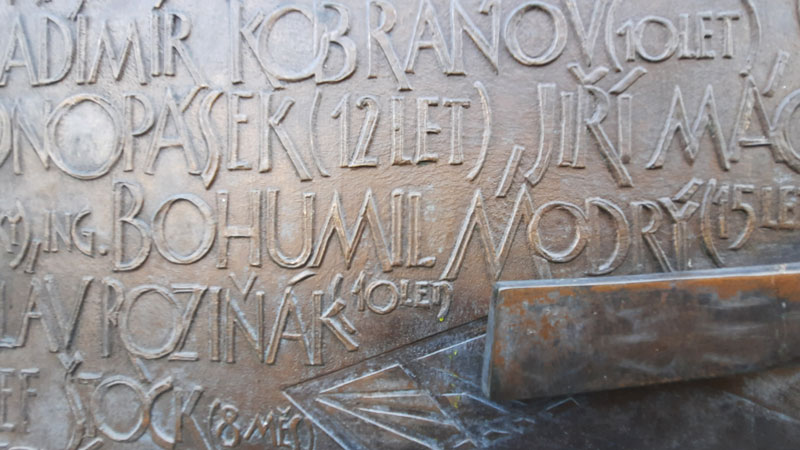 So as the national ice hockey team prepared for the 1950 world championships they were told that they would not be allowed to leave the country (this also applied to tennis Davis Cup players). On March 11th 1950, ten of these national ice hockey team players met at a pub with former player Bohumil Modrý. The communist authorities arrested them all and following a show trial in October 1950 they were given custodial sentences ranging from 8 months to 15 years. Bohumil Modrý was labelled as the "leader of the conspiracy" and given 15 years having been charged with treason. Quite what the "conspiracy" was supposed to be was never explained even in the trial.
Why did the communists react in this way? Well it was 1950 and they were still consolidating their grip on power taking any opportunity to crush dissent. Plus there was always the fear that they could, like Jaroslav Drobný, simply not return to the country.
So for Bohumil Modrý "prison" was eventually being sent to the Jáchymov Work Camp. Jáchymov was a Uranium ore mine where political prisoners and "enemies of the state" were sent. With a poor diet and no protection against the radiation and Radon gas it was pretty much a death sentence. Even though he was released from incarceration in 1955 the damage was done and Bohumil Modrý, Czech sporting hero, Olympian and World Champion, died on July 21st 1963. He was 46 years old.
---
Something Related or a Few Minutes Away
Famous Czechs – Jaroslav Drobny (The Egyptian Who Won Wimbledon)
Art/Culture – National Theatre
Attraction – Slavonic Island and Sophies Palace
Activity – Manes Exhibition Hall
Restaurant – Lemon Leaf (Thai)
---
Some Random Things to Do and See in Prague