The Egyptian Who Won Wimbledon – Famous Czechs – Jaroslav Drobny
---
If you are wondering what possible link there can be between Prague and an Egyptian who won the Men's Singles Title at Wimbledon then read on because it's an interesting story. You won't find the name Jaroslav Drobný in many history books but look carefully and you will find a man erased from Czech history by the communists. A dual-sport phenomenon Jaroslav Drobný was born in Prague in October 1921.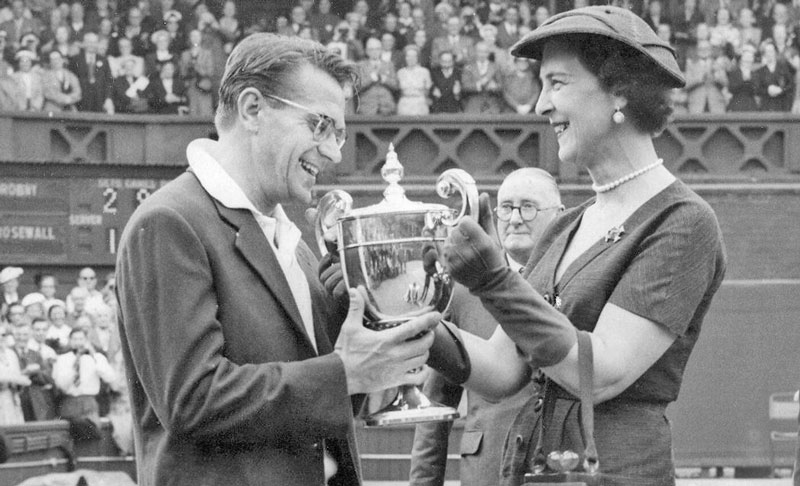 By 1936 Jaroslav Drobný was playing ice hockey at club level and was representing Czechoslovakia at international tennis competitions. As far as Ice Hockey was concerned in the 1939 World Championships he played in the team that lost the 3rd Place playoff. He continued as a dual-sport athlete representing the Protectorate of Bohemia and Moravia (what the Czech part of Czechoslovakia was called during World War Two) as a tennis player. His ice hockey career was also progressing as he was on the 1947 team that won gold at the World Championships and the 1948 Ice Hockey Olympics team that won a silver medal.
---
Jaroslav Drobný hung up his skates aged 27 to concentrate on his tennis winning the French Open Men's Doubles AND French Open Mixed Doubles in 1948 plus making the semi-finals of the US Open and Wimbledon. He became the French Open Men's Doubles champion in 1949. In July 1949 he was on his way to Forest Hills in the USA but on the way he stopped to play a tournament in Gstaad, Switzerland. On July 15th he formally announced that he would not be returning to communist controlled Czechoslovakia. Initially he sought asylum in Switzerland but they refused although he did get a visa to travel so he continued to the USA but again, no asylum. Still on his Swiss visa he flew to Australia to play in a tournament and again he enquired about the possibility of emigration. The Australian authorities allowed him travel rights for 12 months but were firm in that after this one year period he would then have to live permanently in Australia for 5 years to become a citizen. Aged 28 and staring at giving up his tennis career at it's peak he used his Australian documents to travel and maybe play Wimbledon one last time. Fully intending to return to Australia after his year of travelling and playing tournaments, he travelled to Cairo in Egypt to play a local tournament which he went on to win.
---
The Egyptian Winner
Having won that tournament he was invited to a party hosted by the Egyptian King Farouk's daughter the Princess Fauzijah where it came up in discussion that Jaroslav was actually stateless. Now whatever she said to her father and there are many rumours, as he was preparing to travel on to his next tournament he was directed to a government office where the Cairo Tennis Association introduced him to some government officials and by the end of the day in January 1950 Jaroslav Drobný became an Egyptian Citizen.
From there he went on to represent Egypt when he was runner-up at the Wimbledon Men's Singles final in 1951, winning the French Open Men's Singles in 1951 and 1952. Finally he won the Wimbledon Men's Singles title in 1954 (beating Ken Rosewall of Australia 13–11, 4–6, 6–2, 9–7). But the International Tennis Federation banned him from competing in the Davis Cup after he accepted Egyptian Citizenship as he had already played for the Czechoslovakia Davis Cup team in 1948.
Not long after he emigrated to England (he'd married his British wife Rita Jarvis in 1953) where he played in his last Wimbledon representing Great Britain in 1960 aged 38 having been given British Citizenship the previous year. He went on to run a sporting goods shop and for a time sold his own salami and sausages. Jaroslav Drobný died in London on September 13th 2001 aged 79 and remains to this day the only Egyptian winner of a Wimbledon singles title.
---
Honourable Mentions for Jaroslav Drobny
In 1983 he was inducted into the International Tennis Hall of Fame.
In 1997 he was inducted into the International Ice Hockey Hall of Fame.
In 2010 he was inducted into the Czech Hockey Hall of Fame.
Jaroslav Drobný is second only to Rod Laver as the person with the most number of men's singles tennis titles (133). To put that in perspective, at the time of writing Novak Djokovic had 87.
---
Something Related or a Few Minutes Away
Memorials – 11 Ice Hockey Players
---
Some Random Things to Do and See in Prague