Lemon Leaf
---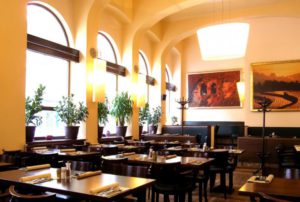 You enter the Restaurant Lemon Leaf from the side street. I prefer to turn left into the main area directly in front of the large street facing windows. The dark tables can be moved into many different configurations from couples to groups up to 10/12. If there's a group of 4-6 of you then consider reserving the raised area at the end of the room for a more special feel. I like the way the food is presented but I would prefer real napkins rather than the disposable paper stuff but you can't take anything away from the place. The staff are always very friendly and I come here fairly often.
---
The Food
I'm just as happy to come to Lemon Leaf on my own for lunch as with my wife for an evening meal. They have a fixed lunch menu as well as a large a la carte choice plus a seasonal menu and a weekend degustation menu. Basically you are spoilt for choice. The meals are generally spicy with some more spicy than others so the menu will indicate the strength. I'm used to fairly hot food but at Lemon Leaf I prefer to stick with 1-chilli meals. People might initially find it strange that the rice comes in a foil-lined box rather than on the plate but in my experience it makes it more authentic as you can hold the box like a rice cup and eat the rice and the food separately if you want.
My Favourites: Tom Yam Kai (soup) or Gyoza (steamed spicy dumplings). I'm a Thai red curry fiend so they have a range of dishes so for me its Phad Phed Neua Warn (sweet beef with red pepper, peanuts, coconut milk and lime) and for the nicest dessert you'll have seen and tasted for ages try the Wan-Khao See Dam.
---
Location
Myslíkova 260
Prague 2, New Town
www.lemon.cz
---
Back to Thai Restaurants
Back to All Restaurant Categories
---