Czech Food – Kruti – Turkey But, Not As You Know It
---
In the Czech Republic, Turkey is not a popular meat and is not even considered to be a Christmas meal as most Czechs will be having traditional fish and pork schnitzels on Christmas Day. Even the Czech words Krocan or Kruta (both mean Turkey) do not often appear on restaurant menus so if you are looking to eat Turkey on a trip to Prague you have to look out for something called Kruti (it's pronounced like "kroo-tee").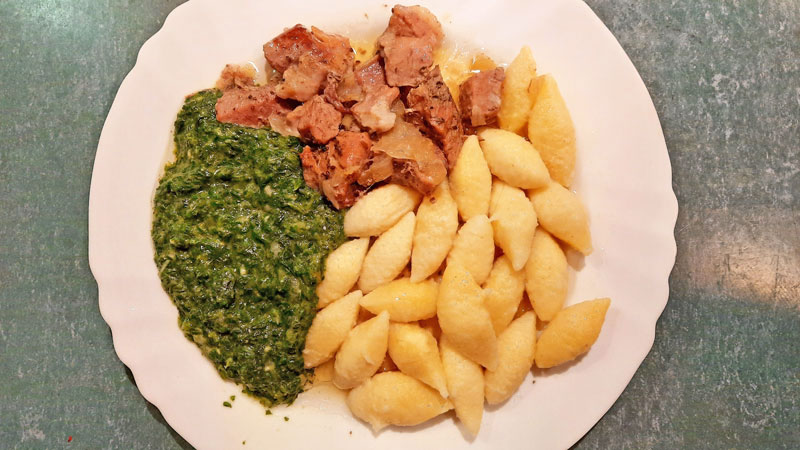 ---
Kruti the Classic Way
If you read my Moravsky Vrabec post then this is another version where you have meat as the main taste, dumplings to fill you up and a moist side dish to make it all easier to eat. On a Chalkboard Menu this is often abbreviated to "Kruti sp. br.k". On the plate will be small pieces of turkey, not slices.
It will be slow cooked and served with potato dumplings (what Czechs call Bramborovy Knedliky – hence the abbreviation, br.k). As just meat and dumplings will get a little dry the other main side is spinach but we call it Špenát (sounds like Shpenaat) because it is a puree with a hint of garlic (the abbreviation for Špenát is usually "sp"). In the one pictured above they've used potato dumplings shaped like gnocchi but either like this or more usually sliced potato dumplings, the taste is the same.
---
Kruti With Options
The meat will always be presented the same way but you do get versions where there is a choice of potato OR plain bread dumplings and there is a choice of spinach OR sweet cabbage. Again, what you learned from the Moravsky Vrabec post is that you must like vinegar if you go for the sweet cabbage option. It's quite common for restaurants to interchange špenát and sweet cabbage but you should NOT have both on the plate. An excellent meal with a Czech Beer, expect to pay @CZK140 for Kruti.
---
Tour Tip: With "Traditional" food and beer tours you often have a choice of main meal
---
Something Related or a Few Minutes Away
Czech Food – Sekana (Meatloaf)
---