Czech Food Bramborak
---
Bramborak has to be without doubt one of the least healthy food options so limit yourself to side dishes and pub food with a beer. You may also see this listed as "Bramboračky" in which case it's smaller in size.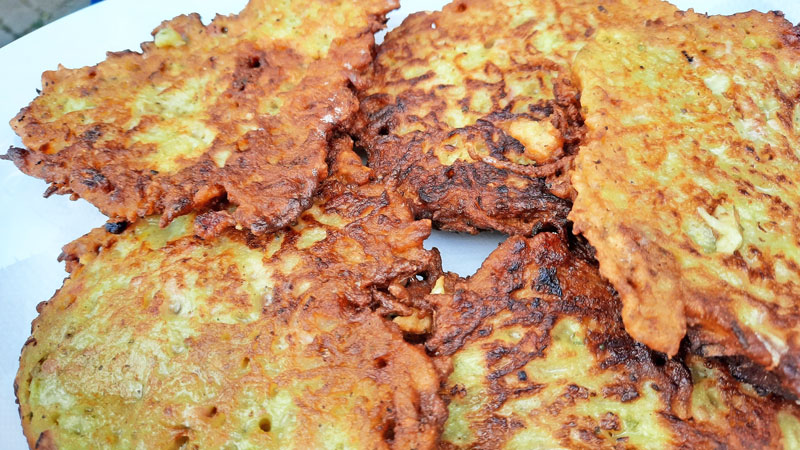 More often than not it's a side dish so look for "Bramboračky" in the same part of the menu as boiled potatoes and chips etc. You can find Bramborak on it's own in a restaurant but it's pretty rare. In a market, look for the stall with the fat fryer and that's where it will be and hence why it's also a popular pub food. Expect to pay @CZK60 for a portion.
---
Make it Yourself – Bramborak Ingredients to Serve Four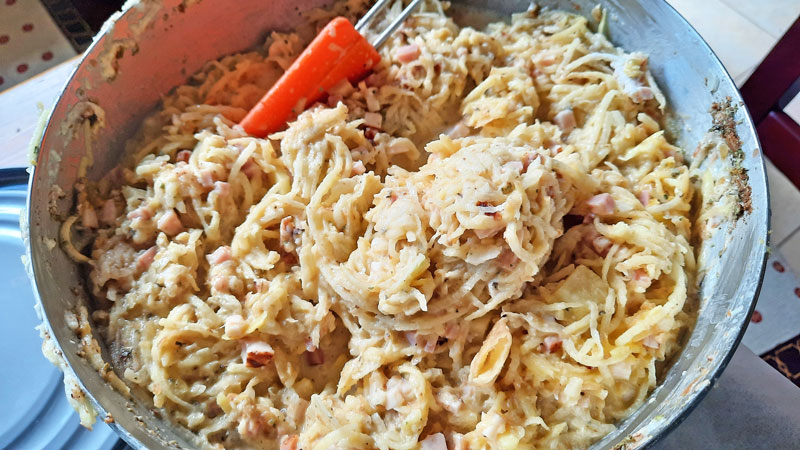 Potatoes, Garlic, Eggs, Flour, Milk and Seasoning. You can figure out precise weights as you go because preparing Bramborak is based on your own tastes. For example, as a rough guide start with 4 large potatoes i.e. for 4 people. That means that you'll need 2 eggs, 3-4 tablespoons of flour, 1 tablespoon of milk and a pinch of salt. So already you should be getting an idea of "if I want 6 potatoes then I'll need xxx of the other stuff". Allow a large clove of garlic for every large potato but after that the seasoning is up to you. More garlic, that's fine. Cumin seeds, Marjoram, Chives etc etc it's up to you to find the right balance.
---
Make it Yourself – How Bramborak is Prepared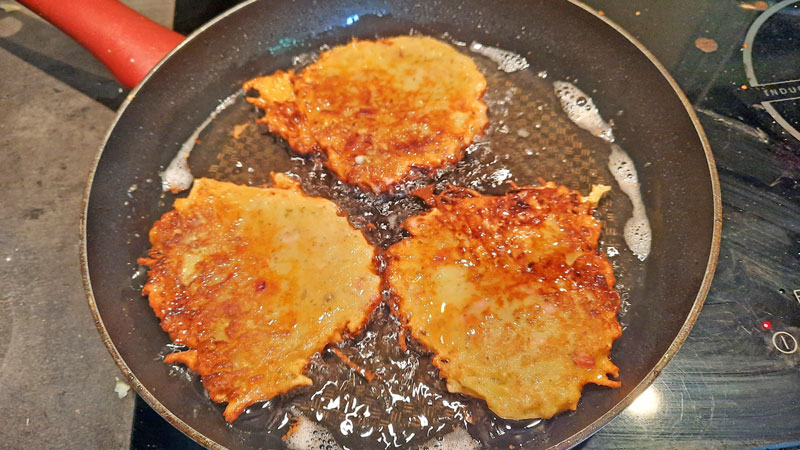 You'll need a grater, mixing bowl, frying pan and a tablespoon. First put your eggs, flour, milk and seasoning into the mixing bowl and mix it up. Then peel and grate all the potatoes into the same bowl and mix it all up. When mixed it should have the consistency of a wet coleslaw and it looks awful. Add oil to the frying pan and make sure it's hot. Then spoon out whatever portions of Bramborak (or Bramboračky) you want from the bowl to the pan keeping the depth to about a centimetre (you can see in the picture above that means you should be able to fit three or four portions into the pan). After 10-12 minutes the bottom should be cooked and you can turn it over so allow for a total cooking time of @25 minutes. Just cook until brown and when you take it from the pan put it on a piece of kitchen paper to drain off excess oil. We've tried baking Bramborak in an oven before and it comes out more like a pancake so we prefer frying.
---
Jazz It Up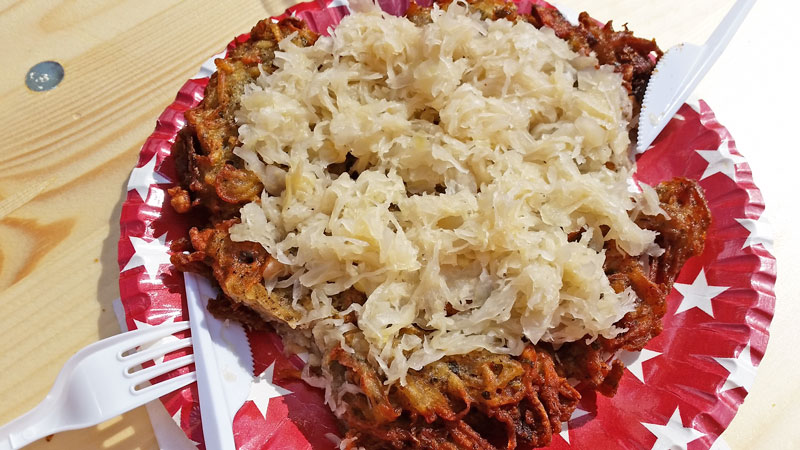 Remember this is basically fried potato with some other stuff so to jazz it up sometimes we'll add chopped bacon. I like to add a couple of generous spoons of Zeli i.e. the Czech sweet cabbage. Or sometimes I'll spread mayonnaise and a touch of tabasco. The options are endless, just don't eat it every day. The picture was from a market where the Bramborak was CZK50 and the Sweet Cabbage on top was an extra CZK10.
---
Something Related or a Few Minutes Away
---
Tour Tips: Interested in Czech food? Here are some food tour operators that have been here long enough that they have earned good reputations.