Czech Food – Old Prague Ham
---
Old Prague Ham is cured ham so when you see them revolving around the spit it's just to finish it off. This stall is a great place to stand in the winter months. Don't worry if the guy walks around the corner with an axe in his hand, he's just chopping wood to keep up the heat (cheaper than coal and more controllable). The best Old Prague Ham should always have that lovely consistent pink colour and a slightly crumbly appearance that should break easily when using fingers.
This is pay-by-weight food so take some time to read about How Pay-by-Weight Works in Prague.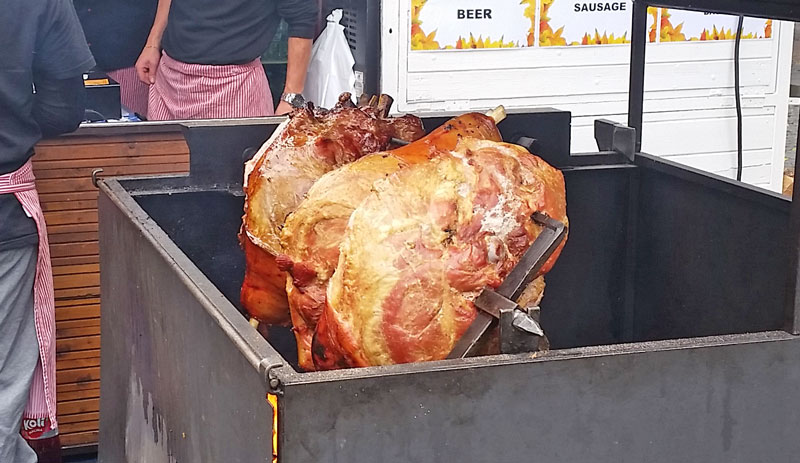 ---
Where to Find Old Prague Ham?
In a restaurant look at the starter menu and expect it to be served with mustard and horseradish. As street food throughout the year only the Old Town Square has fixed booths for selling Old Prague Ham. If there is a seasonal market i.e. Easter, Autumn and especially Christmas Markets etc then all the squares with markets will have it. At the time of writing it is CZK1 per gram so for anybody from the USA it's an easy calculation that for every 100g you'll pay U$5. If you're good with maths then imagine that one of these hams can weigh 20 kilograms so if they are charging CZK1 per gram that ham is worth……..U$1000!
---
Old Prague Ham – What To Expect
Old Prague Ham stalls are always laid out the same way i.e. the stall, a table for cutting meat and the grill. Depending on the size of the stall and what else they offer, a smaller stall is a 2-man operation with one cutting and the other serving. You'll be asking the guy in the stall for what you want and he'll call to his colleague to cut the meat. That guy will then put it on a plate or dish and give it back to the other guy to weigh. He then tells you the price. At this point you either accept the price or ask him to cut something off to reduce the weight if required.
---
What Comes With It?
So you've learned how to order by weight. As street food from a stall in general you'll get a piece of bread for every 200g you order i.e. 2x 200g or 1x 400g portion you can still ask for 2 slices. Condiments will always include Ketchup and Mustard. Some places may offer Mayonnaise and very rarely for street food you might find horseradish. It should be served to a paper plate and you'll want to use a knife and fork. You usually eat standing up at a tall table and you are expected to self-clear and/or recycle as necessary.
---
Tips and Tricks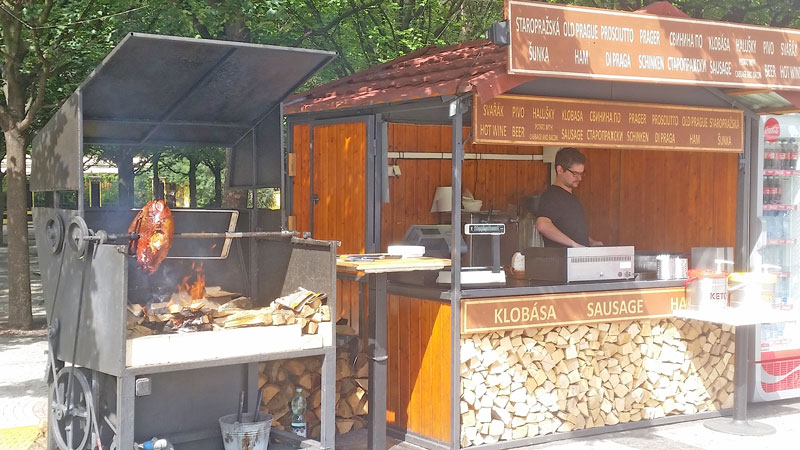 Old Prague Ham tips are mostly around the weight and what comes with it. Reading How Pay-by-Weight Works cuts out most gouging issues. NEVER ask for a "portion" as you can get screwed. Always give a number like 200g, the guy will understand English and you have right on your side if he tries to give you more. I look at the ham to see where it's being cut and if it looks a bit fatty I'll step out of the queue and wait until I can see it's a good piece of meat. I eat at places that allow me to go back and add extra mustard and/or ketchup rather than a place that puts it on the plate for you. Also these places may not sell beer so if you want a drink with your food then buy that first.
---
Something Related or a Few Minutes Away
Food and Drink – Markets and Street Food
Food and Drink – The Pay-by-Weight System
Food and Drink – Most Popular Czech Meals
Festivals – Prague Christmas Markets – 8 Things to Know
---