Getting from Prague to Karlovy Vary
---
Karlovy Vary sits a little over halfway between Prague and the German border. On German maps it's called "Carlsbad". The beautiful 19th Century centre of town sits in a steep valley with the river Tepla (it means "hot") coming through it. You are coming here either to experience a spa, take medicinal waters or see the Moser Glass Factory. A common souvenir from here is a "Sipping Jug" which is a little miniature jug that you use to hold hot mineral water as you drink.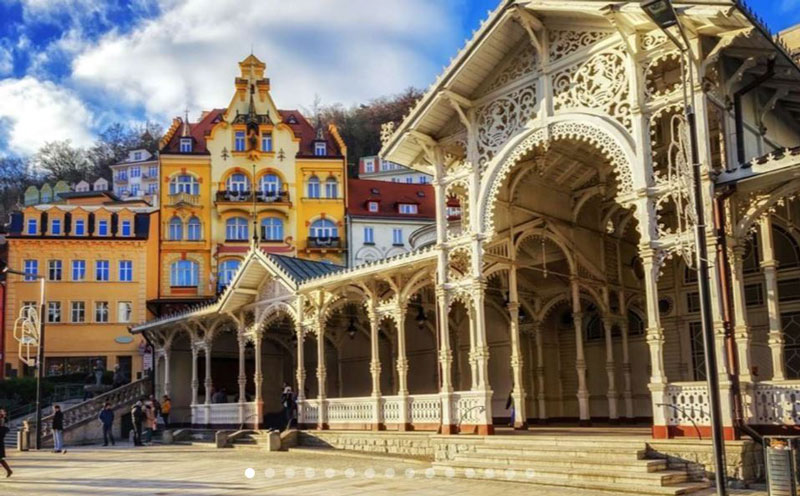 ---
Tour Tips: Karlovy Vary
The world and his brother seem to offer tours here. Expect a coach trip of two hours each way. As most providers will offer a trip of around 9.5 or 10 hours you can expect to be in Karlovy Vary for approximately 6 hours. Hotel pick-up and drop-off is available but you need to select that option when booking. Check carefully as some tours include lunch whereas others "allow time for lunch" so don't expect that "Full Day in Karlovy Vary" automatically includes lunch (hence why the price may be cheaper). If it says "admission included", just check admission to what venue as it might not be the Moser Glass Factory. If you go to the Moser Factory and want to buy things then get in the shop as soon as you can because if the tour company is running late they'll run you through the shop pretty quickly. Here are some popular Karlovy Vary tour options:
---
Staying in Karlovy Vary
In Karlovy Vary you have hotels with wellness facilities and those that don't. My choice for an overnight or long weekend in a really nice hotel would be the Hotel Ontario in Karlovy Vary (what the Czechs used to call a 3 star superior). If you want the central location, wellness facilities and indoor pool then take a look at the Dvorak Spa and Wellness Hotel.
---
What's to See?
Karlovy Vary is a Spa town and always has been. You can add in glass production and casinos as well but the "Spa" part dominates. Coaches normally drop you outside the Hotel Thermal at the train station end. My advice is to walk up the right side of the river bank until you reach Grand Hotel Pupp. Then cross the river and walk back. After 30 minutes you'll reach the Colonnades. This is where you'll find the mineral water fountains. TIP: before "taking the waters" you'll be expected to buy a little ceramic jug (I'm talking like max 10cm tall). These can be a souvenir. The other two places you'll think about visiting will be the Moser Factory mentioned above as part of an organised tour or the Jan Becher Museum where you can just turn up. Karlovy Vary is the home of Becherovka.
---
Oplatky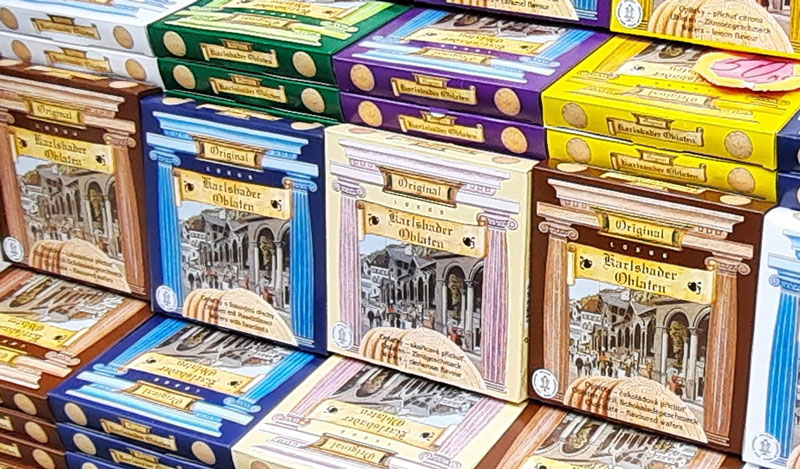 You'll find these boxes in Prague as well. Inside there are several large circular shaped wafers with different fillings like vanilla, chocolate and nuts but as you can see in the picture there are other flavours. The thing about eating these snacks in Karlovy Vary is that they are served warm so look out for signs saying "Teple Oplatky" and expect to pay CZK50 for a box of six or CZK15 for a warm one.
---
Driving
You can get here without using a motorway so you don't need the sticker. From Prague take signs for the airport and then for Karlovy Vary. You'll find ample parking much cheaper than Prague parking tariffs. If you take the motorway to Plzen then you'll need a motorway sticker and driving time should be about 90 minutes either way.
---
Bus
Student Agency (RegioJet) runs a bus service hourly during the day from Prague Florenc. Current cost is 8 Euros (about CZK200). The journey takes 2 hours and you arrive at what is called Karlovy Vary "Terminal" which is adjacent to the Dolni Nadrazi railway station. From there take the signs in the direction of the hospital and when you hit the river turn right.
---
Train
There is no direct train service from Prague to Karlovy Vary. Accept at least 1 change and you are still looking at just short of a 4 hour trip. My advice is to take the bus.
---
Something Related or a Few Minutes Away
Day Trip to Františkovy Lazně (Spa Town)
Karlovy Vary International Film Festival
---