Františkovy Lázně
---
If you are entering or leaving the Czech Republic from the west then you'll be aiming for Rozvadov on the motorway but if you want a more scenic route then you'll head for the Pomezí crossing. If you intend to cross at Pomezí you are just a 5 minute drive from the little Spa Town called Františkovy Lázně (it sounds like Fran-tish-koh-vee Lahz-neeay). From Prague it's a 2 hour drive.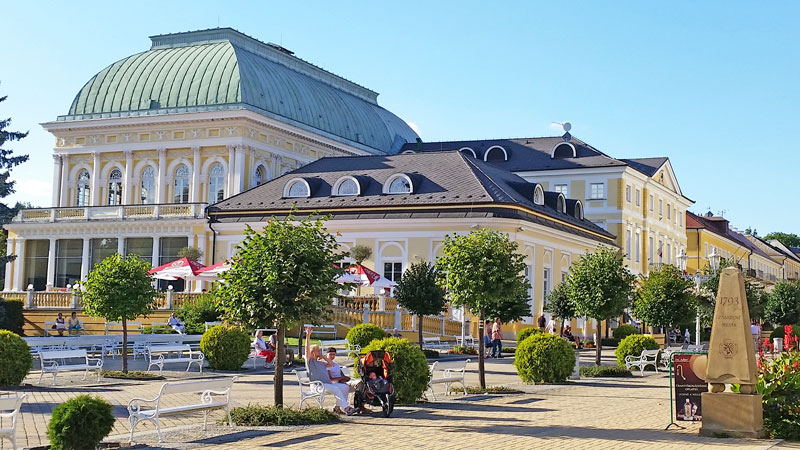 This end of the country from Karlovy Vary to the German border is covered with spa options which really took off in the last half of the 19th Century and you'll find that money invested at the time has resulted in many beautiful and grand buildings on display in Františkovy Lázně especially on the high street.
I call it the high street but really the street is called Národni and it's where you'll find the majority of spa hotels and restaurants.
---
Why Visit Františkovy Lázně?
I wouldn't make a specific trip only to visit here but if you are already driving to Karlovy Vary then it's just 40 minutes further. My in-laws live 10 minutes away in the town of Cheb so over the years we've visited here with our kids to walk through the parks, try some of the mineral waters and have a game of mini-golf. It's a very relaxing place to wander around and it's also fairly cheap to eat here. There is a special type of person who visits Františkovy Lázně and that's a woman who wants to have children. Why? because there's a little statue at the south end of the main street called "Frantisek" and if a woman touches a certain part then it helps them to conceive.
---
Things to Look Out For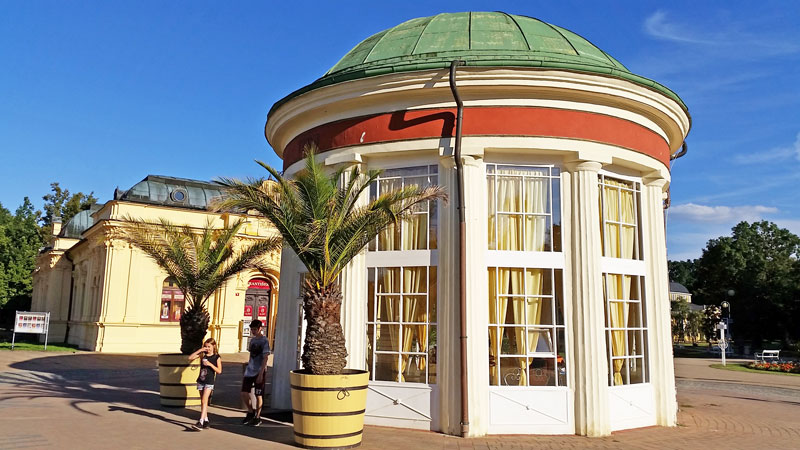 Parking is "pay and display" so you have to have an idea of how long you want to spend here but I'd say 3 hours including a break is fine or add an hour if you do the mini-golf. You are very close to the German border and historically this was Sudetenland so although part of Czech it was largely settled by German speaking people (don't say it too loud but many older Germans still consider this to be part of Germany). So what I'm saying is that loads of people will speak Czech and German but not many will speak English. That said, menus will have an English translation and I'd say that Františkovy Lázně is one of the more photogenic towns in this part of Bohemia.
---
You Also Might Like to Read
---