Czech Motorway Vignette
---
It's not a sticker any more so if you intend to use a Czech Motorway then this post describes what you need to do to buy the electronic Czech Motorway Vignette and drive legally. Just note that if you DO NOT buy the vignette and the police stop you on the motorway, you'll get a CZK20,000 fine.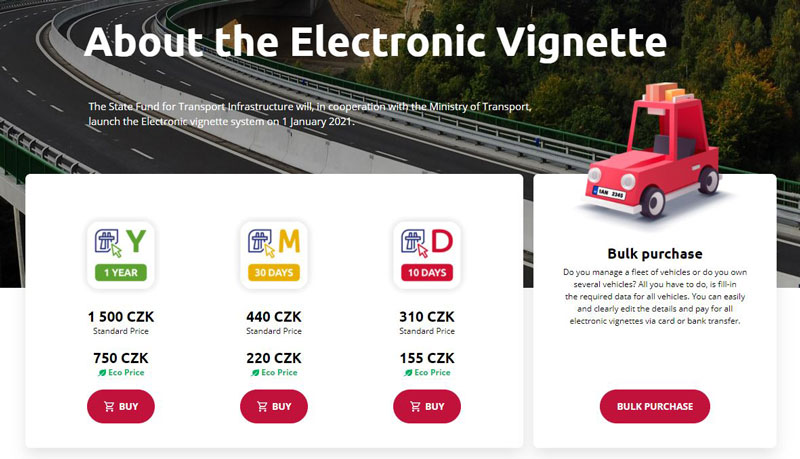 ---
Two Methods
You'll do this in one of two ways. After you cross the border into the Czech Republic you'll find self-service kiosks at the border or they are also being installed at border petrol stations. The other way is to do get the electronic Czech Motorway Vignette before you cross the border by pre-buying and selecting a start date. The process for both is the same as below.
---
E-Dalnice
So we start by going to https://edalnice.cz/ and if it did not already route you to the English site then change the language now.
---
Exempt Vehicles – You don't need the Vignette

Before you start the process below it's wise to check if you are exempt and do not need to buy the electronic Czech Motorway Vignette. You should check the "Exemptions" tab on the website for up to date info on vehicle requirements and people exemption, but as a rule exemptions apply to Fully Electric Vehicles (EVs), Hybrid-Electric Vehicles (if emissions are less than 50g/Km), Hydrogen Vehicles (FCVs) and Historic Vehicles.
---
Buying the Electronic Czech Motorway Vignette
You'll have a big red button on the screen saying "Buy a Vignette" or if you scroll down you'll have the view of the vignettes available. Just click on the one you want.
---
The Form
It's a quick form. It's going to want you to choose your country of vehicle registration. Then you enter your registration number (with no spaces) and repeat to confim. Then you select the date that you want the validation to begin (note that if using a credit card you'll get an email confirmation immediately but if paying by bank transfer it will take up to 5 days).
If your car is "Natural Gas" or "Biomethane" then you tick the box and the charge will change to the "eco" rate.
Now you select the vignette type i.e. 1 year, 30 Day or 10 Day.
Now you'll add and repeat your contact information and tick the box if you want to be notified when it expires.
After accepting the Ts and Cs it's off to payment. You'll enter your card/bank details as required. If an authorisation code is required then your bank will send that to your phone and you enter the code on the payment page where you'll find grey letters "Auth code".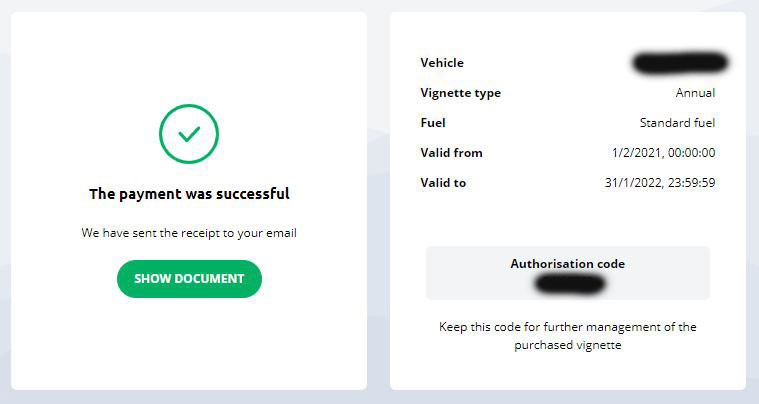 If the purchase of the electronic Czech Motorway Vignette is ok the pop-up receipt above will appear and within a minute you'll get a confirmation email with an attached PDF file with a summary of the transaction that you can print if you want.
---
Double Check
If you want to make absolutely sure that you're good to go on the day you enter the Czech Republic then go to the main page https://edalnice.cz/, scroll down to the Validation check (this has to be done on or after your chosen start date). Enter your country of registration plus your registration number and click validate. It should say that it's valid and the expiry time/date. If you see any red button with "invalid" then double check what you entered i.e. correct country and no spaces in the registration or check your receipt again to confirm the dates.
---
You Also Might Like to Read
No Stress Guide to Using Prague Taxis
---