The Prague Book Tunnel
---
Visiting the main city library normally doesn't make anybody's top ten list of things to do in Prague. That's a shame because you will have missed out on seeing a quite bizarre yet striking piece of architectural art. It's acquired the name of the Prague Book Tunnel but read on to find out some lesser known facts about it.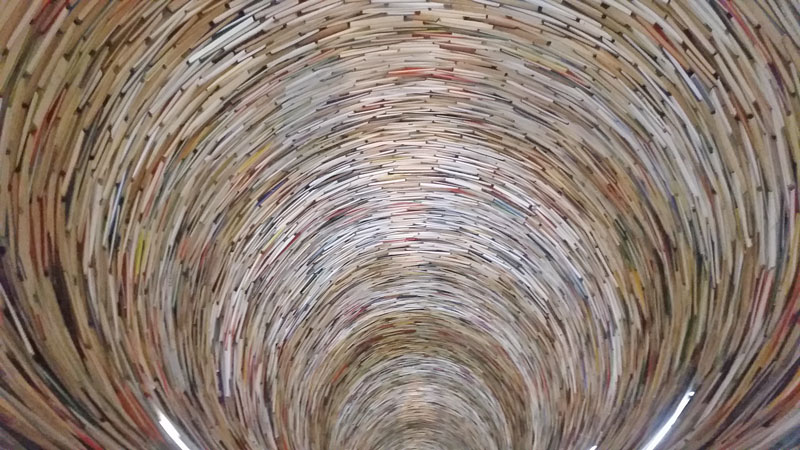 ---
In the summer of 1998 the top of the entry stairs to the city library was covered in sheets and it wasn't long before we got the unveiling of the Prague Book Tunnel or what some call the Column of Knowledge. Neither are correct. It's actually called Idiom, a column of 8,000 books by Slovak artist Matej Krén. The books were either donated or saved from landfill.
The original "Idiom" appeared in 1995 in the Sao Paulo Biennial Exhibition. It looked quite similar and was also shorter given the constraint of the ceiling height.
---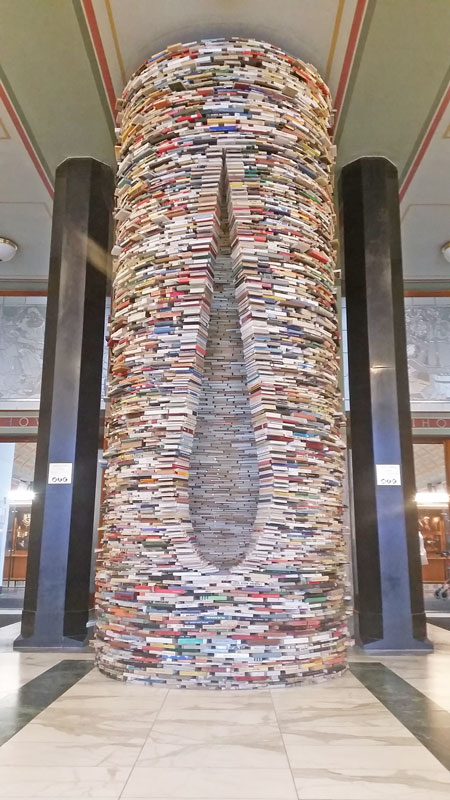 ---
Odd Facts
The use of books as a building material is something often associated with Matej Krén so it's no surprise that as he lives and works in Prague, that the main city library should host this particular piece. The internal lights are disguised as books, the tear shaped hole in the front of the column is more than 2 metres high and within the column both the ceiling and base are mirrored to increase the sense of infinite space. Strangely enough, it's never been revealed what is holding the column together. Another odd fact is that the Prague Book Tunnel made the cover of "Science" magazine in January 2011.
If you are interested in seeing books used as a material in corridors, walls, rooms and even buildings then an internet search for Matej Krén will be revealing.
---
Prague Book Tunnel Location
---
Something Related or a Few Minutes Away
Art/Culture – House of the Suicide
Art/Culture – The Art of Kylie Stillman
Jewish Prague – Pinkas Synagogue National Holocaust Memorial
Jewish Prague – Old Jewish Cemetery
Films and Videos – Mission Impossible 1996
---
Some Random Things to Do and See in Prague