10 Things You Did Not Know About The Prague Marian Column
---
Having written about it and described the reasoning for the column, I realised that I was aware of things that a fraction of the residents of the city would know, let alone a visitor. So as well as describing some of the destruction and rebuild issues on the Prague Marian Column post which also has more pictures, I thought I'd split off some of the more interesting and curious facts surrounding it.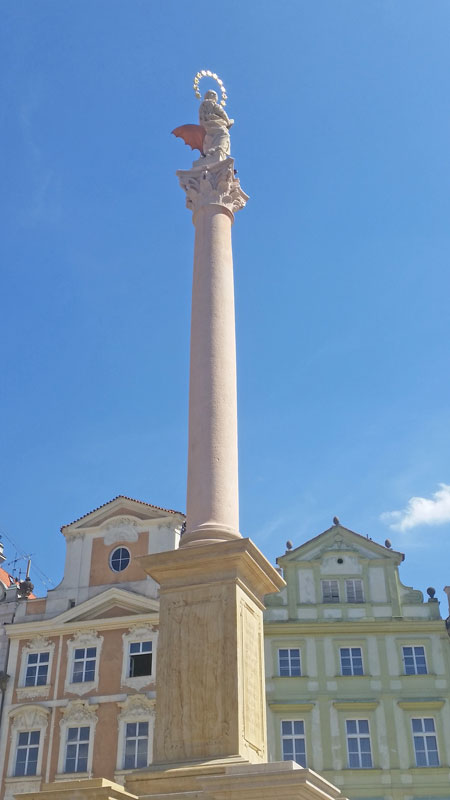 ---
1) Construction was planned to start in February 2020 and continue for a year allowing for Markets and events on the square but due to Coronavirus cancelling everything from mid-March, the Marian Column was completed (minus the corner angels) in just 4 months.
---
2) The pedestal on which the pillar sits is made from a single 3 cubic metre piece of sandstone from Vitorchiano in Italy.
---
3) The pillar comprising the column and base is made from a single piece of sandstone from the Jaipur region in India. It was transported to Mumbai by rail, then to Hamburg by ship, then to Melnik by rail and finally to Prague by barge.
---
4) When originally cut, the column was 6m long and weighed 18 tons. It took more than two weeks to cut from the quarry.
---
5) In 1953 one of the original plans to restore the column resulted in a copy of a Virgin Mary Statue being made but the Communist regime denied permission to carry the project any further. Since 1993 that Virgin Mary Statue has been located in the garden of the Strahov Monastery.
---
6) Parts of the orignal 1650 Marian Column can still be seen at the Lapidarium in Stromovka Park.
---
7) The original Virgin Mary statue was broken in 1918 but the head turned up in a Prague antique shop in 1957 when it was bought by the National Museum. This head and pictures from the time were used to replicate the new statue.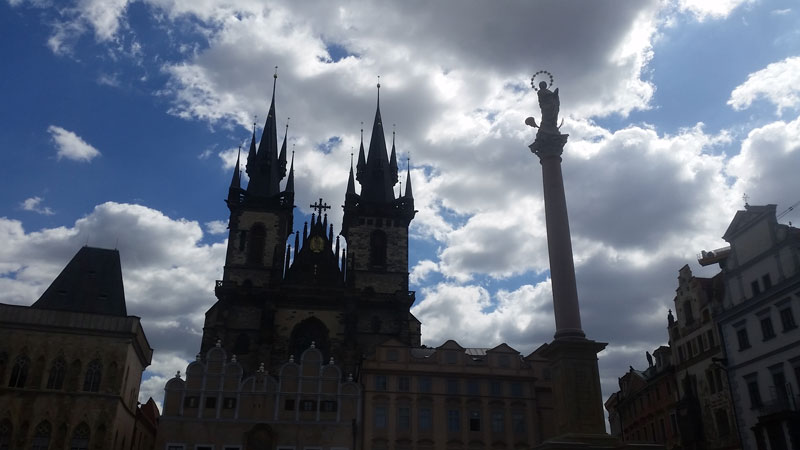 ---
8) The angels on the corners have specific functions. The first angel uses a spear to strike down the devil, she represents wisdom. The second defeats a lion with a sword, she represents righteousness. The third fights a dragon and represents bravery. The fourth angel defeats the devil with the cross and represents gentleness.
---
9) If the sun is shining then when the shadow of the Marian Column is on the Prague Meridian line then it's 12 noon according to old Czech time.
---
10) The foundation blocks supporting the pedestal/column each weigh 1 ton. Cities that contain a Marian Column were asked to donate CZK28,000 for a stone. As a thank you, the name of the donating town, city or group is carved into the base of that stone.
---
Something Related or a Few Minutes Away
Attraction – How to Tell Time on the Astronomical Clock
Attraction – House at the Stone Bell
Churches – Church of Our Lady Before Tyn
Churches – ST Nicholas Church Old Town
---
Some Random Things to Do and See in Prague