Langweils Model – A Lesser Known Treasure
---
NOTE: That the City Museum, location of Langweils Model is closed for renovation until the autumn of 2024.
Take a close look at this picture below. At first glance it looks like a view of Prague from Petrin Park. And you would be right in thinking that except that you are looking at a photo of Langweils model of the city. Prague is an old city but much of the architecture is fairly recent i.e. since 1850 so Langweils Model is unique in the period that is shows as much of it is now gone.
---
Who Was Antonín Langweil?
Antonín Langweil was a talented artist who at the age of 27 was studying at the Vienna Academy of Fine Arts. He liked lithography and wanted to run a printing business but ended up going bankrupt at the age of 31. With limited options he became an assistant at what was then known as the Prague University library located at the Klementinum in Prague's Old Town. It was a job that he enjoyed and enabled him to follow his love of art.
Inspired by having seen a scale model of central Paris, on his 35th birthday June 13th 1826 he embarked on a hobby which would continue until the year he died. He built what would become known as Langweils Model. Between 1826 and 1834 he set about making a model showing the city of Prague as it looked at that time. That means a 1:480 scale model which is 20 metres squared containing more than 2000 buildings each built to include decorative detail down to individual facades, windows, roof tiles and gardens. His work was so accurate that he needed special permission to draw military buildings and the city forbade him to draw or replicate any of Prague's defensive fortifications.
---
He never found a sponsor for this project and supplemented his income by creating and selling scale models of important buildings in the city. He also exhibited his models at the Prague Academy of Arts so he was well known in artistic circles but, when he died in 1837 he was heavily in debt. He was 45 years old. Three years later Emperor Ferdinand bought the model from his family for 500 gold pieces and gave it to the "Museum of the Kingdom of Bohemia", now the National Museum.
---
Why Is It So Important?
As a three-dimensional illustration of Prague's Old Town, Lesser Town, Jewish Quarter and Castle, Langweils Model is a unique representation of a 19th Century European capital city and the only cityscape that shows the area of Josefov before the Destruction of the Jewish Ghetto. It's amazing that it has not been damaged as it's made from paper and cardboard so we can thank the National Museum taking ownership of the model in 1840 and protecting it until passing it on to the Prague City Museum post WW2.
---
What's Changed?
Let's take the year 1837, the year he died. You think Prague has not changed much over the years so let's see what might be different today.
In 1837 the Jewish district of Josefov did not yet exist (1849). It was still the Jewish ghetto and Langweils Model is the only significant architectural work that captures what the district looked like at that time.
At Republic Square, in 1837 the Municipal House did not yet exist (1911). In it's place was an army barracks and a small row of shops. The adjacent Powder Gate had not yet received its Neo-renaissance upgrade (1874).
In 1837 the massive West Wing of St Vitus Cathedral at Prague Castle had not yet begun construction (1860).
In 1837 Charles Bridge was the only vehicle supporting bridge crossing the river (Chain Link Bridge was the second and opened in 1840)
In 1837 the National Theatre (1881), the Rudolfinum (1885) and the National Museum (1891) did not yet exist.
In 1837 there were no stone riverside quays (from 1875) or canal locks (from 1896). There were simply muddy riverbanks with wooden piers.
In 1837 the city was still protected by the New Town Wall fortifications which meant you had to pass through gates to enter the city (demolished in 1876-1891).
In 1837 Wenceslas Square was called Svatováclavské námestí (Saint Wenceslas Square).
Approximately half of the buildings in Langweils model have since been demolished or radically rebuilt.
---
Where Is Langweils Model?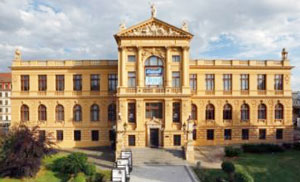 Langweils Model is at the Prague City Museum (pictured). Best way to get there is take the metro to the Florenc station then exit the station in the direction of Na Porici. Or take the number 8 tram from Republic Square and get off after 2 stops (Florenc). On the other side of the main road next to the highway is the building pictured. At the time of writing the entry fee was CZK150 but that gets you access to the whole museum. Langweils Model is just a part of it.
Photo Credit: www.langweil.cz and Miroslav Fokt
---
Some Random Things to Do and See in Prague