Czech Food Roast Duck
---
I guess that Prague Roast Duck will be on every Czech food restaurant menu as a main course but there are of course subtle differences and styles of presentation. English menus will say "Roast Duck", the same thing in Czech is "Pečená Kachna" but you might have trouble saying that. So here's what to expect.
As the picture shows, I'm not exactly into Haute Cuisine and I have my favourite places for a hearty portion and I would expect to pay no more than CZK180 for what's in the picture. There are a couple of things in the picture that have to be explained.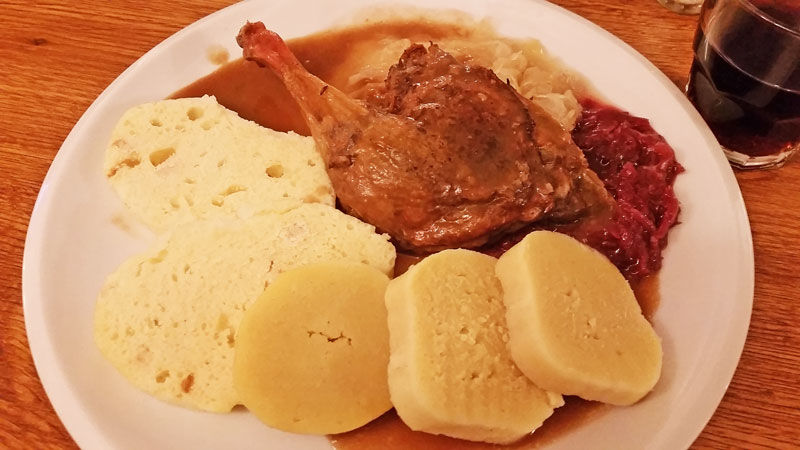 The dumplings. Duck is a game bird so in the Czech style of serving you would expect potato dumplings but, yes, I can hear everybody that's ever done a walking tour with me saying "but you said avoid potato dumplings!". That's right, in general unless it's a place where I know I can get good fluffy potato dumplings I avoid them. In this case you can see a fluffy cut on one and a crack in the middle of another. That means it's more likely to soak up gravy and not be just a hockey puck on the plate. So just in case, they sometimes put the larger bread dumplings on the plate as well and they will certainly soak up gravy.
So what does the gravy taste like? This comes down to the side. For Prague roast duck the usual side is sweet cabbage (Czechs call it zeli). It's pickled so that means the juice from the duck will be mixed with vinegar. I love it, but it's maybe not to everybody's taste so if you like that, also check the Moravsky Vrabec post. In the picture there are two types of pickled cabbage, red and white. Red should definitely be there and white can accompany but should not be on it's own. I've been in some flash places where the duck is served dry with cooked caraway, dribbled with chocolate or balsamico and boiled potatoes with the cabbage on the side in pots but really, it's not me.
---
Prague Roast Duck TIPS:
1) People with food allergies should note that Czechs love to use Caraway Seeds or Cumin on Prague roast duck. If it's on the skin you can simply remove the skin but it's more popular to add it into a sauce poured on top before serving which means the gravy will be contaminated. If you have an allergy to celery, carrot, parsley, fennel and/or generally you are allergic to herbs and spices then avoid this meal. Look at the EU Allergen post.
2) The price on the menu will be for a quarter of a duck.
3) Many restaurants in the centre of Prague would accept it if you wanted to change out the dumplings for something else like rice or potatoes but it's not a general rule.
---