Cafe Ovocný Světozor
---
Back in the 1970s when hardline Communism was the name of the game and travel outside the country was almost unheard of one company decided to name itself with the apparently grandiose title of Ovocný Lahůdek Světozor. Světozor means "world view" so the company name translated as "a world view of fruit delicacies". It turns out that it wasn't because of it's inventory of international cuisine. It was more the fact that it had opened in a passageway close to Wenceslas Square called "Světozor Passage" but the descendant of that original company is still very popular here today and its called Ovocný Světozor (phonetically this sounds like ovots-nee svee-eto-zor).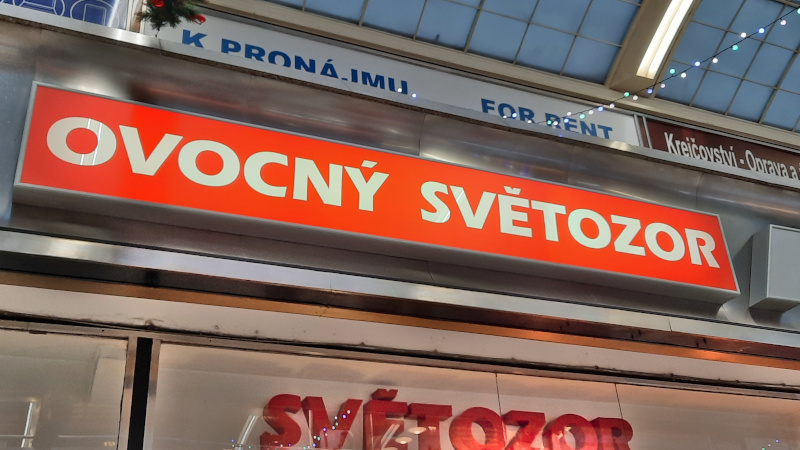 ---
The Modern World View
Ask any Prague resident to name 5 cafes and Ovocný Světozor will be in that list even though for Czechs this is classed as a Cukrarna rather than a Kavarna. It's not just one cafe, it's actually chain of about 12 different locations throughout the city which is why it has become so popular. There's nothing particularly historic about them. The picture below shows that they provide a great offer of whole cakes, slices of cake, ice cream, cheese cakes, crepes, fresh juices, sorbets, hot drinks and open sandwiches so there really is something for everyone at very good value.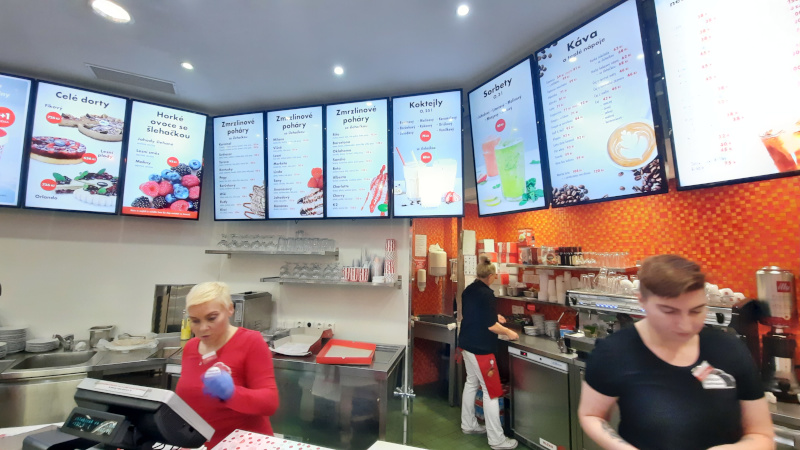 ---
Who Comes to Ovocný Světozor?
This isn't the kind of place where you get table service. Instead it's a kind of conveyor system because on entry you take a tray and generally you'll be choosing your snack which for most people will be cake. In the picture below I asked for one of the most popular Czech cakes called Medovník (honey cake) then you move along and get your drink. Finally you pay and then it's off to find somewhere to sit.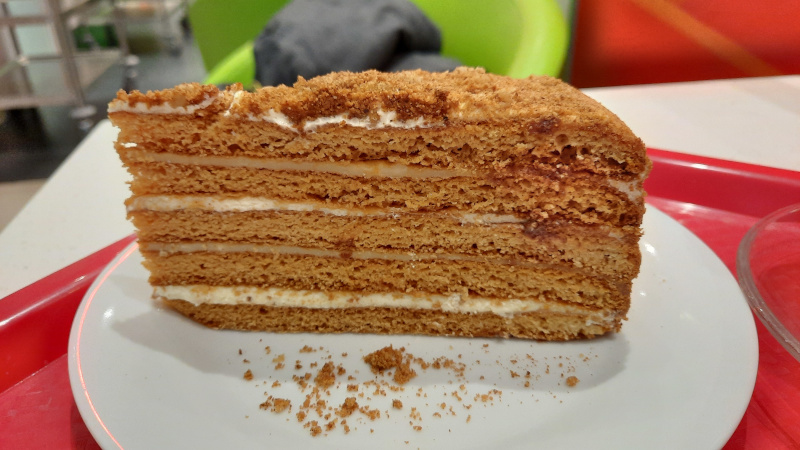 It's not just people wanting a slice of cake with their coffee here as you'll frequently be queuing behind people buying whole cakes for family celebrations or people buying multiple slices to take back to the office etc. It has become more friendly for tourists as a younger generation of staff is more likely to speak English but as you will find it's a place for a ladies coffee morning, for senior citizens to reminice, for young mums who've got the baby to sleep and families wanting a treat for the kids. You could say that Ovocný Světozor is the People's Cafe.
---
Where to Try
I frequent three locations in the New Town. My favourite is the original location just off Wenceslas Square in the Světozor Passage next to the "Vaclavske Namesti" tram stop. The second place is the food floor of the Quadrio Shopping Centre. Lastly it's as you go from the centre of town in the direction of Karlin it's in Sokolovska in the first block on the right after the Florenc metro station (if you reach the bridge you've gone too far).
Here's a link to the Ovocný Světozor Wenceslas Square location.
---
Something Related or a Few Minutes Away
Food and Drink – Chlebicky (Czech open sandwich)
Food and Drink – Palacinky (pancakes with fruit and ice cream)
---
Some Random Things to See and Do in Prague