Prague and the Human League
---
The Human League were in Prague in 1995 filming support videos for the "Octopus" album. Their previous 3 albums had not been commercial successes and the Human League had been dropped by Virgin Records in 1992. They signed with the EastWest record label in 1994 to release Octopus. "Tell me When", the first single was released on Boxing Day 1994 and was considered to be the best track on the album. It gave the Human League their first top 10 hit in eight years.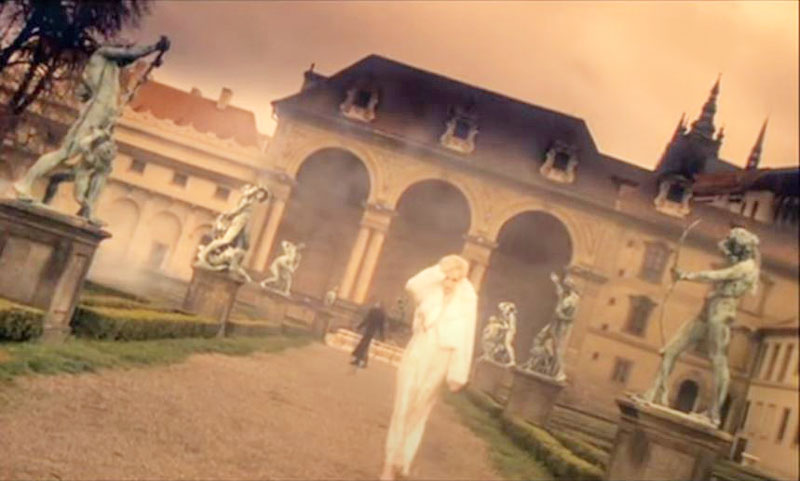 ---
1994 Tell Me When
The video opens with a shot of the girls in a beautiful Italian-Renaissance style loggia which is in the Wallenstein Gardens. Then we cut to Phil Oakey walking to the back of a large ornate column. This is the Plague Column in Hradčanske Naměsti in front of the Prague Castle main entry. The camera shot goes past Phil Oakey to see the girls either side of a gateway. This is the entry to the Schwarzenberg Palace, part of the Prague National Gallery.
Then we have a cut to a street scene using reverse motion which was filmed on Wenceslas Square. Before a quick flash back to soldiers marching towards Prague Castle we return to a twisting view of the National Museum before it cuts to chorus (the bit with all the candles).
Now we will move between the external scenes and the internal scenes (with all the candles) which were filmed in the main hall of the Wallenstein Palace.
Then it's back to the Wallenstein Gardens and then to a scene on some steps. I've read many blogs that say this is the Castle Steps. In fact this scene is on the Radnicke Schody next to the Historic Hotel Zlata Hvezda (Golden Star) on the way to Prague Castle. Radnicke Schody means the "Town Hall Steps". At the top of the steps is a restaurant but if you walk around to left to the other side you'll find a very old building which used to be the Hradčany Town Hall.
Closing out we are fired around the city, Wallenstein Gardens, Charles Bridge with a shot of the Jan Nepomuk Statue, then back to Wallenstein Gardens, up to the 3rd courtyard at Prague Castle and some more interior shots in the Wallenstein Palace main hall. The video ends with Phil Oakey walking down the steps from Charles Bridge onto Na Kampe which, if you are interested, is also a Mission Impossible Filming Location.
So that's it, you can find these places or if you want to hire me to show you around then feel free to contact me or take a look at livingpraguetours.com for different tour content.
---
Something Related or a Few Minutes Away
Mission Impossible Film Locations
Attraction – Wallenstein Palace
---
Some Random Things to Do and See in Prague