Prague Bike Hire
---
If you are in Prague and you want to see the city by bike then I've written about some of the city bike tours you can do on my Prague Bike Tours page. This post is a review of just hiring bikes for a few hours and setting our own course. We decided on the evening before that as it was looking like good weather we would do some biking. We are used to biking locally on hilly roads, more off road on tracks but we'd never actually biked in Prague so I started to look at a possible route and Prague bike hire options.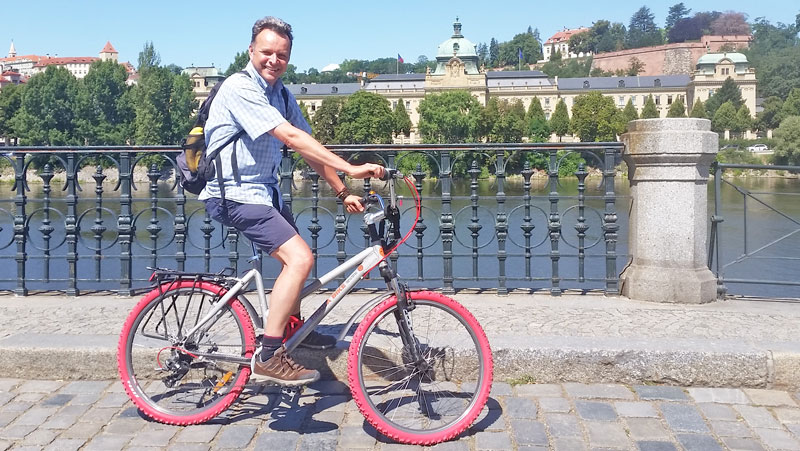 ---
How Long and How Far?
The plan started with a simple question "how long did we want to ride?" Later it would be how far we wanted to ride and a circular route to get back to our start point. I made use of two resources. The first is a Czech site at https://prahounakole.cz/ (Prague by Bike). It had a number of resources but the main one was the route planner. I'd found other planners but this one was by far the easiest to use. So now I used a bit of local knowledge and decided to go downriver and the reason for that is 1) you stay off the roads and 2) it's more scenic. So by moving A-B start/finish points and putting in a few flags I could plot a route on the online planner which if you just rode at an average pace would take two hours. Allowing for a "less than average" pace and stops for drinks and ice-cream I reckoned on between 3 and 4 hours.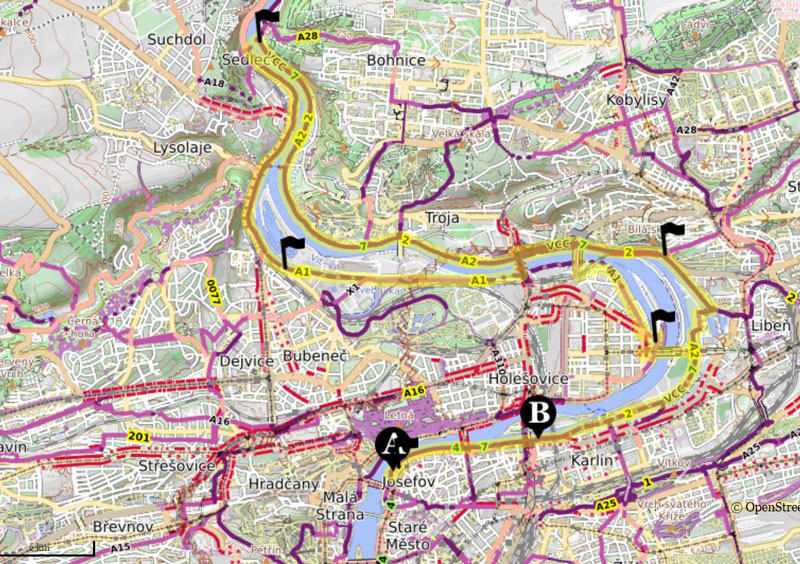 I'd never biked this route before so I used a second resource at Mapy.cz (if you want to try that then check the How to Use Mapy.cz post) or you could use Google Maps and I just investigated parts of the route that looked a bit unclear or potentially unsafe. It eased my mind that, especially on main roads, there was a separated bike lane etc. It was also good to see what to expect at the river ferry points. So it looked like we were going to do part of the A2 and part of the A1 bike trail which I'll explain shortly.
---
Prague Bike Hire
There are only a couple of reputable companies hiring bikes so I went for Praha-Bike. They've been here a long time, the bikes are good quality and their pricing is very clear. So taking what I knew about the route we elected to hire 3 regular bikes and 1 electric bike for 4 hours (none of us had ever ridden an electric bike). So including insurance it came to CZK1800 and there is a separate charge for bike deposit. Here you must pay cash for the hire but the security deposit can be paid by credit card (he writes the details on the order paper and gives that part back to you later). You will also need a passport/ID card per person (or 1 person in a family).
---
The Route
I elected for a simple circle so that was leaving the Old Town at the Rudolfinum on the riverside and following the A2 bike trail. That takes you out along the riversides of Karlin and Liben and you follow the river around to Troja. Here's where we stopped for ice cream next to the Kayak run. Troja goes on for a while until a car park appears on your right. The car park is mostly used for the zoo but it also has an entry to Troja Chateau where we spent a pleasant 30 minutes wandering around. We were now 90 minutes into our journey.
Two kilometres further on is the first proper river ferry at "Podhori" but we were ok so we travelled another 2km to the next one at Zamky. We just missed one ferry but they run every 30 minutes so we passed the time by the riverside (there's a pub there as well). We all have annual travel passes but if you intend using the ferry bring a regular ticket (CZK24 at the time of writing) because the ferry is part of the Public Transport network, bikes travel free. See a short Video of the Ferry Trip.
So having crossed the river we now changed from the A2 trail to the A1 trail and we were 2.5 hours into our 4 hour hire. A1 was fine and we had a drink/banana break on the edge of Stromovka Park. There were a few more hills but as I mentioned earlier, one of the Prague bike hire options was the electric bike so my wife had no problems. All was ok on the A1 trail until we got to Holesovice where you get two choices. Firstly is the option to take trail A31. This takes you into Holesovice, lots of main roads and eventually a busy bridge. No Thanks. The other option is just to keep the river on your left, stay on the side roads until you reach the Liben Bridge (Libensky Most). Cross the bridge and exit to the right after the Golf area. You then rejoin the A2 trail and follow that back into the Old Town. We did that and were back at the start point 3 hours and 40 minutes after we left.
---
Points of Interest and Potential Stops
The main points of interest were the riverside, Troja Chateau and Stromovka Park although there were people kayaking on the white-water run and I did enjoy the ferry. If I did the route again I'd stop after the Podhori ferry point for a meal or keep going on A2 to the Uneticke Brewery. You'll see the view below.
First on your right is Kolonial and coming up is Stanek U Vody. Both had similar options for grilled food and local beer. Just note that the Zamky-Sedlec ferry is 2km from here so leave enough time to get there. These pubs open until 10pm but remember that the Zamky ferry leaves at 25 and 55 minutes past the hour and the LAST ferry is 1955. After the ferry on the return to the city, apart from a cafe at Sedlec there really weren't any places to stop for a meal until you got to Holesovice.
---
In Summary
1) Know your pace. This will help you understand what distance you can realistically travel.
2) If you want a bit more structure and more information then go for a Prague Bike Tours option.
3) If you just want to ride flat ground with some breaks and you are "not locationally challenged" then I think Prague bike hire and a reasonably planned route is fine.
4) If you are not a regular biker and you want to take on some hills then consider an electric bike. It only adds @CZK300 to standard Prague bike hire.
---
Something Related or a Few Minutes Away
Activity – On-Street Bike and Scooter Hire
---
Some Random Things to Do and See in Prague