Activity – Hiring On-Street Scooters and Bikes
---
Whether you view them as a curse or a convenient method of getting around there's no doubting that on-street hire is going to be with us for the foreseeable future. What I'll try and do on this post is describe the most popular options in Prague and help you stay on the right side of the law.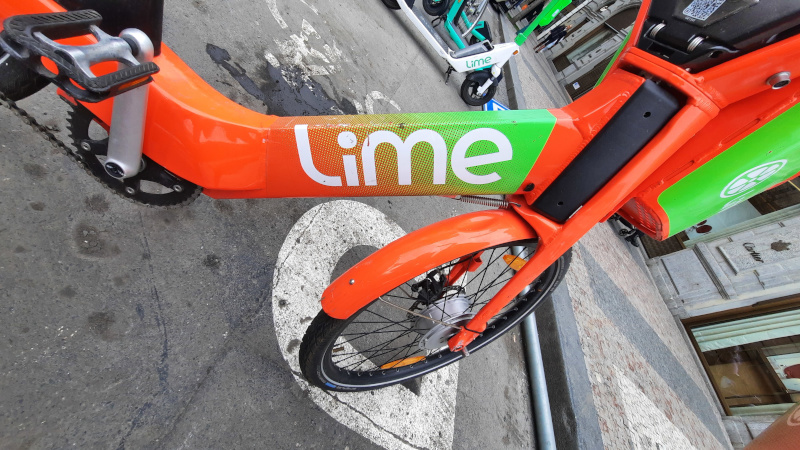 ---
What is On-Street Hire?
Once upon a time if you wanted to hire a bike or scooter you went to a bike shop. Then somebody had the idea of parking bikes in specific places with bike docks in a city which were controlled, maintained and provided a point-to-point service. But because people might not be at those specific places, finally these providers just started leaving bikes and scooters all over the place hence why they acquired a bad reputation. Basically, on-street hire is a direct transaction between you and the provider wherever their service is provided. On-street bike/scooter hire can also be called "dock-free" hire.
---
On-Street Hire – Lime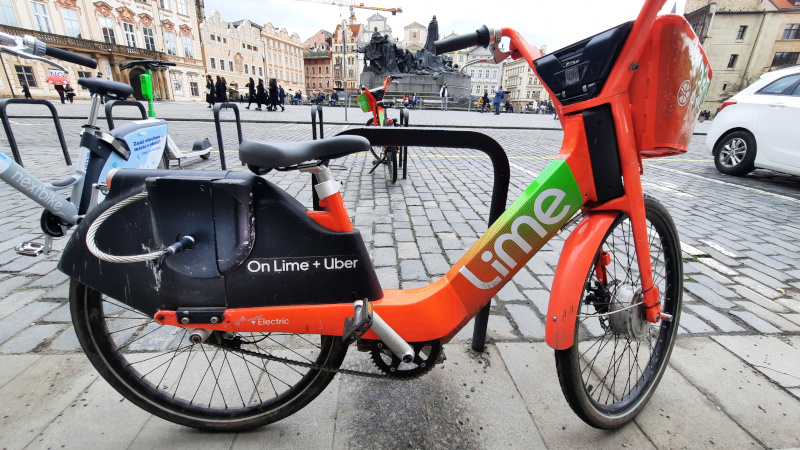 Lime uses the most popular method i.e. to download the Lime app, create an account and connect it to a credit card (see the Clips and Instant Apps note below). The full app has the ability to guide you to the nearest available unit plus it has a QR code scanner which you use to activate the unit (bike/scooter) which you want to hire. The app will charge a fixed fee for the unlocking of the unit and there will be a cost per amount of time that you are using the unit. In Prague the Lime-3 is being phased out and the more powerful "GEN-4" is taking over. Lime has two bike options with the standard e-Bike (Bright Green) or the "me Jump e-Bike" which is orange (pictured above). In Prague the orange bike is more common. To end a ride on a scooter you must tap the "END" button and receive the app confirmation. To end a bike ride you have to lock the bike and again wait for confirmation in the app that this has been done.
---
On-Street Hire – Bolt
Again, Bolt requires you to download an app, create an account and connect to a credit card (see the Clips and Instant Apps note below). The full app can direct you to the closest unit and uses a QR code scanner to activate the unit. Again, there is an unlocking charge and a cost measured in time of use. Bolt started as a delivery company that has morphed into ride-sharing and taxi services. It does not offer an e-bike option. The Bolt e-scooter is largely a version of the older Lime-3 just a different shade of green. To end a ride on a scooter you must tap the "End Ride" button and receive the app confirmation.
---
Tour Tips: If you like e-scooters then consider doing a tour on one or upgrade to the "bad boy" trike.
---
On-Street Hire – Nextbike
Again, Nextbike requires you to download an app and link to a credit card. Now there are a couple of big differences to Lime and Bolt. For starters Nextbike in Prague only offers a mechanical bike option. Secondly, there are a number of packages that you can buy in advance that allow you to use the service for free depending on the package i.e. you may get the first 15-30 minutes free or a period of the day free etc. You are charged only if you exceed the free period. Nextbikes are silver/grey.
---
On-Street Hire – Rekola
Again, Rekola requires you to download an app and link to a credit card. Rekola is a mechanical bike option. For single rides there is no unlock fee but you are charged for 30 minutes. Then it's similar to Nextbike in that you can pay in advance using subscriptions that allow more fee rides or longer rides. Rekola bikes are pink.
---
Clips and Instant Apps
Both Apple with it's "App Clips ios14 or higher" and Android with it's "Instant Apps" allow the minimum technical requirement to use a service. It means for example that you would not need to download the full bike/scooter app and link it to a credit card. It does mean that you will not be able to use map guidance to find the nearest unit so this is a method for when you see a scooter/bike and you just scan the QR. In this case after scanning the QR code you are using Google Pay (Android) or Apple Pay (iPhone) for payment.
---
Parking and Ending the Ride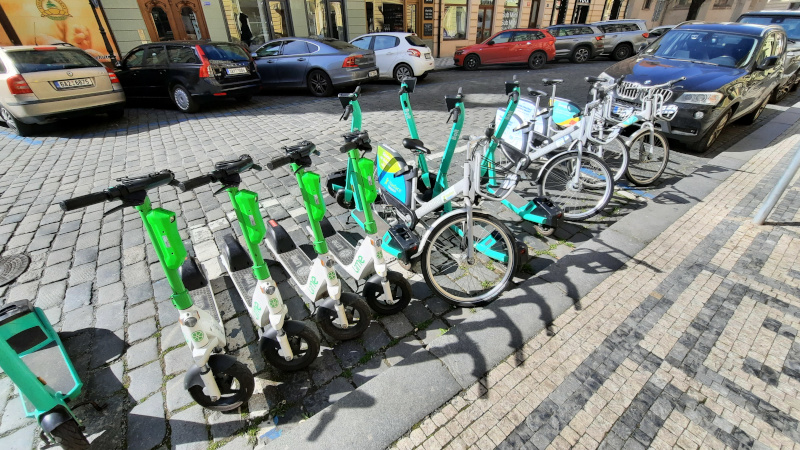 Prague provides dedicated bike/scooter parking places which it recommends but only Rekola requires you to use them. Apart from that all other providers stress that you should park the unit in a place which is not dangerous and does not impair the use of vehicular or pedestrian access. All providers are increasing their use of geo-location especially where a city has defined areas that absolutely cannot be used for parking. The app will NOT allow you to end a ride if you are parked in these places and will direct you to the nearest available place. Note that if using a scooter, only the app can be used to end the ride so make sure your phone has enough battery.
---
The Law
Regardless whether it's a bike or a scooter it's the same rules as a bike. You have to follow the rules of the road so on some one-way streets you may be allowed to travel against the vehicular traffic but this is not a general rule. City police will enforce traffic laws and fine you if you break them. Helmets are advised but are not mandatory. If you cause damage to person/other you can be arrested based on the level of damage.
---
My Thoughts
Nextbike and Rekola are more aimed at locals who are regularly travelling by bike. These are people who can reasonably plan ahead, are looking at longer travel, are aware of the time being used and use available parking in city specified places. Lime and Bolt are aimed at people travelling for fun, shorter distances, not worried about the time and who don't want to be restricted by city parking requirements. Follow the rules, respect the city and the people who live there.
---
Something Related or a Few Minutes Away
Activity – Prague Segway Tours
---
Some Random Things to Do and See in Prague