Prague Paddleboarding
---
May to October in the city is basically the whole summer season. Prague Paddleboarding is a fun way of getting out on the river on your own, as a couple or as part of a group. Of course you are going to be out of the way of most of the river traffic but as I write this post in January 2021 I think this coming summer will be one of the most quiet the river has known in decades so it's an ideal chance to get out there.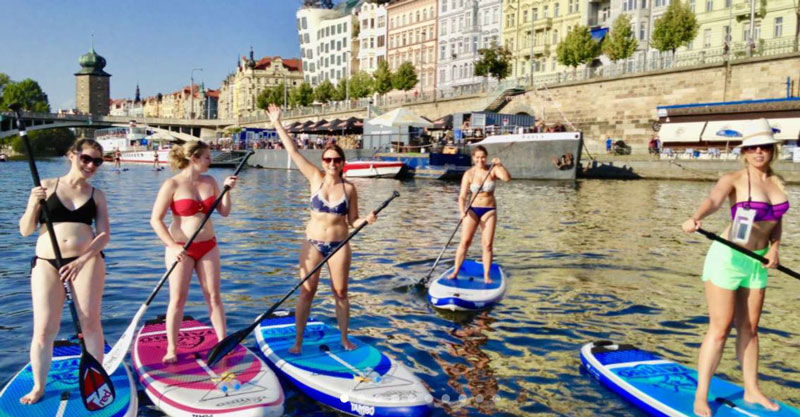 ---
What's Involved in Prague Paddleboarding?
You stand on a board and paddle right? No matter what your skill level, everybody gets the Prague Paddleboarding safety demonstration and tips for balancing. Actually if you are standing all the time it's not a problem. The only time I see people fall in is when they've been sitting or laying on the board but don't worry, a flex cable links you to the board so it won't float away. Plus you are more than welcome to sit and paddle if you prefer.
---
What Else to Expect
The Prague Paddleboarding activity is going to be between 90 minutes and two hours. There's a safe place to leave your belongings and there's a life-jacket if you need it. The reporting instructions will say to bring a towel but I also suggest bringing a spare t-shirt and undies depending on what you wear on the river.
---
How to Get There
You'll get the necessary meeting point details but historically the guys that run Prague Paddleboarding have started in two places. If you get a meeting point in Podoli it's simply a case of taking a tram (2, 3, 17 or 21) to the Podoli Vodarna stop and walking back 100 metres as this start point is in the marina.
If you get the "Cisarska Louka" start point it's a little more complex and I advise getting a taxi here. The reason is that it's on one of the Prague Islands and although there is a nice route via tram and a little river ferry it'll need timing or you're in for a long walk.
Check Availability, Prices and Book Online
---