Hamleys Toy Shop in Prague
---
At first glance Hamleys Toy Shop in Prague is just selling stuffed toys and board games but it's a lot more than that so it's worth understanding what to expect. Hamleys Toy Shop in Prague used to cover an area of more than 6000 square metres over 4 floors which made it the largest toy shop in the country and second largest in Europe but now it's a little smaller and spread over two and a half floors. Opened in Prague May 2016 meant that Hamleys now has shops in 22 countries.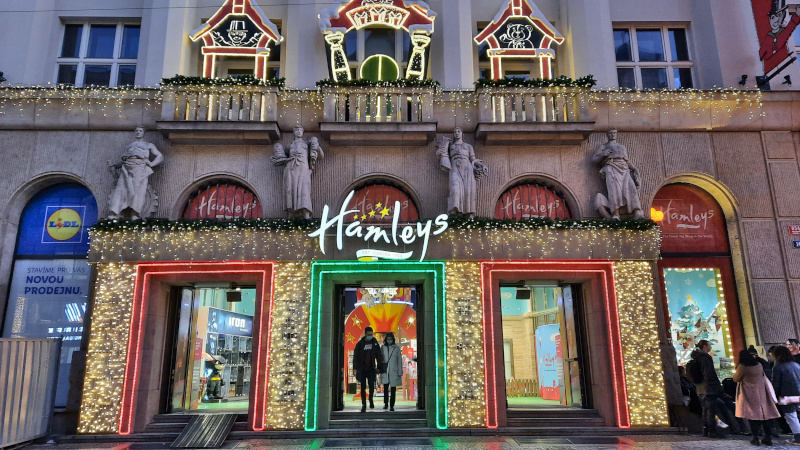 ---
Hamleys Toys and Games
Firstly they concentrate on physical toys and games rather than video/screen games. More than half of the products are Hamleys own brands and there's a lot of "try before you buy".
---
Hamleys Toy Shop in Prague – Activities
When Hamleys opened their first Prague shop the only activities that you paid for were the racing car circuit and the Carousel and you paid cash. They learned that parents would bring their kids in for a bit of fun and as the years have passed so Hamleys has added more and more activities. These are largely grouped into their umbrella activities mechanism called the "Fun Starts Here" card and I have to explain how that works because the website is a little light on information.
---
Fun Starts Here or Hamleys Card
In English its called the "Hamleys Card" and the website has an online registration portal which you can personalise for each child. But for practical purposes it's best just to fill in your own contact details and get one card which is going to cover you and your kids. You are only registering your data and you will collect the card when you go to the shop.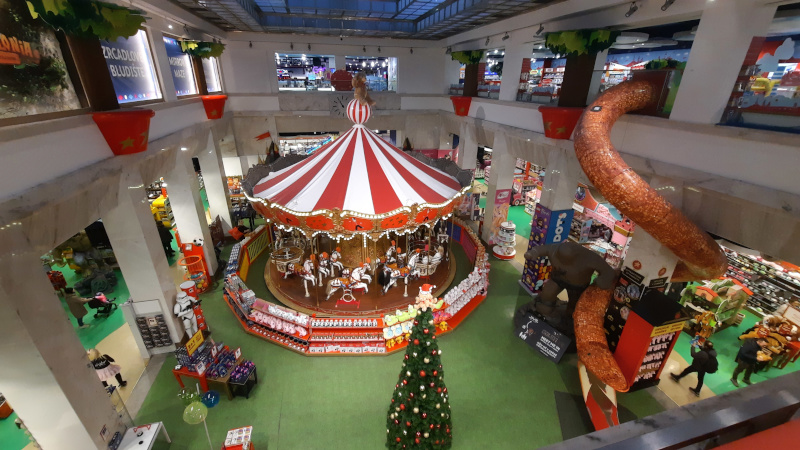 The reason for just registering one card is because you will need to "charge" the card with sufficient credit to cover all the things you'll want to do. You do this at the cashier on the ground floor. Before you do that it's wise to spend time looking at what activities Hamleys Toy Shop in Prague offers and which you might like to try. For example the easy kids stuff like the toboggan, carousel, mirror-maze, diggers and car racing are fairly cheap but you need the Hamleys Card to play. However, for other activities in the basement area like VR activities, Butterfly House and Laser game you get a discount (mostly 15% but the laser game discount works out to 25% with the card). There is a section called "Game City" which is a retro-game area for which you buy a separate fixed price voucher and the games are priced individually. Finally, the Hamleys Card also acts as a 10% discount card for any regular shop purchases of non-discounted items. I would point out here that there are toilets on the upper floor in the "Game City" area but they charge for that i.e. would have been nice if card holders could get a free pee!
---
What Do I Do With The Card?
If you think you will be coming here often then just keep the card. You pay CZK20 for the chip card so if you want that back then you have to return the card. The credit on the card is "use it or lose it" so if in doubt when you first charge the card don't go crazy i.e. you can always go back and put on more credit.
---
Something Related or a Few Minutes Away
Hamleys Toy Shop in Prague Website
---
Some Random Things to Do and See in Prague