Bohemian Switzerland
---
Actually the Czechs know the area as Ceske Svycarsko or Czech Switzerland. In either case it's a National Park in the north-west of the country which straddles the Czech-German border. Germans call it Saxon Switzerland but from now on I'll stick with it's more popular tourist name Bohemian Switzerland.
---
Why Visit Bohemian Switzerland?
If you are doing it on your own then you are either climbing or hiking. The local authority has spent time installing climbing areas so as long as you've got your own climbing harness you can climb to the top of several of the rock formations like Via Ferrata. It's a beautiful area littered with scenic villages where you can just park and wander off into the forest for a few hours. To be honest, I know the south side of Bohemian Switzerland better than the north. The village of Jetrichovice is a popular start point for trekking in the area as is Srbska Kamenice. Most of the larger places are geared for tourism with information centres showing routes plus a couple of options for cafe/restaurants etc. You can use marked trails to get above the tree line to see the views in less than 30 minutes but, pace yourself.
---
Organised Tours
This is a 12 hour day. It's going to be tiring and even with lunch thrown in and chair lift options you've got to be at least of average fitness and with no medical heart condition or dodgy legs or scared of heights etc to enjoy it. There are two main tourist hotspots, the Bastion Bridge (Bastei) and the Pravčicka Gate. If lunch is included in the tour then they split these two places either side of it. Depending on the time of the tour there's often a boat trip included through the Kamenice Gorge and in my experience this is often after lunch and coupled with the Pravčicka Gate. This is my Recommended Organised Bohemian Switzerland Tour but read on for options on doing at least part of it on your own and what to expect.
---
Bastei Brucke (Bastion Bridge)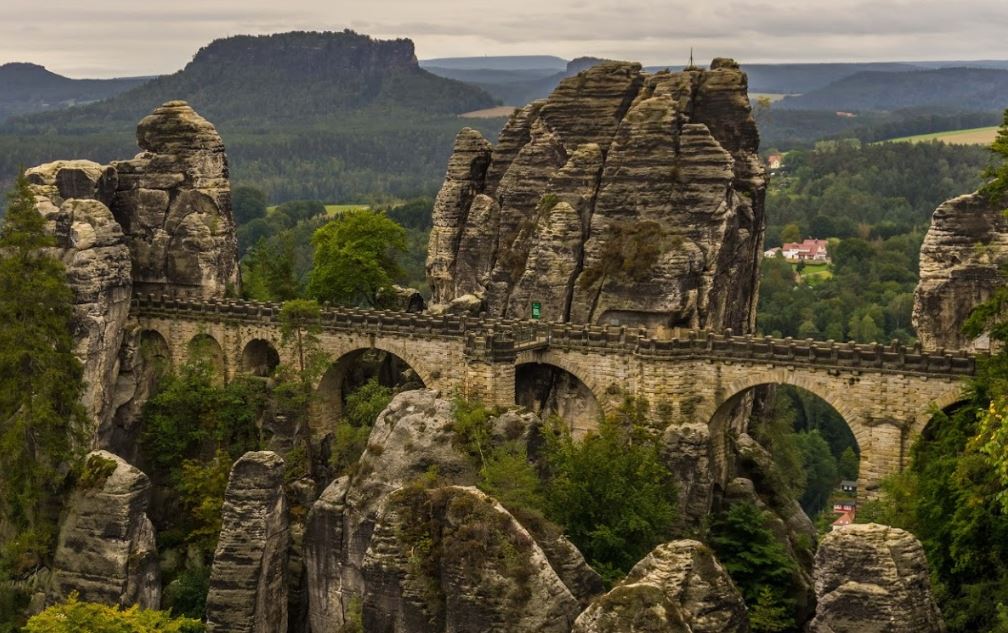 Without doubt, all tours to this area will have a photo of the Bastei Bridge which once upon a time was a defensive bastion leading to the Neurathen Castle and after leaving Prague it's usually the first place you visit. Note carefully that the tour description will say "Bohemian Switzerland including Bastei Bridge". It's actually located in Germany hence why you need your passport and although it's got fantastic views, you are technically no longer in the National Park. You like steps? That's great because here there are lots of steps. Even in the German style of proper concrete steps with metal railings there are looooooads of steps! If you've got a heart condition or dodgy legs then avoid this trip. If you are still ok with the steps then it can get busy and it's single file on many of the gangways where you may have to wait for slower-movers.
---
The Kamenice Gorge Boat Trip
In an organised tour, after Bastei and your lunch you come back into the Bohemian Switzerland National Park and get dropped at one of the many small boat moorings where you transfer to little boats which then amble down the river Kamenice so you get to admire the rocks overhanging parts of the river and a little waterfall (if there's enough water). It's a pleasant trip designed to give you a rest before being collected by the coach and taken for the next bit of walking.
---
PravČicka Gate
In Czech it sounds like "prav-chit-skah". This is on the Czech side of the National Forest and your coach transfer from the boat to the gate is about 90 seconds. It's a natural stone formation shaped like a Hobbit's door i.e. rounded (fun fact – it's the largest sandstone gate formation in Europe).
Organised tours to this part of Bohemian Switzerland drop you at one of two places depending on the schedule. If you are dropped at the chair lift track then it's a 5 minute walk up the track where you'll go up by double-chair lift and probably walk back down (the guide will inform you). TIP: Don't have anything loose in your pockets that could fall out from the chair lift. The other place they can drop you is at the bus stop so if that's the case read "OPTION 2" below.
---
PravČicka Gate by Public Transport
First either drive to Děčín (2 hours from Prague) or take the train. Then you have options:
OPTION 1: From Děčín, take the 434 bus until it gets to Mezni Louka (35 minute trip) and then use Gabrielas Trail to walk back 3km to Pravčicka Gate (hikers route, beautiful scenery). You arrive at the Pravčicka Gate level. To get down to the road you either keep on Gabrielas Trail or you take the chair lift and when you get to the road turn right and it's 400m to the bus stop.
OPTION 2: From Děčín, take the 434 bus and get off at the Pravčicka Gate bus stop (30 minute trip). From here you can hike Gabrielas Trail (30 minutes) up to the gate. Alternatively, from the bus stop, if you walk 400 metres in the direction of Mezni Louka i.e. keep walking along the road, you'll walk past what looks like a mini water tower on your right. Next on the left is a track. 300 metres along the track on the left you can take the chair lift up to the Pravčicka Gate.
So in the Recommended Bohemian Switzerland organised tour after visiting the Pravčicka Gate you'll be picked up from the specified meeting point and you'll have your trip back to Prague.
---
Driving to PravČicka Gate
There is no parking close to the gate and cars that park on the tracks get clamped. If you have come from the riverside then as you turn into Hrensko all along the right side are either official parking spaces or shops renting out spaces all at CZK40 per hour. As you exit the town towards the forest there are two official car parks on your left called "Pod Skalu" and "U Vodu Padu" which cost CZK170 per day and you can walk or take the next 434 bus. Or you can drive to Mezni Louka where you'll pay CZK100 per day for parking (OPTION 1 above). As a rule you are not allowed to park a vehicle in Bohemian Switzerland in any place other than a designated parking area because of the National Park restrictions.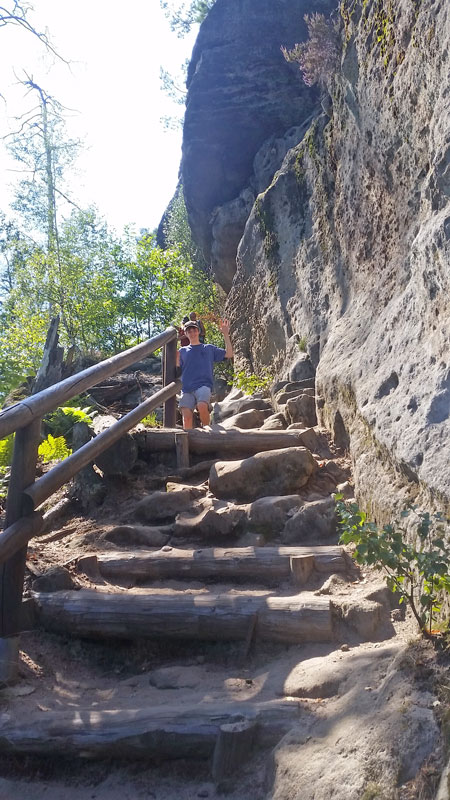 ---
A Strange World Record
To the south of Srbska Kamenice (it can mean Serbian Kamenice) are the villages of Luzna and Nova/Stara Oleška. On January 26th 1972 a bomb went off in a Yugoslav Airliner passing over the border and ironically it was flying to Belgrade in present day Serbia. The plane exploded at an altitude of 10,000 metres and the wreckage was strewn over this area. Of the 28 passengers and crew and although horribly injured, there was one survivor. Flight attendant Vesna Vulovic holds the world record for the longest survived fall.
Find out more about the area on the Bohemian Switzerland website
---
You Also Might Like to Read
Terezin National Suffering Memorial
---