Via Ferrata Rock Climbing
---
It's not often a tourist will wake up in Prague, have breakfast and think "I know, I think I'll go to Děčín". Děčín (with all the Czech characters it pronounced "dee-et-cheen") isn't really on the map for most tourists unless you are off to the Bohemian Switzerland National Park where you use it as a great jumping off point to get to some famous rock formations by bus.
---
For Climbers
Those big rock formations are pretty common in this area. So common in fact that the region has spent a lot of money installing climbing safety wires on many of them to make wire ways or "via ferrata". Perhaps the most well known of these is actually called Via Ferrata in Děčín. We visited during the summer as a family so the kids wanted to climb and my wife and I were happy to split the day half climbing and half exploring the town.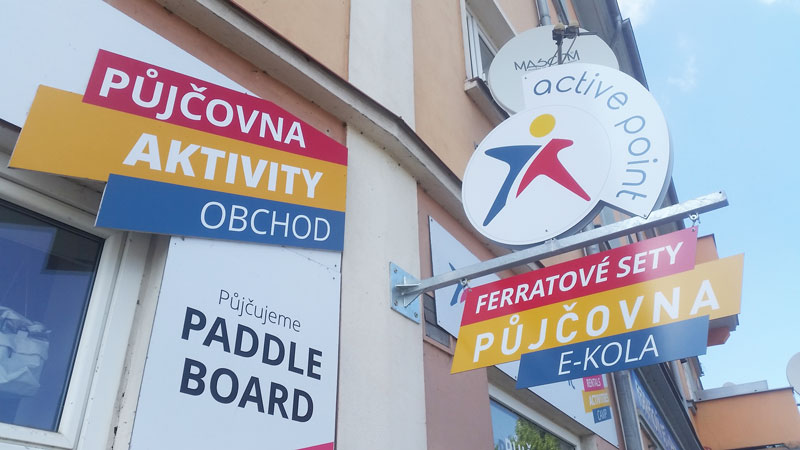 If you are a climber and you've got your basic safety harness with double lanyards, carabiners and a helmet then you are good to go. Really, you just turn up and away you go, no extra charge. For us day trippers it meant hiring the equipment but less than 100m from Via Ferrata is a hire shop called Active Point for climbers and bikers. The hire was CZK200 per person for the day. Details of the hire shop are on the website at the end of the post.
---
Difficulty Levels
There are 16 different routes ranked A to E with A being the easiest and E being what-the-f**k. From what we could see, A, B and C routes are for a beginner of average fitness with lots of easy grips or ladders. D routes are wired but either vertical sheer face or slightly inverted so physically more demanding. The E routes are wired for safety only and you are not expected to use the metal as a hand hold. I was probably one of the older people (mid-50s) on the B and C routes and I reckon the youngest kids I saw were about 9.
---
Tips
The routes are one-way i.e. up. Once you enter the Via Ferrata climbing area to exit you must reach the top and you walk back down via a pathway. There's a cafe at the top which does basic snack food and drinks and accepts card payment (contactless or Chip/PIN). There's also a separate pub at the base of the climb. Note the colours/names of the routes because as you climb there are no numbers. They recommend climbing gloves but we did not need them on the easier routes. They recommend that children (pretty much anybody less than 45 Kg) be attached to an adult via a separate lanyard. If you want a picture on the "wire walk" then that is route 10.
---
Getting to Via Ferrata
From central Prague it's a 90 minute drive and at the Děčín end there is a free car park about 200 metres from the site (don't park on the road). Note that people driving also have an option to visit the Terezin National Suffering Memorial (exits from the D8 motorway).
If going by train then it's an hourly service from Prague Main Train Station, the journey is around 90 minutes and costs @CZK200. At Děčín it's a 20 minute walk from the main station (come out of the station, turn right and follow the riverside). Definitely a day trip. More details at https://idecin.cz/en/via-ferrata/
---