Golden Lane at Prague Castle
---
Golden Lane was home to the "little people" i.e. servants, smiths and soldiers and one Franz Kafka for a while (only visiting). You'll have to be little to get under the doors without banging your head as well. Its a neat little cobble stoned street with houses on one side mostly built into the wall. Quaint windows, antique furnishings and earth colours make it an interesting place to visit.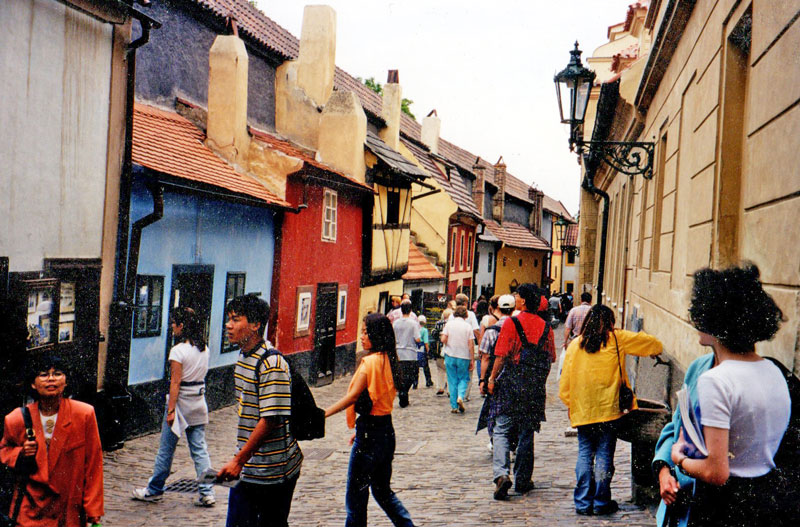 ---
Following the construction of the northern wall of the Castle the northern bailey was used for the building of some dwellings that are now the last remnants of the small-scale architecture of Prague Castle. Inhabited by the castle servants, marksmen and smiths, the name "Golden Lane" was documented from the 16th century. The small houses were occupied until World War II, but even after the formation of Czechoslovakia in 1918 care was taken to ensure that the picturesque character of the Golden Lane was not changed by modifications. From 1916 to 1917, Czech writer Franz Kafka stayed occasionally at No.22 (it was actually his sister that stayed here and Franz Kafka paid the rent).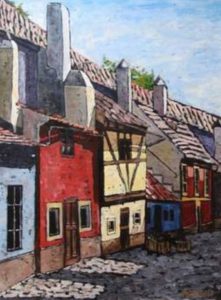 House No. 20 with a frame upper floor best shows the authentic appearance of a 16th Century abode. House No. 13 conforms to the original building specification in that the room had to be built entirely within an arch of the wall i.e. its facade does not protrude into the lane at all.
The staircase in house No. 12 gives access to the terrace in front of the Daliborka Tower. This round cannon tower was part of the Jagiello fortification system with the bottom floor being used as a prison from the very beginning. In fact the name of the tower is taken from its best-known prisoner i.e. knight Dalibor of Kozojedy, who was imprisoned here in 1498.
If you want to visit then you'll find that it is included in the venues covered by both the Prague Castle "Circuit A" and "Circuit B" ticket. Get more detail on the Exploring Prague Castle page.
---
Golden Lane Information
Official website is at https://www.hrad.cz/en/prague-castle-for-visitors/objects-for-visitors/golden-lane-10334#from-list
---