Prague Castle Vineyard
---
Let's say it's a warm sunny day and you've spent time exploring Prague Castle. You've just finished with Golden Lane and you're wondering which way to go now. Your view will be drawn to your left where the scenic view over the city can be found. But during the summer season April to October there's something else, the Prague Castle Vineyard which is also called Saint Wenceslas Vineyard.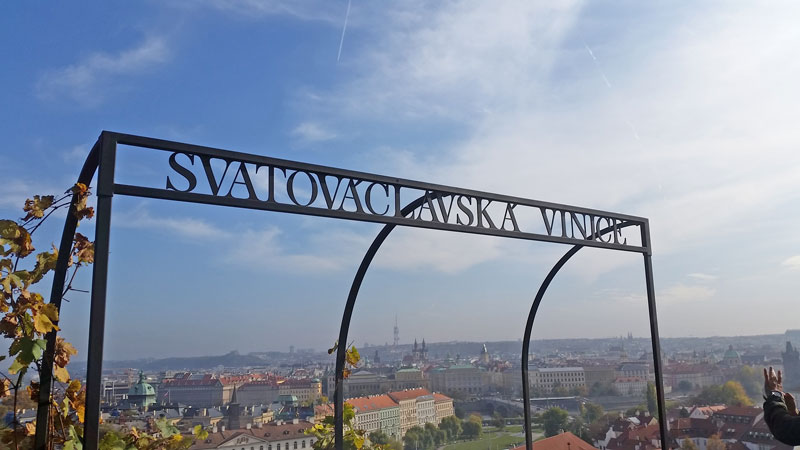 ---
How Old is the Prague Castle Vineyard?
Record show it dates back to within 100 years of the original construction of the Prague Castle. That puts it around the 10th Century. If so then the legend could be correct in that Saint Wenceslas (you'd know him as Good King Wenceslas) planted and maintained the vines to produce sacramental wine. In Czech this is also known as the Svatováclavská Vinice and is one of the oldest vineyards in the country. It was renovated and officially opened to the public in September 2008, the 1100th anniversary of the birth of Saint Wenceslas. The original grapes were Pinot Noir and the most recent are Reisling.
---
Eating and Drinking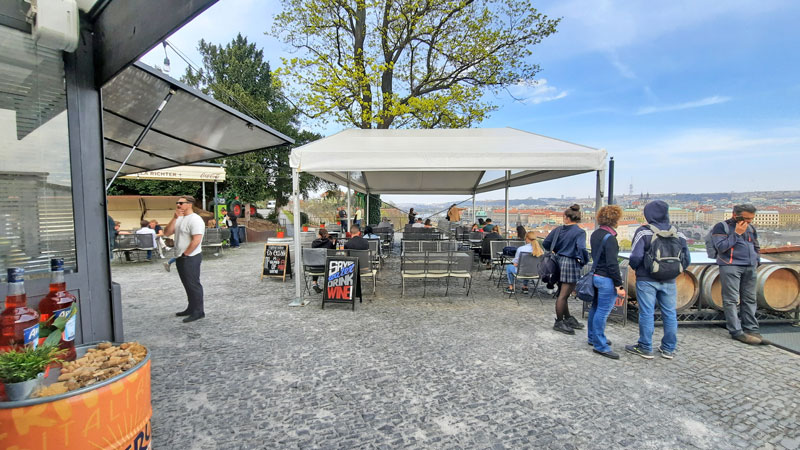 At the Castle end of the vineyard i.e. the upper entry you'll find a place that sells snack food, beer and wine pictured above. There are two covered tables and chairs areas. You can eat while you walk but if you want a beer you have to drink it here.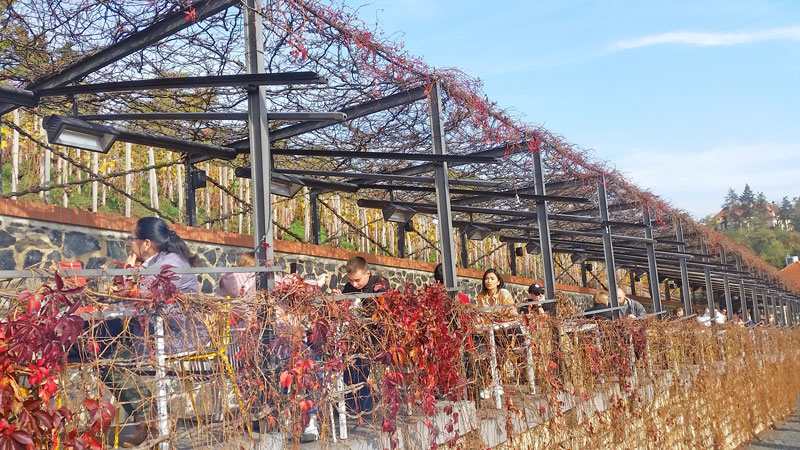 Further into the vineyard you'll find the Panorama Express Cafe (pictured above) which does a fairly international menu and if you want you can even get a burger and chips here. It's a wonderful spot for lunch, covered from the sun with open cityscape views. Food quality is great because you are being served from the kitchen at Villa Richter.
Finally, at the lower end of the Prague Castle Vineyard you come to the Villa Richter with top end dining (during the year the south terrace is almost constantly booked for wedding parties and receptions).
Note: Sometimes the top part of the vineyard is closed for Prosecco and wine tasting events that you pay to get into. So to access the Panorama cafe you walk down the castle steps, left in towards Villa Richter and back up the vineyard path.
---
---
Where Next?
In the summer you have the option of returning back up the vineyard to the scenic area and then going to the left into the castle south gardens. Eventually these lead you to the new castle steps or back to ST Vitus Cathedral via the Bull's Staircase. When you exit the vineyard at the lower end of the castle steps you come to a busy road. Turn right and this will take you into the Lesser Town. The first bridge on your left takes you over to the Old Town.
---
Something Related or a Few Minutes Away
Prague Castle Imperial Gardens
---