Prague Shopping Centres and Shopping Tips
---
When shopping in Prague, many people take advantage of fairly good prices for clothing (electricals are usually more expensive than the US and UK). Here's an introduction to the Prague shopping centre availability accessible by metro in and around Prague plus tax-free and discount options. If you are especially shopping in Prague for Czech glass or crystal then take a look at my Glass and Crystal page where you'll get advice on what to look for and how to spot the real item. If you are searching for information on Bohemian Garnet (semi-precious gemstone) then check my Bohemia Garnet page which shows you how to spot a fake and a reputable place to buy the real thing.
---
General Jewellery Discount
Non-EU residents should print the flyer below for a Tax-free 21% off the list price at my favourite jewellery shop in Prague. This includes Czech Garnet, Diamond Garnet, gold (18kt and 24kt) plus other precious, semi-precious stones and engraved crystal. I've bought gold and Garnet here over the years and they've kindly offered me a discount which I can pass onto you. Go to the Bohemian Garnet page for details or save/print the picture below. Note that I do get a commission if you buy anything using this flyer.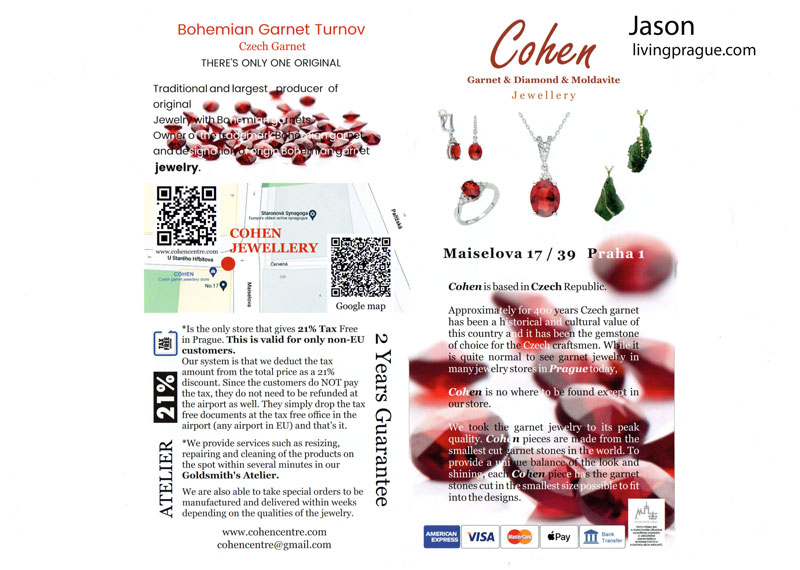 ---
Prague shopping centres – Central locations
NOTE: Na Prikope is the part-pedestrianised road that runs from the bottom of Wenceslas Square along to the Powder Gate.
Palladium
The Palladium Prague Shopping centre is located at Republic Square. It has four floors comprising -2 (parking for 900 cars), -1 (shopping), ground (shopping), 1 (shopping), 2 (restaurants and bars). Floor -1 connects with the Republic Square metro so on this floor are practical things like the shoe repair and key cutting shop, dry cleaners and fruit juice bar as well as Starbucks at both ends. Floor -1 also has the toilets and the far end goes down to the parking (Quick Tip: if parking here then loads of people queue at the 3 ticket payment machines in this area. Go down one more escalator and there are two more ticket machines that are usually queue-free). Pick up a map on your way in. Many internationally known brands in this centre equally spread out over the ground and first floors. Temporary stalls, supermarket and food shops are at the back on the ground floor. On the food floor (second floor) they have a very good selection here with Mediterranean, Lebanese, Czech, Italian and Asian (my favourite is the "running sushi" bar where you pay one price for "all you can eat" with a choice of hot and cold dishes from a running "track". It's the newest centre for shopping in Prague. Loads of choice but no real bargains. Website at http://www.palladiumpraha.cz/.
---
Kotva
The Kotva Prague shopping centre also on Republic Square (opposite Palladium). People shopping in Prague in 1985 would have come here. There are 6 floors including the basement supermarket, rooftop "Tank-R" restaurant and top internal floor restaurant but only 4 shopping floors. Kotva still follows the old open plan system. It's quite strange to walk around basically an open floor which has been loosely partitioned to make different shop spaces. It's largely known as a place for cheap clothes, electricals and housewares. Not your first choice for shopping in Prague but worth a look just to see what shopping centres were like before the revolution. In 1996 I had personal experience in this place of buying a £25 bed quilt and my credit card had to be supported by my passport before they'd accept it. It's a wonder they sold anything. You can park at Kotva in the basement but since the Palladium opened I park there now. Website at http://www.od-kotva.cz/.
---
Myslbek
The Myslbek Prague shopping centre on Na Prikope has two floors. The biggest shop in the complex is H&M. Probably the most recognised brands on the ground floor include GANT (3 shops), Pepe Jeans, Barbour (clothing) and T.M.Lewin (shirts and suits), Guess plus an Intersport. Food-wise there's a pizzeria and a sushi restaurant on the first floor and the Ugova Salaterie (Salad and fruit bar) on the ground floor by the escalator. This place has a great location only 200 metres from Wenceslas Square in one of the most expensive streets in the city but after the Palladium opened it has noticeably suffered. Website at http://www.ngmyslbek.cz/.
---
Cerna Ruze
The Cerna Ruze Prague shopping centre on Na Prikope. "The Black Rose" was one of the original post-revolution shopping centres in central Prague and a star of it's time. Now it's full of independent shops and businesses so if you are shopping in Prague for something different then you might find it here. The first floor gets considerably cheaper than the ground floor and bargains to be had if you like the style. Cerna Ruze has two coffee shops and a Chinese restaurant. It has shops spread over 3 floors many of which are fashion shops. Website at http://www.cernaruze.cz/
---
Slovansky Dum
The Slovansky Dum Prague shopping centre on Na Prikope. "Slovak House" incorporates the Jasmin perfume/bodycare shop which is next to one of the front entries. Opened in 2001 Slovansky has a single shopping floor (plus outside area) and draws most people for the cinema, the Sabai Thai massage parlour and the KOGO restaurant with outside dining. Nice place to go AFTER you've been shopping in Prague but not for the actual shopping itself. Website at http://www.slovanskydum.cz/.
---
Novy Smichov
The Novy Smichov Prague shopping centre is the biggest "not quite central" location. Get off at the Andel metro/tram station. Basement parking and two shopping floors with a third floor that functions as the food floor and has the entry to the cinema. The biggest company is the Albert Supermarket but Novy Smichov has a lot of high-end shops to choose from. The food floor has a very good selection of restaurants, takeaways and cafes which get busy in the evening with people going to the cinema. In my view it's at the more expensive end of the market. Website at http://www.novysmichovoc.cz/.
---
Palac Flora
The Palac Flora Prague shopping centre right next to the Flora metro is now the third biggest Prague shopping centre behind the Palladium and Chodov. The biggest attraction here is the IMAX 3D cinema along with a multi-screen regular cinema. The top floor is for restaurants (good ones for Thai and Italian), cafes, fast food and the cinema. Lower floors cater to international and Czech shops. Flora has a reputation for supporting more "fashion and clothing" shops than most centres. There's a little shop on the 4th floor between the restaurants where you can get alterations made if the stuff you bought doesn't fit perfectly. Website at http://www.palacflora.cz/.
---
Quadrio
The Quadrio Prague shopping centre. The latest shopping centre in Prague built over the Narodni Trida metro station. Very smart. The 3 main elements are the access to the Tesco supermarket, the basement access to the metro and lastly the food area is in the courtyard at the rear (which by the way is also the location of the David Cerny "Kafka's Head"). The shops in the centre are spread over 3 floors and largely national/international brands. Use the escalators to get between floors, the lift only access the offices. Website at http://www.quadrio.cz/en.
---
My Own Guided Tours – Cheaper Than You Think!
---
Prague Shopping Centres – Metro Limit
Centrum Chodov
The Chodov Prague shopping centre is a 15 minute metro ride from the centre of Prague on the Red "C" line (direction Haje). It has an an international selection of shops like H&M, M&S, TM Lewin, GANT, Tom Tailor, Levis, Swarovski, Zara etc plus basement Albert hypermarket, 4 floors for parking and 2 areas dedicated to Park and Ride. It has 5 cafes, juice bar and one restaurant in the main shopping area and a separate upper food floor called Grand Restaurant. The internationally recognised brands are well spread out through the complex and mix well with the independent businesses. Definitely a place that you can spend time for shopping in Prague but again, no big bargains to point out. Website at http://www.centrumchodov.cz/.
---
Europark
The Europark Prague shopping centre is at Sterbohly (free bus from Skalka metro every 15 mins). Built-in Interspar supermarket and OBI DIY centre. It has the best kids play area of all the shopping centres, furniture shops, a reasonable restaurant and fast food sections on both floors. Website at http://www.europark.cz/.
---
Letnany
The Letnany Prague shopping centre. As the name suggests it's located at the Letnany metro station at the end of the red line. The shopping centre is dominated by the Tesco store and a reasonable selection of international brand stores are attached. Website at http://www.ocletnany.cz/.
---
Metropole Zlicin
The Metropole Zlicin Prague shopping centre (not directly connected to the metro but free bus from Zlicin Metro or a 5 min walk – pronounced zlitcheen) is the location of the shopping centre (2 floors). Contains a supermarket, cinema with attached fast food area. Reasonable selection of shops but, nothing I couldn't find in the centre. Website at http://www.metropole.cz/.
---
Prague Shopping – Impulse buying
The oooh! aaah! factor is high in the souvenir shops. Shopping centres are well stocked and there is a lot of choice for items like glass, crystal, ceramics, Russian dolls etc. Try and avoid impulse buying if possible. Make a rough note of what you want and then just browse. When you've found a few things that you like, spend a bit of time on the quality of the item. If you walk out of a shop without buying then the worst that can happen is someone offers you a discount. All central tourist shops have English speaking staff.
---
Tax Refunds and "Duty Free"
The Czech Republic is part of the European Union so this option is NOT available to EU Citizens (but it's still cheap compared with the UK for example). If you are not an EU Citizen then check out the rules and regulations of the Tax Refund scheme at Global Blue https://www.globalblue.com/tax-free-shopping/czech-republic/. The shops at the airport will still sell certain items to passengers but, signs showing "not for EU sale" are becoming more common. My advice is to take a look at my Duty Free limits page for airport travellers or buy your drink and cigarettes in a regular supermarket (for land travellers) as these are often cheaper.
---
Prague Shopping – Cashback
This is just starting in the Czech Republic. Currently the CSOB bank in association with the Albert supermarket chain as well as the "post insurance" company offer the cashback service. It's bad enough trying to make yourself understood in Czech let alone trying to persuade a cashier in English that you want cashback so, I expect it will take some time to get fully working. It's the same as in the UK. If you've purchased something and you want extra cash then you just make a separate transaction with the credit card. The Czech cashback system does not appear to support debit cards at present (at least one's not supported by the CSOB bank).
---
Some Random Things to See and Do in Prague