Prague Top Restaurants
---
Prague Top Restaurant – La Rotonde (French)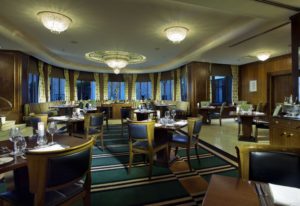 As La Rotonde does not stay continuously open from morning til night it has separated its menus into three distinct areas. The lunch fixed price (2-course or 3-course) menu is a collection of light appetizers and salads followed up by a meat dominated main course with additions of sea bass and salmon. The dinner menu contains elements of the lunch offer with other options specifically for the evening menu. The seasonal menu does what it says, that is a full menu with options for each course from locally sourced seasonal ingredients.
Read more and/or make a reservation at La Rotonde.
---
Terasa U Zlate Studne (Czech)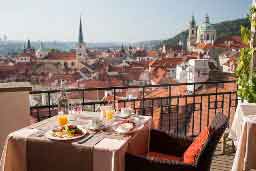 This is also a scenic restaurant. The menu is divided between the A La Carte selection and the degustation tasting menu. The A La Carte has traditional Czech elements like confit of duck and beef sirloin but is largely split 50-50 between fish and meat dishes including the signature meal "Royal Steak (Black Angus) "served with Foie Gras "Rougie", potato Puree with Opulent Truffles from Piemonte and Baron Philippe de Rothschild Sauternes Sauce". The Degustation menu is the most expensive but I think the best in the city with the right balance of meat, seafood and seasonal courses plus the excellent desserts.
Read more and/or make a reservation at Terasa U Zlate Studne.
---
CottoCrudo (Italian)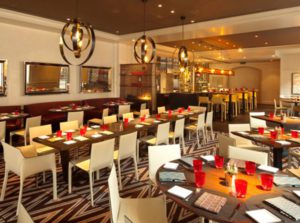 You are spoilt for choice here. Unlike some of the other top Italian restaurants in Prague they have put a lot of thought into providing an extensive menu that you can divide into the classic 5 course meal or dip in and choose a speciality or two as a light option. It has the best cold starters in the city including a large selection of cheese, prosciutto and seafood which leads you into the main course. A generous selection of meat, fish, seafood and pasta dishes includes scallops, lobster, octopus, steaks, pork chops and rabbit. Really something for everyone or just take a starter and one of their beautiful desserts.
Read more and/or make a reservation at CottoCrudo.
---
Back to All Restaurant Categories
---