Terasa U Zlate Studne
---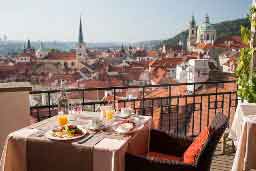 The Terasa U Zlate Studne restaurant is located at the top of a 16th Century building but inside is quite modern and takes advantage of the view with large windows and a large outside terrace used when possible between May and October. The decor is bright even allowing for the dark flooring and as a narrow room its quite cosy with space for 26 people (increases to 40 if configured for a group). The large outside terrace seats 40 comfortably. Each will have a wonderful view but tables next to the railings giving an unobstructed city and rooftop views are the most sought after.
---
Terasa U Zlate Studne – The Food
The Terasa U Zlate Studne menu is divided between the A La Carte selection and the Degustation tasting menu. The A La Carte has traditional Czech elements like confit of duck and beef sirloin but is largely split 50-50 between fish and meat dishes including the signature meal "Royal Steak (Black Angus) served with Foie Gras Rougie", potato puree with Opulent Truffles from Piemonte and Baron Philippe de Rothschild Sauternes Sauce". The Degustation menu is the most expensive but I think the best in the city with the right balance of meat, seafood and seasonal courses plus the excellent desserts.
My Favourite: If I could afford it, the Degustation menu. Otherwise, poached Halibut as a main course and plum ravioli for dessert.
---
Location
U Zlaté studne 166/4
Prague 1, Lesser Town
www.terasauzlatestudne.cz
---
Back to Scenic Restaurants
Back to Top Restaurants
Back to All Restaurant Categories
---