Alcron
---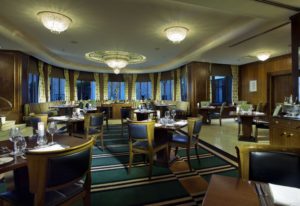 Art Deco all the way, you'll find Alcron on the ground floor at the rear of the Almanac X hotel. Former winner of national and international awards including a Michelin Star it's been regularly listed in Prague's top restaurants for both food and service for the last 10 years. A regular evening menu is complemented by special weekend brunches. Saturday brunch for families and Live jazz for the Sunday brunch. Completely professional in preparation, presentation and service its a must for anybody wanting to experience the best that Prague restaurants have to offer.
---
Alcron – The Food
As Alcron does not stay continuously open from morning until night it has separated its menus into three distinct areas. The lunch fixed price (2-course or 3-course) menu is a collection of light appetizers and salads followed up by a meat dominated main course with additions of sea bass and salmon. The dinner menu contains elements of the lunch offer with other options specifically for the evening menu. The seasonal menu does what it says, that is a full menu with options for each course from locally sourced seasonal ingredients.
My Favourite: Many of the meals can be served as starter or main and likewise some meals come in smaller portions for a lower price. For me as a starter, the Saffron risotto (with grilled Tiger prawns and sea scallops) and for the main course the roast organic pork loin (sweet potato puree, roasted vegetables and cardamom glaze).
---
Location
Štepánská 623/40
Prague 1, New Town (Wenceslas Square Area)
www.larotonde.cz
---
Back to French Restaurants
Back to Top Restaurants
Back to All Restaurant Categories
---
Tour Tips: Here are a few Food Tour options that have been around and established themselves as high quality food activities in Prague.