U Modre Kachnicky II
---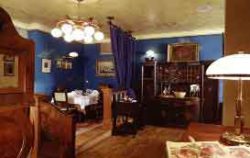 U Modre Kachnicky II ( Little Blue Duckling Two ) is a classic restaurant richly decorated with antique furniture, hand-painted wallpaper and strong colours. Downstairs is a little more open plan but certainly not crowded and has beautiful wood beamed ceilings. Upstairs they have smaller partitions for private gatherings or just for a bit more privacy. Service is smooth and efficient. Real napkins on the table of course and live piano most evenings. With an eclectic mix of comfortable chairs it has real character and feels as if its been here forever. It's important to note the "two" suffix because the original Little Blue Duckling is located across the river in the Lesser Town.
---
U Modre Kachnicky II – The Food
The name U Modre Kachnicky II translated probably gives it away. The Little Blue Duckling Two is a Czech restaurant but specialises in game. Apart from having the biggest choice of duck dishes in central Prague you'll also find venison, wild boar, fallow deer, lamb shank, rabbit, pork and veal served in a variety of ways. This is rich food to be eaten slowly and personally I would struggle with a 3-course menu here. I prefer to take a main course on its own or with a dessert but if you are set for the evening then take a look at the tasting menu which is a 9-course selection of the chefs specialities.
My favourite: Its a traditional meal that I'd get at the mother-in-laws on any weekend, roast pork with onion, garlic, white cabbage and potato pancake. And I could probably squeeze in a Creme Brulee if I have room.
I prefer to drink Czech beer with Czech food and the wines are on the expensive side but, U Modre Kachnicky II has a local Czech wine which is a Frankovka Rose. I know of only one other restaurant in Prague that sells it.
---
Location
Michalska 16
Prague 1 Old Town
www.umodrekachnicky.cz
---
Back to Czech Restaurants
Back to All Restaurant Categories
---