Czech Recipes
---
Before you get going on this list remember that if you are visiting Prague that there's a great place to experience cooking Czech Food under the watchful eye of a professional chef. Actually you'll be preparing your own lunch. So a fun experience with tasty food at the end of it. Take a look at the Czech Food Cooking Classes post.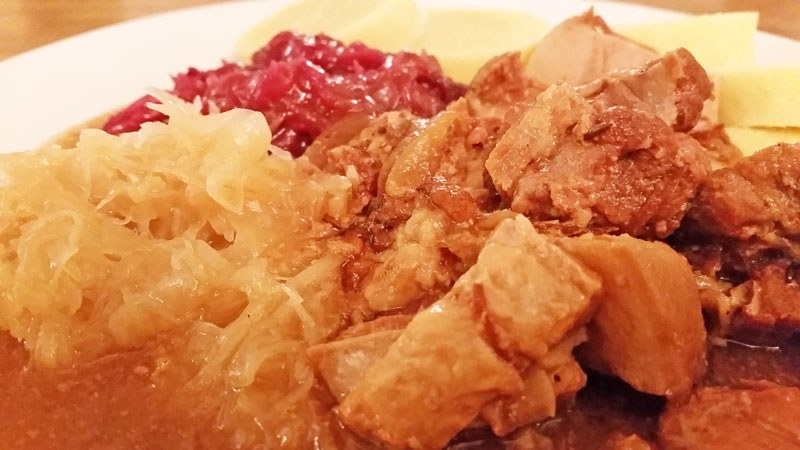 ---
Soup with liver dumplings:
1/2 pound beef liver, ground
2 eggs
1 cup of dry bread crumbs
2 tablespoons of flour (all-purpose)
2 tablespoons of butter or beef marrow
1 clove (small) of garlic, mashed
1/2 teaspoon grated lemon rind
1/4 teaspoon pepper
1/2 teaspoon salt
Dash of ground marjoram
2 quarts consomme
Instructions: Note: where Czech recipes mention breadcrumbs it's up to you if you use ready-made or in the Czech Style, to blend dried bread rolls into the roughness that you want. Mix ground beef liver with butter, garlic, lemon rind and marjoram. Beat in eggs and then bread crumbs, flour, salt and pepper. Let it stand in room temperature for about 1 hour. Shape into small balls (size of ping-pong balls), bring consume to a boil, drop in liver dumplings. Cover and simmer for 15 minutes. (Dumplings should be hard.) Makes 6 servings.
---
Tour Tips: Here are a few Food Tour options that have been around and established themselves as high quality food activities in Prague.
---
Tripe soup
It could be served as a soup – it could be also served as a meal.
1 lb. tripe
5 oz. smoked meat
4 tablespoon flour
1 carrot
1 clove garlic
celery root
pinch pepper
pinch marjoram
pinch ginger
parsley
salt – butter
Instructions: Wash tripe well in cold water, cook 1/2 hour, wash again. In fresh cold water add salt, roots, carrot, parsley and celery cut in circles. Add smoked meat and tripe, cook until tender. Cut up tripe in small noodles and cut meat in small pieces. Make very light browned flour with a piece of butter and 4 tablespoons of flour. Put soup into browned flour, add mashed garlic, pepper, marjoram, chopped parsley, ginger. Cook well. Add tripe and meat. Serve.
---
Roasted pork, dumplings and cabbage
Note: With Czech Recipes including pork the Czech style is NOT to trim the fat. Select center cut of pork loin, whole and uncut with bone, 3-4 pounds, with minimum eighth of an inch of fat covering the meat. Season with salt, pepper and caraway seeds. Wrap in foil , precook for about 2 hours in 400-430 F oven. (Prepare and cook cabbage and bread dumplings. Unwrap from the foil, prick all over namely fatty portions of the loin. Roast for 30 minutes adding water and pasting the loin with it and turning every 5 minutes until golden brown. (Or can be roasted on the spit) Finished meat should be very tender and juicy. From remaining juices scoop up fat, add water, cook for 5 minutes making tasty sauce. Cut meat, serve with cabbage, or red cabbage or sauerkraut and bread-dumplings with the sauce over. This national (Sunday) Czech dinner called Moravsky Vrabec should be washed down with Pilsner beer (the famous native drink) .
Pork with Horseradish
2 pounds lean pork, cut into cubes 1-inch
2 tablespoon of butter or margarine
2 cups of water
1 cup of vinegar
1 onion, medium
1 carrot, medium
1 celery, small, peeled
1 tablespoon salt
1 teaspoon caraway seeds
1/2 teaspoon pepper
1/4 cup horseradish
Instructions: Note: Horseradish in Czech Recipes assumes homemade so allow more ready-made to get the stronger flavour. Brown pork in hot butter. Add all ingredients – except horseradish. Simmer covered for 2 hours. Transfer meat. Force stock through sieve or puree in blender. Pour stock over meat, top with horseradish. Serve with boiled potatoes.
---
Wild Mushrooms with Eggs
1 pound fresh (wild preferably) mushrooms, sliced
1/4 cup butter or margarine
1 teaspoon salt
1/4 teaspoon pepper
1/2 teaspoon crushed caraway seeds
2 tablespoons chopped parsley
6 eggs, beaten
Instructions: Note: Czech Recipes for wild mushrooms will assume they are cleaned and cooked whole or chopped to no less than 1cm slices. Saute mushrooms in hot butter with salt, pepper, caraway seeds and parsley. When liquid from mushrooms has almost evaporated, add beaten eggs and scramble mixture. Makes 4 servings.
---
Bread Dumplings
1 lb. farina (or flour)
2 cups lukewarm water
1 scant cup of milk
2-3 eggs
1 tablespoon salt
5 large (old) buns, horns or white bread
Instructions: Note: Czech Recipes mentioning croutons will affect the texture of the bread dumpling so chop to desired size. First, cut (old) buns, horns or white bread into small croutons. Select the best farina or flour you can get. Mix water, milk, eggs, and salt, keep adding farina until dough is smooth and makes bubbles and doesn't stick to the bowl. Mix in croutons. Divide into 4 parts, form up long ball dumplings. Let set for about 30 minutes. Place into salty boiling water, cook for about 25 minutes. Cut with string.
---
Potato dumplings
2 lb. potatoes
8 tablespoons farina
10 tablespoons flour
1 tablespoon salt
1 egg
Instructions: Note: When first doing these dumpling Czech Recipes then after the cooking time, cut the dumpling in half to confirm all is cooked consistently. Otherwise allow another 5-10 minutes to achieve the correct texture. Boil potatoes, then peel and mash. Add farina, flour, salt and egg. Work dough well. Divide into 5 dumplings. Place into boiling water, cook for 20 minutes.
---
Plum Dumplings (same recipe for apricot and cherry)
2 eggs
2 cups sifted flour (all-purpose)
2 cups boiled potatoes, riced
1 cup fine brown bread crumbs
12-15 plums
1/4 cup cinnamon sugar
Pinch of salt
2 Tbsp butter
Instructions: Note: For Fruit Dumpling Czech Recipes the breadcrumbs are only for texture. Many people just finish off with fine sugar. Cream 2 tablespoons butter, beat in eggs and salt. Gradually beat in flour and riced potatoes. Dough should be stiff to knead thoroughly. On floured board roll out dough to 1/4-inch thickness, then cut 3-inch squares. Lay 1 plum on each square, sprinkle with little cinnamon sugar and fold edges over plum. Shape with hands into a ball. The wall of dough should be very thin. Drop dumplings into boiling salted water, cover and simmer for about 15 minutes. Put the bread crumbs in 1/3 cup hot butter. Roll dumplings in buttered bread crumbs, sprinkle with cinnamon sugar. Makes 3-5 servings.
---
1 lb Beef, ground
1 lb Pork, ground
1 cup Milk
1/2 cup Onion – chopped fine
1 Garlic clove – crushed
1 pn Pepper, black
3 slices Bacon – diced
2 Eggs
1 1/2 cup Beef stock
1/3 cup Breadcrumbs, dry
3/4 cup Shortening
2 Bread roll
1 Egg white – beaten
2 Tbsp Flour
Salt
Instructions: Note: Meatloaf Czech Recipes often use stored homemade grated garlic which can have extra salt so in that case do not add any more. Combine meats, onion, garlic, salt (to taste), pepper, bacon, eggs and breadcrumbs. Soak rolls in milk until absorbed – add to meat mixture. Mix thoroughly. Divide into two oblong loaves. Place in pans greased with preheated shortening. Brush with egg white. Roast in hot oven – adding stock occasionally. When the meat is tender – remove to serving platter. Dust pan with flour – allow to brown and dilute with stock. Simmer, then strain and pour over meat. Serve hot with potatoes or cold with potato salad. Serves Four.
---
For the Dough:
1 egg
1 Tbsp. melted butter
1/2 cup. warm water
1/2 tsp. salt
2 cup. flour
100g Walnuts
Instructions: Beat egg slightly, add warm water, salt and butter. Gradually add liquid mixture to the flour. Turn on floured cloth and knead until the dough is elastic and does not stick to the cloth. Roll it out with rolling pin until the size of a pie plate. Dust the cloth with flour and put the dough on it. Brush the dough with melted butter, cover with a warmed heavy mixing bowl for one hour. Remove dough carefully, and put in the middle of a fresh cloth which has been dusted with flour. Start stretching from the center with one hand under the dough, begin pulling and stretching away from the center until paper thin. Remove any thick edges.
For the Filling:
Note: In the Czech Recipe style that the apple can be diced into 1cm cubes if you prefer that to slicing. After dough is stretched add the following items on the dough:
Brush with melted butter
Sprinkle with cinnamon, sugar, coconut and raisins
Cover with layer of thin sliced apples (7 or 8 depending on size of dough)
Sprinkle a small handful of chopped walnuts on top of apples
Sprinkle few more raisins, cinnamon and sugar on top.
Drizzle melted butter on top.
Roll dough carefully. Put on greased jelly roll pan.
Brush with melted butter. Pierce with fork on top in several places.
Bake at 350 degrees for 30 – 45 minutes till brown.
---
My Own Guided Tours – Cheaper Than You Think!