Six Hot Alcoholic Drinks to Keep You Warm in Prague
---
Winter is fast approaching so try these to help keep you warm. Most of these will be priced between CZK50 and CZK70 for a 0.2L but price will be dependent on any spirit alcohol used and wine quality. During December my own favourite place to try all of these is at the Republic Square Christmas Market and any can be included as part of the Old Town and Christmas Markets walking tour. Before and after December look for craft markets and you'll normally find most of these options. Drivers note that there is a ZERO TOLERANCE alcohol driving limit. In December check the Christmas Markets page for places to try most of these drinks.
---
Mulled Wine
The staple hot alcohol drink in Prague is Hot Mulled Wine. You'll see signs for Mulled Wine, Gluwein or in Czech it's Svarák. Generally this is a red wine with a hint of cinnamon and cloves. There maybe a little added sugar and sometimes people put a sultana in the cup so if you feel something moving around don't be worried. The price will be @CZK50 for a 0.2L cup and it should served directly from a large container. My own favourite is a lady who runs a stall at the Republic Square Christmas Market who does red and white Chardonnay. Alcohol content @13%.
---
Punch
This is like Hot Mulled Wine with the addition of fruit or fruit juice (usually orange), rum or brandy, and in Czech it's called Punč. If real fruit is involved then it's usually ladled out of an open container or they put the fruit in the cup and then add the wine. If it's fruit juice then again the heated container is used. This almost exclusively uses red wine and will be priced from CZK50 for a 0.2L cup. Alcohol content @13% (wine and juice) or @70% if a spirit is used in which case it'll be more expensive.
---
Cider
Cider here is called Mošt (it sounds like Moshed) and it's popular as a winter warmer. It's not as popular as Mulled Wine or Punch because it needs a lot of preparation work so you normally find it in the markets on the stalls that sell honey. The rough stuff can be described at a "sweet scrumpy" but usually it's filtered with a sharp, refreshing and palate cleansing taste. Alcohol content @13%.
---
Mead
In Czech this is called Medovina. It's a honey-based drink and one of the few that gets sold in both 0.1L and 0.2L amounts. No surprise that you'll find it on stalls that sell honey. If you are mixing drinks then save this one for the end. Stalls at the Peace Square Christmas Market offer free "tasters" of Medovina. The initial super-sweet taste can shock but give it a few seconds and you'll feel the sweet kick. Alcohol content @13%.
---
Grog
This is a combination of alcohol and boiling water with the option of black tea. The basic version is simply boiling water with a shot of rum and a slice of lemon. Some places may offer alternatives like Whiskey or more rarely, Brandy (sometimes the alcohol is in a separate shot glass as you should add it to the water – not the other way around). It's highly likely that you'll get a black tea bag and a slice of lemon on the side but it's up to you if you use them. Alcohol content @70%.
---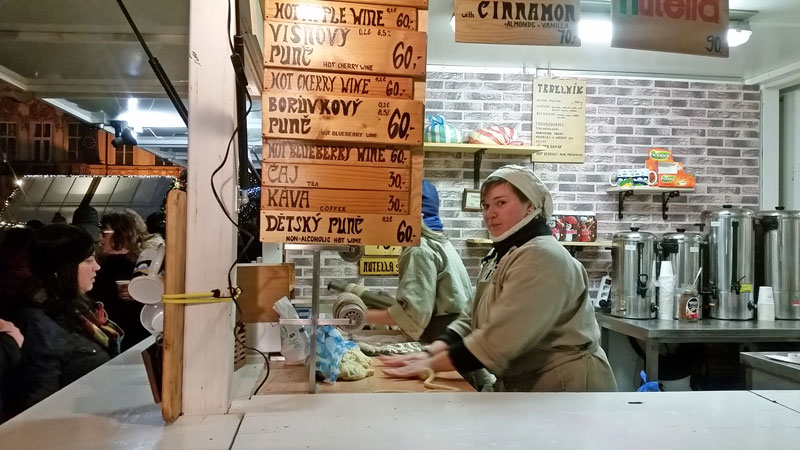 ---
Becherovka
On its own this is a Vermouth-style dry aperitif and often served with a fruit juice. Now here's the winter option, you heat the juice. Becherovka is not a strong alcohol so when it's served with a thick juice like pear or apricot it has a nice tang and gives you an extended warm feeling first from the juice and then from the alcohol. Alcohol content @38%. If you like Becherovka you'll find you can buy it at the airport duty free from 2L bottles down to 0.1L bottles. Learn more about it on the Becherovka post.
---
With Food? My Advice
Having tried all of these I have to say that Cider taken whilst eating Prague Hotdogs and Mead as an accompaniment to Old Prague Ham are my favourite combinations with food. In a restaurant you'll have a much better chance of finding the Becherovka and hot juice as a cleansing aperitif to the starter but not a drink to be taken during the meal.
---
Some Random Things to Do and See in Prague