Prague Herna Bars
---
In Czech the word "Herna" does actually mean "Casino" but I'm not going to say that Prague Herna Bars are going to give you that casino experience because they won't. These are places which generally are Non-stop (open 24 hours). I did a brief search of adjectives that described Herna Bars in Prague and the top two were "s**thole" and "nasty" but if it was 3am and you were peckish or you had a pile of loose change you wanted to get rid of then they'd be open. But things are changing.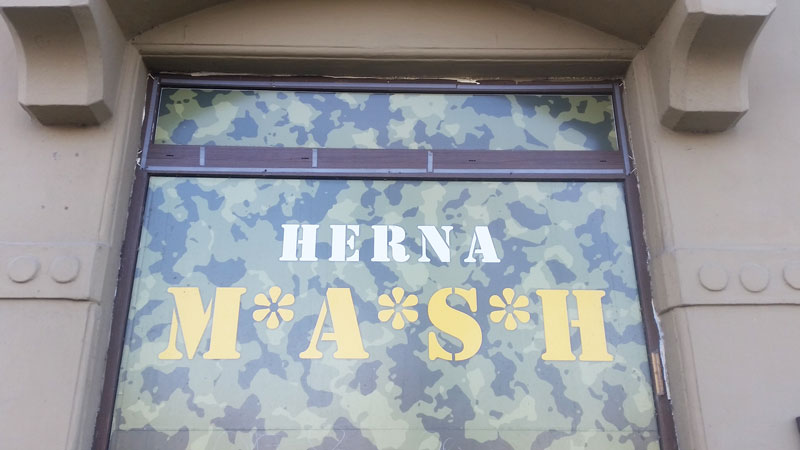 ---
Prague Herna Bars – Old Style
When I say old I mean if you went into Prague Herna Bars in and around the city up to 2017 then you'd be expecting a place with certain common characteristics. The front window of the bar would be so covered in stickers as to make it impossible to see through. They would serve one brand of beer from the keg and anything else was bottled. The bar will have stools but gradually these stools moved around and could usually could be found in front of various slot machines. The menu was basically "fried stuff and pizza" hence the overriding fried food smell mixed with smoke. If there was a tv on the wall it was showing music videos but with no sound. I could not think of a less healthy place to spend time but believe me, if you are out at night and you just want a cup of coffee plus the use of a WC then this was a place you could go.
---
The Renaissance
There have been some big changes in the last few years which have impacted on Prague Herna Bars. First the advent of online casinos which meant it wasn't necessary to go out in order to play slots. Then it was the 2017 smoking ban which instantly removed the smoke from the air but merely highlighted the fried food smell. Still, people went outside to smoke and the bars adapted i.e. you could still buy cigarettes but you just couldn't smoke inside. They upgraded facilities, targeted different clientele etc and while you always had the hard drinkers it did become a much more pleasant atmosphere.
---
The Death of Prague Herna Bars
The most recent and much more serious impact was in 2020. There are 57 cadastres in Prague which are the geographical areas under the "Hlavni Mesto" (central Prague) umbrella and 41 of them voted for a TOTAL BAN on gambling. That's a bummer for Prague Herna Bars as their whole reason for being was to provide the consumer a place where you could play slot machines whenever you wanted and of course to feed and water them during that process.
So here's the killer punch. Because they had the gambling licence it meant they could stay open all hours but if that licence is now rescinded in those 41 districts then bye bye non-stop opening. This is like telling a baker that he can't sell bread. Can Prague Herna Bars adapt, become sport bars maybe, put in table-football (Fotbalek) or electronic dart boards (Šipky) because there's already a lot of competition in those businesses. It'll be interesting to see how they react and when the Covid restrictions finally end I'll try to recommend a few surviving Prague Herna Bars to try. Right now if you still want to try one then you have to go to the limits of the metro system where you'll find them in the station itself or more likely right outside.
---
You Also Might Like to Read
---