Sophies Fan
---
On the Sand Gate post I described where one of the original fortified city gates can be found and in the same area 50 metres in front of the gate is a little piece of art called Sophies Fan so I'm going to use it to tell the story of a woman. Anybody who has read anything about European history will of course know that Archduke Franz Ferdinand d'Este's assassination in Sarajevo on 28th June 1914 basically started the First World War. But somebody else died that day, his wife Sophie of Hohenberg and there ended an interesting story.
Franz Ferdinand was actually 3rd in line to be emperor but following the death of his cousin Rudolf in 1889 and then his own father in 1896 he became heir presumptive i.e. most expected to become the next emperor but not guaranteed. In any case around the mid-1890s he meets Sophie (her full name was Sophie Maria Josephine Albina Chotek von Chotkow und Wognin but I'm just going to call her Sophie).
---
Boy Meets Girl
You'd think it would be a simple boy meets girl, gets married, becomes emperor and empress and all live happily ever after. Except that did not happen. Sophie's family was royal in that her parents were the Count and Countess von Chotek but it seems not royal enough as they were considered to be advisors to the royal family but not of royal blood so Sophie was a "lady in waiting". This difference in social class would have a big effect as when Franz Ferdinand approached his uncle Austrian Emperor Franz Josef for permission to marry he was given an ultimatum that for him to stay in the line of succession they would have to accept a "Morganatic" marriage i.e. a socially unequal marriage and accept that:
1) She would never be Empress-consort nor receive the rank of Queen or Empress-Queen.
2) She would never be allowed to accompany Franz Ferdinand on royal duties.
3) Their children would never be in the line of succession.
They signed the Oath of Renunciation on June 28th 1900 and were married three days later on July 1st at a ceremony where no other member of the Imperial Family attended. When in Czech, Franz Ferdinand and Sophie spent most of their time at the Konopište Castle south of Prague.
---
Boy and Girl Get Killed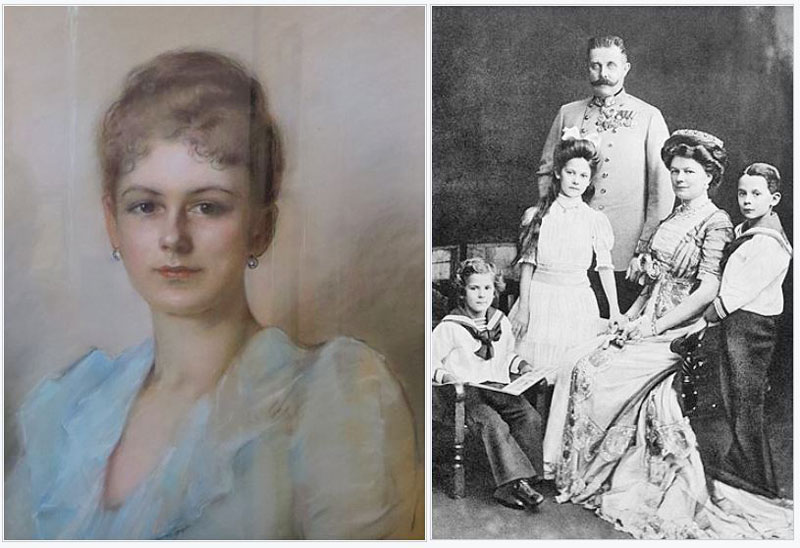 Now some of you historians may highlight that point two above must be incorrect as Sophie was with her husband during the assassination in Sarajevo. I would draw your attention to the fact that she was forbidden to accompany Franz on "Royal duties". The invitation to Franz on that trip was a military invitation and hence permitted. The date was also significant, June 28th, the 14th anniversary of the signing of the Oath of Renunciation and Franz was taking the opportunity to be seen in public with his wife. That afternoon they were travelling to a nearby hospital where the survivors of an assassination attempt earlier that day were being treated only for them to come into the line of fire of another assassin.
---
Boy and Girl Get Buried
Very petty I know but, even in death Sophie was not allowed to be buried in the Vienna Hofburg Palace Royal Crypt as she was not of Dynastic royal blood so both Franz Ferdinand and Sophie were interred together in the crypt of the Habsburg Summer Palace (called the Artstetten Palace) on July 4th 1914. In the funeral procession Sophie's coffin included a fan and gloves as part of the decoration. This was considered to be the symbol of a woman, not the decoration normally given to a Duchess, so maybe an Imperial dig at her status. But the final poke in the eye to the Imperial Family was that Franz Ferdinand had assured that both tombs are at equal height.
---
Sophies Fan
The placing of the fan on the coffin seems to have been the catalyst for this piece of art showing a normal woman who ended up having a far from normal life but it's also a symbol of femininity. It was unveiled in 2019. Two things to note are firstly the material used i.e. cast iron which gives it the rusty appearance and symbolises the end of the glory days of the Habsburg Empire. Secondly, in the summer season between April and October is acts as a cooling spray fountain and so fulfills the function of a fan i.e. to cool you down. The creator was Czech artist Martina Hozova who was commissioned by the Prague 6 district.
If you want to see this and the Sand Gate take the tram 22 towards the castle and get off at the stop called Kralovstvi Letohradek (walk to the side street called U Písecká brány and turn right). After you've seen the gate/fan then between April and October you'll cross the road into the Prague Castle Imperial Gardens and walk through there to get to the Castle.
---